» Stats
Members: 11,699
Threads: 231,881
Posts: 12,357,289

Welcome to our newest member, chiefsplanetfan

» Welcome, guest!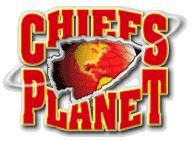 Welcome to ChiefsPlanet,
a Kansas City Chiefs Message Board
This forum is fast and furious with discussion on all variety of topics. Newbies welcomed. If you enjoy reading, don't be shy - please jump in and post!
If this is your first visit, be sure to check out the FAQ by clicking the link above. You will have to register before you can post; click the register link above to proceed. To start viewing messages, visit our main forum, The Lounge or click on a thread title below this message.
» Recent Threads
Title, Username, & Date
Last Post
Replies
Views
-- The Biggest Ass in Brazil (I guess, NSFW?)

Today

02:53 PM

by

srvy

13

427

*** Official 2018-2019 Royals Offseason Repository ***

Today

02:51 PM

by

duncan_idaho

379

19,704

2019 Free agency Thread

Today

02:49 PM

by

RunKC

295

9,457

Free fashion advice for the style-challenged male.

Today

02:40 PM

by

stumppy

2,074

241,182

The Best Ever Individual Season In KC Professional Sports History

Today

02:39 PM

by

DJJasonp

57

1,397

Chiefs Offseason Planet Evaluation: Spencer Ware

Today

02:28 PM

by

Rain Man

33

1,256

Another ****ing Snow Storm Thread

Today

02:17 PM

by

Baby Lee

102

2,552

***** Official 2018-2019 Kansas Basketball Repository Thread *****

Today

02:03 PM

by

BWillie

1,539

55,088

Kaepernick and Reid settle with nfl

Today

01:53 PM

by

chiefzilla1501

62

1,767

Your yearly "Get DirecTV to discount NFL Sunday Ticket" thread

Today

01:46 PM

by

lewdog

879

61,839

» Online Users: 492
84 members and 408 guests
1hughjass, 2bikemike, Archie Bunker, Baby Lee, big nasty kcnut, BleedingRed, Buehler445, Buns, Cave Johnson, Chargem, Chief Northman, chiefs1111, Chris Meck, cosmo20002, Cosmos, Danguardace, digger, Discuss Thrower, DJ's left nut, dj56dt58, DJJasonp, duncan_idaho, Dunerdr, fairladyZ, Flachief58, GloucesterChief, Hammock Parties, HonestChieffan, huffmd15, Iconic, jackkked, Jamie, JohnDONsey, KC Hawks, Ks_Twister, Lex Luthor, listopencil, MagicHef, mdchiefsfan, mdstu, Meatloaf, Megbert, mililo4cpa, Mizzou_8541, mr. tegu, Munson, oldandslow, OldMan22, Over Yonder, philfree, PhillyChiefFan, Prison Bitch, Raiderhader, raidersnumber1, Redblood, Robio9, Roy Munson, RufusRJones, RunKC, shammus, Sideburn, staylor26, Strongside, stumppy, SupDock, Sure-Oz, Sweet Daddy Hate, Taco John, thebrad84, tmoshow, TrebMaxx, Trivers, yeti
Most users ever online was 4,753, 12-04-2015 at 09:37 PM.