» Stats
Members: 14,097
Threads: 258,844
Posts: 15,191,655

Welcome to our newest member, McGruff

» Welcome, guest!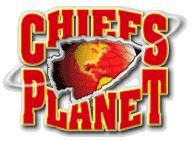 Welcome to ChiefsPlanet,
a Kansas City Chiefs Message Board
This forum is fast and furious with discussion on all variety of topics. Newbies welcomed. If you enjoy reading, don't be shy - please jump in and post!
If this is your first visit, be sure to check out the FAQ by clicking the link above. You will have to register before you can post; click the register link above to proceed. To start viewing messages, visit our main forum, The Lounge or click on a thread title below this message.
» Recent Threads
Title, Username, & Date
Last Post
Replies
Views
Cardinals Release WR DeAndre Hopkins

Today

08:50 PM

by

mlyonsd

1,084

36,330

***Official 2022-2023 NBA Thread***

Today

08:44 PM

by

Megatron96

4,723

79,572

Tyler Boyd: Cincy Bengals are Whiny Deluded Bitches & I'm one of them

Today

08:41 PM

by

Rasputin

66

1,571

Space Exploration megathread

Today

08:11 PM

by

Donger

5,174

1,085,292

Wordle

Today

08:05 PM

by

Fat Elvis

9,479

347,870

Gasoline over $4 coming to a pump near you because **** you

Today

08:02 PM

by

Donger

1,993

233,455

***Official Royals at Cardinals May 30 GDT***

Today

07:59 PM

by

ChiefsCountry

10

118

Mikerophone breakdown of Chiefs 05/28

Today

07:37 PM

by

Bump

13

558

Frank Clark no longer ****ing sucks

Today

07:34 PM

by

tredadda

1,376

62,643

Do you Believe in Bigfoot ?

Today

07:21 PM

by

Why Not?

707

179,296

» Online Users: 584
89 members and 495 guests
11Chiefs, AndChiefs, AustinChief, beach tribe, beerwolf, BigCatDaddy, bigjosh, booger, Buehler445, Bump, CatfishBob2, Chiefaholic, ChiefsCountry, ChiefsOne, Chiefspants, ChoctawChiefsFan, crayzkirk, CrossCheck, dallaschiefsfan, DenverChief, DJBILL, dlphg9, Donger, Dr. Gigglepants, Dunerdr, Fish, FlaChief58, Hammock Parties, hawkchief, Hawker007, HonestChieffan, huffmd15, ILChief, IowaHawkeyeChief, irafreak, Jewish Rabbi, KC Hawks, KCChiefsFan88, KCnodefense, KCUnited, KC_Connection, kevrunner, LiveSteam, Malcor, Megatron96, Mephistopheles Janx, Misplaced_Chiefs_Fan, mlyonsd, Munson, New World Order, OKchiefs, oldandslow, old_geezer, philfree, ping2000, Prison Bitch, Raiderhater, Rain Man, Rasputin, redfriday, RedinTexas, Renegade, Ron Swanson, Roy Munson, Saulbadguy, scho63, Shag, shitgoose, shrlked, smithandrew051, staylor26, ThaVirus, The Franchise, The Rick, tmax63, tredadda, WhawhaWhat, wil75, Wilson8, Wyatt Earp, Zebedee DuBois
Most users ever online was 4,753, 12-04-2015 at 09:37 PM.