» Stats
Members: 12,961
Threads: 246,737
Posts: 13,737,856

Welcome to our newest member, ziashani

» Welcome, guest!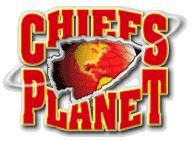 Welcome to ChiefsPlanet,
a Kansas City Chiefs Message Board
This forum is fast and furious with discussion on all variety of topics. Newbies welcomed. If you enjoy reading, don't be shy - please jump in and post!
If this is your first visit, be sure to check out the FAQ by clicking the link above. You will have to register before you can post; click the register link above to proceed. To start viewing messages, visit our main forum, The Lounge or click on a thread title below this message.
» Recent Threads
Title, Username, & Date
Last Post
Replies
Views
D. Williams thread

Today

07:56 AM

by

htismaqe

86

2,520

Chiefs Wednesday injury/practice report

Today

07:51 AM

by

htismaqe

144

5,619

Let's Talk About the Bills (AFC Championship Edition)

Today

07:49 AM

by

htismaqe

863

19,673

Glazer: Chiefs expect Mahomes to play in AFCCG

Today

07:47 AM

by

htismaqe

568

29,838

**Run It Back get a personalized drawing from me**

Today

07:42 AM

by

Graystoke

355

12,830

Chiefs Browns Mic'd Up: Im a big dawg..you aint no dawgs you f****** Chihuahuas

Today

07:38 AM

by

wheeler08

20

814

***Official (2020)-2021 NHL Thread***

Today

07:21 AM

by

GloryDayz

58

1,016

*****The L'Jarius Sneed Thread*****

Today

07:17 AM

by

MahomesMagic

365

33,837

Chiefs sign Taco Charlton

Today

07:13 AM

by

Dunerdr

263

27,315

Chiefs vs Browns: HENNE GIVEN SUNDAY

Today

06:53 AM

by

RedRaider56

21

671

» Online Users: 401
100 members and 301 guests
1963chief, Baby Lee, BeMyValentine, bigjosh, booyaf2, Buehler445, CanadianChief, CatinKS, Chazno, Chief3188, chiefanz, ChiefEd, chiefs1okie, Chiefs42, chiefsbam, CordMcNally, cosmo20002, CrossCheck, Dalex, Dartgod, Dayze, displacedinMN, dmahurin, Dull Tools, duncan_idaho, EWOK, Fezzic, FlaChief58, ForeverChiefs58, fredflintrock, GloryDayz, Graystoke, Hammock Parties, Hays, HemiEd, Hoopsdoc, htismaqe, huffmd15, IA_Chiefs_fan, jayhawksandchiefs, jiveturkey, jsmax, kcpasco, KCUnited, KC_Lee, KGSoloman5k, lawrenceRaider, louie aguiar, Lprechaun, mac459, MahiMike, MahomesKnows, MahomesMagic, Malcor, Mike in SW-MO, mililo4cpa, Mr_Tomahawk, Munson, neblo, NewChief, oldandslow, Over Yonder, PhishyMatt, PRIEST, RealSNR, RedinTexas, Robio9, RubberSponge, Rusty Shackleford, shitgoose, Siameseflea, Sideburn, SNAFU, staylor26, SupDock, TambaBerry, ThaVirus, threebag02, TNTEICHER, Tonka83, TwistedChief, tyler360, Vegas_Dave, WhawhaWhat, Why Not?, Zeke Ziggle, Zook
Most users ever online was 4,753, 12-04-2015 at 09:37 PM.