» Stats
Members: 12,020
Threads: 235,670
Posts: 12,706,357

Welcome to our newest member, anaheimkcfan

» Welcome, guest!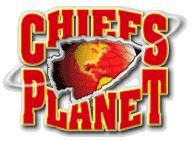 Welcome to ChiefsPlanet,
a Kansas City Chiefs Message Board
This forum is fast and furious with discussion on all variety of topics. Newbies welcomed. If you enjoy reading, don't be shy - please jump in and post!
If this is your first visit, be sure to check out the FAQ by clicking the link above. You will have to register before you can post; click the register link above to proceed. To start viewing messages, visit our main forum, The Lounge or click on a thread title below this message.
» Recent Threads
Title, Username, & Date
Last Post
Replies
Views
Broncos news megathread

Today

11:43 AM

by

MagicHef

35,468

2,337,157

SUPERMAHOMES

Today

11:41 AM

by

Clyde Frog

1

2

Schefter: Jalen Ramsey has asked for a trade

Today

11:40 AM

by

O.city

3,419

130,105

Dennis Rodman slept with Lamar Hunt's daughter...

Today

11:33 AM

by

Titty Meat

16

397

Eli Manning has made more money than any player in NFL history

Today

11:31 AM

by

Ubeja Vontell

26

820

Why are so many dissing our improved defense?

Today

11:28 AM

by

Hoover

39

893

Tomorrow, I am probably going to have to put my dog down.

Today

11:27 AM

by

JohnnyHammersticks

69

901

Dolphin player claims ref told him "Get off Tom" (Brady)

Today

11:22 AM

by

Imon Yourside

13

89

Per Terez, Tremon Smith picked up by the Packers

Today

10:56 AM

by

scho63

32

1,307

Kyler Murray vs Garner Minshew

Today

10:31 AM

by

Pitt Gorilla

58

1,807

» Online Users: 754
170 members and 584 guests
-King-, 493rd, AJKCFAN, Amnorix, anaheimkcfan, Barret, big nasty kcnut, BigBeauford, blazzin311, bloomer88, bluehawkdoc, bringbackmarty, brorth, B_Ambuehl, CaliforniaChief, Camaro, carcosa, carlos3652, CasselGotPeedOn, Cave Johnson, Chief Roundup, ChiefBlueCFC, chiefforlife, Chiefs Moon, Chiefs316, ChiefsFanWNY, ChiefsHawk, ClevelandBronco, Clyde Frog, colt459, Corandval1977, Cosmos, crashcourse, Dalex, Dayze, digger, dj562006, Donger, dsgreene2850, dynamicHDR, El Jefe, Eureka, Fish, Flachief58, FlorentinePogen, frank58, Friggles, Frosty, GeorgeZimZam, Giant Octopodes, GloucesterChief, GMitch, gpsdude, Hammock Parties, HermanHater, HingleMCringlebery, Hog's Gone Fishin, Imon Yourside, InChiefsHell, J Diddy, Jerm, JerseyChief, Jethopper, jettio, jfan, jjchieffan, JohnnyHammersticks, Judge Smails, KC Hawks, Ken Bone, kepp, kpic, Lennie Briscoe, LiveSteam, loochy, Luv it, MagicHef, Mahomey, MAHOMO 4 LIFE!, mattro18, Megatron96, Megbert, Meli.matrix, mkp785, Monkey God, Mr. Plow, Naptown Chief, NashvilleRock.net, NewChief, Nixhex, notorious, O.city, OKchiefs, Pablo, philfree, ping2000, Pogue, Priest31kc, RaiderH8r, Raiderhader, ralittleus, Realbaddog, Red Beans, RedRaider56, redshirt32, Reroka, rocknrolla, RollChiefsRoll, RunKC, ScareCrowe, Setsuna, Shag, shakesthecat, Showtime, Sig, slc, soonersfreak, Sorce, St. Patty's Fire, staylor26, SuperChief, Superturtle, suzzer99, TambaBerry, TEX, The Bunk, The Franchise, thechiefhusker, Third Eye, Thunderlizard, tooge, treeguy27, TwistedChief, Ubeja Vontell, Warpaint69, WhawhaWhat, WhiteWhale, wil75, Windrammer, Wyatt Earp, YayMike
Most users ever online was 4,753, 12-04-2015 at 09:37 PM.