» Stats
Members: 12,435
Threads: 239,902
Posts: 13,057,856

Welcome to our newest member, Trip_Rusdes

» Welcome, guest!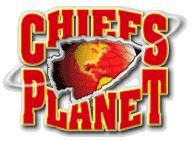 Welcome to ChiefsPlanet,
a Kansas City Chiefs Message Board
This forum is fast and furious with discussion on all variety of topics. Newbies welcomed. If you enjoy reading, don't be shy - please jump in and post!
If this is your first visit, be sure to check out the FAQ by clicking the link above. You will have to register before you can post; click the register link above to proceed. To start viewing messages, visit our main forum, The Lounge or click on a thread title below this message.

» Online Users: 1,237
124 members and 1,113 guests
007, 1963chief, 44yearsandcounting, AJKCFAN, alpha_omega, Archie Bunker, ArrowheadMagic, arrowheadnation, Baby Lee, banyon, Beethoven, Big Gray Chief, bloomer88, Boiled Chicken, Buehler445, BWillie, CapsLockKey, CasselGotPeedOn, Chief Pagan, Chief Roundup, Chiefspants, chiefzilla1501, cj2wr, Dallas Chief, Danguardace, Discuss Thrower, displacedinMN, dpg4zombie, DRM08, DRU, eDave, FlaChief58, Flying High D, ForeverIowan, GloryDayz, Hammock Parties, HemiEd, Hog's Gone Fishin, iachief, Jerok, Jewish Rabbi, KC4LIFE1977, Kclee, KCnodefense, KC_Lee, kgrund, kpic, KS Smitty, LiveSteam, Los Pollos Hermanos, mac459, MagicHef, MahiMike, MahomesKnows, Marcellus, MatriculatingHank, Misplaced_Chiefs_Fan, mlyonsd, Munson, New World Order, NinerDoug, NJChiefsFan27, oaklandhater, petegz28, philfree, phisherman, PhishyMatt, POND_OF_RED, prhom, Prison Bitch, pugsnotdrugs19, Raiderhader, Rain Man, RealSNR, Renegade, rhinson1380, RodeoPants2, SAGA45, sam_I_am, Sannyasi, Saulbadguy, seamonster, seaofred, Setsuna, ShiftyEyedWaterboy, Shiver Me Timbers, sparky454, Spott, St. Patty's Fire, stanleychief, staylor26, Stinger, stumppy, Superturtle, theoldcoach, tredadda, True North, Ubeja Vontell, UChieffyBugger, Why Not?, yeti
Most users ever online was 4,753, 12-04-2015 at 09:37 PM.