» Today's Birthdays
Groves (49)


» Stats
Members: 12,482
Threads: 240,700
Posts: 13,129,112

Welcome to our newest member, Controldeplagas

» Welcome, guest!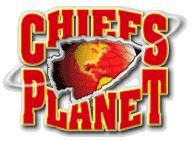 Welcome to ChiefsPlanet,
a Kansas City Chiefs Message Board
This forum is fast and furious with discussion on all variety of topics. Newbies welcomed. If you enjoy reading, don't be shy - please jump in and post!
If this is your first visit, be sure to check out the FAQ by clicking the link above. You will have to register before you can post; click the register link above to proceed. To start viewing messages, visit our main forum, The Lounge or click on a thread title below this message.
» Recent Threads
Title, Username, & Date
Last Post
Replies
Views
Fire Me Boy! What's For Dinner? Thread

Today

11:00 AM

by

KCUnited

14,720

1,309,995

***NON-POLITICAL COVID-19 Discussion Thread***

Today

10:57 AM

by

'Hamas' Jenkins

16,115

389,957

Sammy Watkins will officially be back

Today

10:53 AM

by

rabblerouser

148

4,333

Vegas during Covid

Today

10:47 AM

by

Carlota69

2

89

Pittsburgh Dad kicks off "Pittsburgh Stay at Home" video

Today

10:41 AM

by

gblowfish

0

14

RIP Bill Withers

Today

10:40 AM

by

Randallflagg

19

364

Chiefs sign QB Jordan Ta'amu

Today

10:39 AM

by

FAX

23

940

Chiefs draft rumor & plans for virtual draft

Today

10:33 AM

by

Chris Meck

21

524

Not-Politics "Awesome Meme" Thread

Today

10:32 AM

by

cripple creek

735

71,197

Hey Small Business Owners...What are you doing to ride the storm out?

Today

10:29 AM

by

Papachief

301

6,546

» Online Users: 570
152 members and 418 guests
2bikemike, 44yearsandcounting, AJKCFAN, alpha_omega, Archer27, Archie Bunker, AustinChief, Baby Lee, banyon, BigBeauford, blake5676, BleedingRed, booyaf2, BOXERAJ, Brooklyn, CaliforniaChief, Carlota69, ChiefBlueCFC, chiefforlife, Chiefs42, ChiliConCarnage, ClevelandBronco, Clyde Frog, Coochie liquor, Cosmos, cron912, Dalex, Detoxing, Discuss Thrower, displacedinMN, DJ's left nut, dls6501, dmahurin, Donger, DrRyan, duncan_idaho, Dunerdr, El Jefe, EPodolak, EWOK, F150, FAH-Q, FAX, ForeverIowan, gh4chiefs, gpsdude, Graystoke, Hamwallet, HemiEd, huffmd15, IChief, Iowanian, Jamie, jayhawkkbs, jayhawksandchiefs, Jerm, jetlord, Juan Time, jynni, kappa72202, KC BOND, KC Hawks, KCUnited, KC_Connection, kgrund, KS Smitty, KurtCobain, Lennie Briscoe, Lickerman, Lilmrp117, LoneWolf, Los Pollos Hermanos, MagicHef, Mahomes_Is_God, manchambo, MartinThore, Misplaced_Chiefs_Fan, mkp785, mlyonsd, Monticore, Mr. Plow, mr. tegu, Mr_Tomahawk, NinerDoug, Ninerfan11, notorious, O.city, OKchiefs, oldandslow, Otter, Pablo, penguinz, petegz28, PHANTOM, Prison Bitch, PunkinDrublic, Raiderhader, Randallflagg, Red Beans, Red Dawg, RickObie, Ron Swanson, seaofred, Sfeihc, Shag, Shields68, Sig, Simply Red, slc, Snopes Hammer, soonersfreak, Stinger, Stro39, stumppy, SupDock, The Franchise, theakamu, thecoffeeguy, theoldcoach, Time's Yours, Tnerped, Toad, Trevo_410, Wallcrawler, wazu, Why Not?, YayMike, yellowfin13x, Zebedee DuBois, Zook
Most users ever online was 4,753, 12-04-2015 at 09:37 PM.