» Stats
Members: 13,159
Threads: 248,940
Posts: 13,945,710

Welcome to our newest member, Harryol49

» Welcome, guest!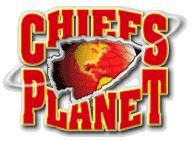 Welcome to ChiefsPlanet,
a Kansas City Chiefs Message Board
This forum is fast and furious with discussion on all variety of topics. Newbies welcomed. If you enjoy reading, don't be shy - please jump in and post!
If this is your first visit, be sure to check out the FAQ by clicking the link above. You will have to register before you can post; click the register link above to proceed. To start viewing messages, visit our main forum, The Lounge or click on a thread title below this message.
» Recent Threads
Title, Username, & Date
Last Post
Replies
Views
***Official (2020)-2021 NHL Thread***

Today

09:20 PM

by

GloryDayz

542

20,791

Craig Stout: Chris Jones has been lining up at DE a TON at OTAs.

Today

09:15 PM

by

Halfcan

219

8,143

****OFFICIAL NBA Playoffs Thread****

Today

09:14 PM

by

BWillie

1,614

81,763

*****Official Red Sox vs. Royals GDT - June 18*****

Today

09:12 PM

by

ChiefsCountry

105

805

HBD KurtCobain & SCTrojan

Today

08:21 PM

by

SCTrojan

5

148

Driver charged in deadly crash reportedly was having sex

Today

08:16 PM

by

REDHOTGTO

34

1,264

****OFFICIAL Raiders suck thread****

Today

07:59 PM

by

Halfcan

933

138,544

***Official 2021 Royals Season Repository Thread***

Today

07:37 PM

by

Mama Hip Rockets

2,908

157,354

Investing megathread extravaganza

Today

07:36 PM

by

philfree

10,205

1,257,621

Tickets needed for a huge fan and the family

Today

07:34 PM

by

BigRedChief

21

543

» Online Users: 413
70 members and 343 guests
A8bil, Baby Lee, Barret, Bearcat, Boxer_Chief, Brooklyn, brorth, BWillie, Cheater5, Chief Roundup, Chiefs42, ChiefsCountry, CrossCheck, Dante84, DCrockett, DJJasonp, DrRyan, flinchfree, ForeverChiefs58, ForeverIowan, ghty, GloryDayz, Great Expectations, Groves, Hammock Parties, Icon, Jewish Rabbi, KCChiefsFan88, KC_Connection, KS Smitty, KurtCobain, lawrenceRaider, mac459, Mama Hip Rockets, Mephistopheles Janx, Misplaced_Chiefs_Fan, mkrug73, Monticore, mr. tegu, neblo, petegz28, philfree, phisherman, POND_OF_RED, RustShack, Saulbadguy, Shields68, Snopes Hammer, stumppy, Superturtle, tatorhog, The Franchise, theoldcoach, tredadda, Wyatt Earp
Most users ever online was 4,753, 12-04-2015 at 09:37 PM.