» Stats
Members: 12,659
Threads: 243,203
Posts: 13,348,952

Welcome to our newest member, BrendanRen

» Welcome, guest!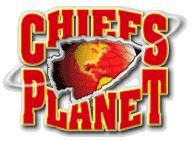 Welcome to ChiefsPlanet,
a Kansas City Chiefs Message Board
This forum is fast and furious with discussion on all variety of topics. Newbies welcomed. If you enjoy reading, don't be shy - please jump in and post!
If this is your first visit, be sure to check out the FAQ by clicking the link above. You will have to register before you can post; click the register link above to proceed. To start viewing messages, visit our main forum, The Lounge or click on a thread title below this message.
» Recent Threads
Title, Username, & Date
Last Post
Replies
Views
Hill and Hardman had a 40 & 60 yard race today

Today

02:42 PM

by

Coogs

26

688

***NON-POLITICAL COVID-19 Discussion Thread***

Today

02:40 PM

by

Monticore

42,025

1,505,304

Crown Royal Peach Whisky

Today

02:36 PM

by

lewdog

23

361

*****The Patrick Mahomes Thread*****

Today

02:33 PM

by

RoyalsAndSaints

28,410

2,863,195

Derek Carr ****ing sucks

Today

02:27 PM

by

DJ's left nut

886

95,959

Hey you mechanically inclined folk! Please help revise engineer this chocolate pump

Today

02:25 PM

by

Trivers

5

101

****Official 2019-2020 NHL Season Thread****

Today

02:22 PM

by

Bearcat

359

20,433

Who is the GOAT QB?

Today

02:16 PM

by

RoyalsAndSaints

159

20,121

St. Louis Cardinals sidelined with COVID

Today

02:08 PM

by

Hayneplane

203

5,384

What are you Smoking/Grilling/BBQ...

Today

01:46 PM

by

cooper barrett

2,413

243,686

» Online Users: 632
77 members and 555 guests
1963chief, 44yearsandcounting, Archie Bunker, asdf, Baby Lee, Bearcat, BossChief, Bowser, Boxer_Chief, chiefs1111, Chiefs316, Chiefspants, ChiliConCarnage, cj2wr, dannybcaitlyn, Dante84, Denfan, Detoxing, DJ's left nut, Donger, dtrain, Hammock Parties, HayWire, HemiEd, htismaqe, Husker, IA_Chiefs_fan, Iowanian, jdubya, Jewish Rabbi, kcmaxwell, KCUnited, kcxiv, KGSoloman5k, kpic, Loneiguana, LTL, Mahomes_Is_God, Mephistopheles Janx, MGRS13, MIAdragon, Miles, MMXcalibur, mnchiefsguy, Monticore, mr. tegu, okiedokieokoye, PattyFlakes, petegz28, phisherman, Pointer19, Prison Bitch, Raiderhader, rambleonthruthefog, Rasputin, RealSNR, RodeoPants2, Roy Munson, RoyalsAndSaints, SBLIVchamps, SupDock, The Franchise, Third Eye, tredadda, Wisconsin_Chief, Wyatt Earp, Zook
Most users ever online was 4,753, 12-04-2015 at 09:37 PM.