» Stats
Members: 12,788
Threads: 244,875
Posts: 13,520,289

Welcome to our newest member, DeargPartigiano

» Welcome, guest!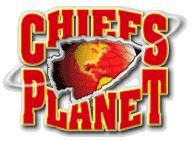 Welcome to ChiefsPlanet,
a Kansas City Chiefs Message Board
This forum is fast and furious with discussion on all variety of topics. Newbies welcomed. If you enjoy reading, don't be shy - please jump in and post!
If this is your first visit, be sure to check out the FAQ by clicking the link above. You will have to register before you can post; click the register link above to proceed. To start viewing messages, visit our main forum, The Lounge or click on a thread title below this message.
» Recent Threads
Title, Username, & Date
Last Post
Replies
Views
Should Le' Veon take over as RB1?

Today

12:43 PM

by

Megatron96

0

1

***NON-POLITICAL COVID-19 Discussion Thread***

Today

12:42 PM

by

Fish

45,703

2,062,944

Kyler Murray, Justin Hebert or Mahomes?

Today

12:42 PM

by

htismaqe

81

1,115

TEN STRAIGHT AGAINST THE SHIT ASS BRONCOS REP THREAD!!!!

Today

12:41 PM

by

KCwolf

88

1,417

****Official Defending Super Bowl Champions Kansas City Chiefs vs Denver Broncos****

Today

12:40 PM

by

Pitt Gorilla

2,407

42,330

Any update on Martinas Rankin?

Today

12:40 PM

by

RealSNR

12

13

I think I might be in love with Dan Sorensen.

Today

12:40 PM

by

PAChiefsGuy

47

1,780

Jags RB Armstead expected to miss rest of season due to COVID

Today

12:40 PM

by

penguinz

9

10

Trade possibilities

Today

12:39 PM

by

O.city

54

2,252

Bengals DE Carlos Dunlap

Today

12:37 PM

by

Pasta Giant Meatball

14

452

» Online Users: 535
145 members and 390 guests
-King-, 493rd, AdolfOliverBush, alanm, alpha_omega, Baby Lee, backinblack, Basileus777, bax_, bdlangton, Best22, Bewbies, BigBeauford, BigCatDaddy, bobbything, bsp4444, Buehler445, busted flush, CaliforniaChief, CapsLockKey, carcosa, CarlosCarson88, CasselGotPeedOn, Chief Redmen, ChiefBlueCFC, Chiefsfan1, ChiefsFanatic, CoMoChief, comochiefsfan, cripple creek, Dayze, Detoxing, Discuss Thrower, Donger, El Lobo Gordo, epitome1170, Eureka, Fish, funkymunk, Go Royals, Great Expectations, Great8, Hammock Parties, Hays, htismaqe, Hydrae, Iczer, IowaHawkeyeChief, Iowanian, jab0450, jynni, kcfan75, kcjayhawks5, kcmecker, KCUnited, KCwolf, kcwolf84, kcxiv, KC_Lee, Kman34, Lennie Briscoe, LiveSteam, mac459, Mahomes4MVP, Megatron96, Merde Furieux, mililo4cpa, mlyonsd, Mr. Plow, mr. tegu, MTG#10, nicksdad, NinerDoug, O.city, oaklandhater, OKchiefs, Old Dog, Pablo, PAChiefsGuy, Pasta Giant Meatball, penguinz, phisherman, Pitt Gorilla, Priest31kc, Prison Bitch, ptlyon, Pygamos, RaiderH8r, Rain Man, RealSNR, RedRaider56, RedSea90, rico, ROYC75, SBLIVchamps, sedated, SFfan79, shakesthecat, Shoes, shrlked, Sofa King, staylor26, Stinger, stonedstooge, stumppy, Superturtle, swifty32661, Taco John, theakamu, thecoffeeguy, Toad, tyler360, Ubeja Vontell, UChieffyBugger, UK_Chief, wachashi, Wallcrawler, wazu, WhawhaWhat, Why Not?, Wyatt Earp, YayMike, Zook
Most users ever online was 4,753, 12-04-2015 at 09:37 PM.