» Stats
Members: 13,043
Threads: 247,579
Posts: 13,815,540

Welcome to our newest member, Jheri Curl Jankins

» Welcome, guest!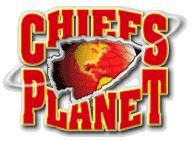 Welcome to ChiefsPlanet,
a Kansas City Chiefs Message Board
This forum is fast and furious with discussion on all variety of topics. Newbies welcomed. If you enjoy reading, don't be shy - please jump in and post!
If this is your first visit, be sure to check out the FAQ by clicking the link above. You will have to register before you can post; click the register link above to proceed. To start viewing messages, visit our main forum, The Lounge or click on a thread title below this message.
» Recent Threads
Title, Username, & Date
Last Post
Replies
Views
Boone County inmate used body cavity to conceal tiny gun

Today

07:59 PM

by

KS Smitty

20

419

ALEX SMITH RELEASED

Today

07:59 PM

by

The Franchise

4

45

***NON-POLITICAL COVID-19 Discussion Thread***

Today

07:46 PM

by

jdubya

51,892

3,406,616

***Official 2021 Royals Season Repository Thread***

Today

07:33 PM

by

BWillie

381

20,636

Investing megathread extravaganza

Today

07:28 PM

by

Hog's Gone Fishin

8,224

966,613

I want to show you my newest sports card...

Today

07:23 PM

by

In58men

408

38,823

Veach's '21 Offseason Plan to Keep Us Thriving: Let's speculate

Today

07:11 PM

by

DaneMcCloud

2,330

59,788

The Motorcycle Discussion Thread

Today

06:51 PM

by

hometeam

2,431

320,777

After 14 years I've been banned from a thread

Today

06:22 PM

by

Raiderhader

226

5,284

Gasoline at $2.50 Coming to a Pump Near You, Unfazed by Falling Tab

Today

05:24 PM

by

FlaChief58

839

95,965

» Online Users: 361
68 members and 293 guests
arrowheadnation, beerwolf, bigjosh, BigRichard, booyaf2, Buehler445, CasselGotPeedOn, ChiefaRoo, Chiefspants, ChiliConCarnage, dgeeze, dlphg9, EPodolak, FlaChief58, gh4chiefs, Goodys, HayWire, Hog's Gone Fishin, Hydrae, ILChief, IowaHawkeyeChief, jdubya, Jerok, jerryaldini, Jewish Rabbi, JohnnyV13, Judge Smails, KCChiefsFan88, KCUnited, kcxiv, kevrunner, KS Smitty, LiveSteam, louie aguiar, mac459, mightyphoenix1, mlyonsd, notorious, p51nut, Raiderhader, REDHOTGTO, RustShack, SFfan79, slc, smithandrew051, stumppy, SuperBowl4, Superturtle, ThaVirus, The Franchise, vailpass, whoaskew, Why Not?
Most users ever online was 4,753, 12-04-2015 at 09:37 PM.