» Stats
Members: 11,703
Threads: 231,915
Posts: 12,360,481

Welcome to our newest member, Keganmn

» Welcome, guest!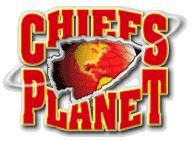 Welcome to ChiefsPlanet,
a Kansas City Chiefs Message Board
This forum is fast and furious with discussion on all variety of topics. Newbies welcomed. If you enjoy reading, don't be shy - please jump in and post!
If this is your first visit, be sure to check out the FAQ by clicking the link above. You will have to register before you can post; click the register link above to proceed. To start viewing messages, visit our main forum, The Lounge or click on a thread title below this message.
» Recent Threads
Title, Username, & Date
Last Post
Replies
Views
Let's skew this KC vs STL poll

Today

05:36 PM

by

Hammock Parties

0

1

Broncos news megathread

Today

05:34 PM

by

BlackOp

34,000

1,702,978

Inaugural weekend for AAF

Today

05:26 PM

by

TribalElder

356

7,754

Personal finance and investing megathread extravaganza

Today

05:25 PM

by

ChiliConCarnage

2,641

238,236

Dinner w/Pat & Brittany $52k

Today

05:25 PM

by

TribalElder

54

1,641

Damn, George was SMOOTH!

Today

05:22 PM

by

kjwood75nro

13

672

Hypothetical: If you were aboard the Titanic.

Today

05:10 PM

by

Rain Man

167

2,881

Chiefs hire Steve Spagnuolo as new defensive coordinator

Today

05:06 PM

by

Chris Meck

2,354

65,726

2019 Free agency Thread

Today

05:01 PM

by

Toad

348

12,408

***** Official 2018-2019 Kansas Basketball Repository Thread *****

Today

04:38 PM

by

RealSNR

1,608

58,112

» Online Users: 382
105 members and 277 guests
-King-, 1963chief, AldenMume, alpha_omega, beerwolf, BigCatDaddy, BlackOp, BleedingRed, Bowser, C3HIEF3S, CatfishBob2, Cave Johnson, chiefforlife, chiefzilla1501, ChiliConCarnage, Chris Meck, cj2wr, CoMoChief, CordMcNally, CrossCheck, displacedinMN, Earthbound, emaw82, Eureka, farmerchief, ForeverChiefs58, GloryDayz, GMitch, Hammock Parties, htismaqe, IChief, IowaHawkeyeChief, jachba, Jerm, Jewish Rabbi, Jim Hammer, Jimkcchief88, JKCKCheif, KC Hawks, KCUnited, Keganmn, kgrund, King_Chief_Fan, kjwood75nro, KYChief, Lilmrp117, LiveSteam, Luv it, mac459, MagicHef, Malcor, mililo4cpa, mnchiefsguy, MTG#10, Munson, NinerDoug, oldandslow, PAChiefsGuy, petegz28, phisherman, Pogue, Priest31kc, Prison Bitch, Raiderhader, redfriday, Royalchiefsfan, sd4chiefs, Shields68, Sorry, Stargazer, staylor26, Sweet Daddy Hate, TambaBerry, TEX, the steam, TheBrat, Third Eye, threebag02, tmax63, Toto, TrebMaxx, TwistedChief, vailpass, Warrior5, Why Not?, Wilson8, wolfeman59, Yosef_Malkovitch, Zeke Ziggle
Most users ever online was 4,753, 12-04-2015 at 09:37 PM.