» Stats
Members: 12,439
Threads: 239,939
Posts: 13,060,470

Welcome to our newest member, Maxwell18W

» Welcome, guest!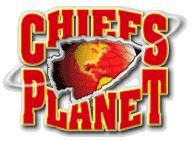 Welcome to ChiefsPlanet,
a Kansas City Chiefs Message Board
This forum is fast and furious with discussion on all variety of topics. Newbies welcomed. If you enjoy reading, don't be shy - please jump in and post!
If this is your first visit, be sure to check out the FAQ by clicking the link above. You will have to register before you can post; click the register link above to proceed. To start viewing messages, visit our main forum, The Lounge or click on a thread title below this message.
» Recent Threads
Title, Username, & Date
Last Post
Replies
Views
***Official 2020 NFL Combine Thread***

Today

05:18 PM

by

JohnnyHammersticks

383

8,838

Chris Jones to be Franchised

Today

05:17 PM

by

BigRedChief

84

2,488

Kelce: "Crazy Opportunity" to visit White House

Today

05:13 PM

by

Chiefs4TheWin

37

1,327

Salary Cap cuts - Hitchens and LDT

Today

05:11 PM

by

BossChief

60

1,474

2020 Royals Official Offseason/Season Repository

Today

05:11 PM

by

duncan_idaho

260

10,514

We have a new GM and his name is Brett Veach

Today

05:06 PM

by

PAChiefsGuy

438

28,715

The uncomfortable reality that is a fading Tom Brady

Today

05:00 PM

by

Megatron96

2,041

120,975

Personal finance and investing megathread extravaganza

Today

04:58 PM

by

KCUnited

3,533

417,896

Chiefs NFL Records

Today

04:29 PM

by

Halfcan

18

543

Chiefs All-Decade Team - Defensive Tackles

Today

04:07 PM

by

digger

18

368

» Online Users: 806
80 members and 726 guests
Archie Bunker, Baby Lee, beerwolf, BigRedChief, BigRichard, bobbymitch, BossChief, brorth, Buehler445, carlos3652, Chief3188, ChiefOmaha, Chiefs4TheWin, ChiliConCarnage, CordMcNally, crispystl420, Detoxing, DRM08, duncan_idaho, fairladyZ, FlaChief58, IChief, Jamie, jeff h, jjchieffan, JohnnyHammersticks, Juan Time, kc rush, kc-nd, kc79, KCUnited, mac459, Mahomes_Is_God, MAHOMO 4 LIFE!, Megatron96, Mephistopheles Janx, MGRS13, Miles, Misplaced_Chiefs_Fan, Mizzou_8541, O.city, old_geezer, OmahaChief, Pablo, PAChiefsGuy, phisherman, PHOG, Pitt Gorilla, Prison Bitch, ReynardMuldrake, royr17, RunKC, rydogg58, ShowtimeSBMVP, Sideburn, staylor26, The Franchise, theoldcoach, threebag02, TimBone, Tinker Dill, TrebMaxx, Trevo_410, tyler360, Whereizzy, Why Not?, yeti
Most users ever online was 4,753, 12-04-2015 at 09:37 PM.