» Stats
Members: 13,621
Threads: 253,945
Posts: 14,528,258

Welcome to our newest member, m8betvn

» Welcome, guest!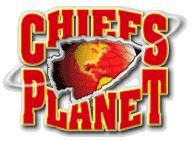 Welcome to ChiefsPlanet,
a Kansas City Chiefs Message Board
This forum is fast and furious with discussion on all variety of topics. Newbies welcomed. If you enjoy reading, don't be shy - please jump in and post!
If this is your first visit, be sure to check out the FAQ by clicking the link above. You will have to register before you can post; click the register link above to proceed. To start viewing messages, visit our main forum, The Lounge or click on a thread title below this message.
» Recent Threads
Title, Username, & Date
Last Post
Replies
Views
Another hot teacher caught having sex with student

Today

09:23 PM

by

Fish

4,371

1,259,784

I had a fall

Today

09:22 PM

by

MVChiefFan

17

60

*****The Bryan Cook Thread*****

Today

09:19 PM

by

Dunerdr

170

10,172

Bills Talk

Today

09:18 PM

by

Simply Red

55

1,027

*****The Creed Humphrey Thread*****

Today

09:16 PM

by

Dunerdr

544

69,989

**** Official 2021-2022 NHL Thread ****

Today

09:13 PM

by

Fish

411

12,368

Deshaun Watson to Browns

Today

09:12 PM

by

Nickhead

284

10,542

****Official 2022 Free Agency Megathread****

Today

09:12 PM

by

Tribal Warfare

6,935

274,945

Johnny takes a leak!

Today

09:06 PM

by

Zebedee DuBois

10

341

***Official 2021-2022 NBA Thread***

Today

08:59 PM

by

dirk digler

907

37,096

» Online Users: 842
103 members and 739 guests
AJKCFAN, alanm, backinblack, baitism, bax_, BlackOp, Blaker32, Bowser, Buehler445, CapsLockKey, CasselGotPeedOn, chiefs1111, ChiefsFan63, chiefzilla1501, ChiliConCarnage, Chris Meck, colt459, cosmo20002, Couch-Potato, dgeeze, duncan_idaho, Dunerdr, EPodolak, Eureka, fan4ever, Fat Elvis, Fish, frozenchief, ghty, GloryDayz, GloucesterChief, golfindude, hinde58, Hog's Gone Fishin, HoneyBadger, IA_Chiefs_fan, IChief, Icon, Iconic, In58men, Indian Chief, jamesadamic, Jerok, jerryaldini, Jewish Rabbi, KC Hawks, KCnodefense, KCUnited, loochy, Los Pollos Hermanos, louie aguiar, Lprechaun, Luncian, Lzen, MahomesMagic, Malcor, Matriculation, Miles, Misplaced_Chiefs_Fan, Mizzou_8541, mlyonsd, Mr. Wizard, New World Order, Nickhead, NJChiefsFan, penguinz, philfree, phisherman, Pitt Gorilla, primetime444, Rain Man, Renegade, RHep, rower8899, rtuimauga, Simply Red, Snopes Hammer, Stanley Nickels, staylor26, stevieray, Stryker, sully1983, SupDock, TrebMaxx, tredadda, Tyreek Pikachu, WhawhaWhat, ydub
Most users ever online was 4,753, 12-04-2015 at 09:37 PM.