» Stats
Members: 13,940
Threads: 257,231
Posts: 14,995,953

Welcome to our newest member, chief-warrior

» Welcome, guest!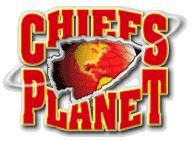 Welcome to ChiefsPlanet,
a Kansas City Chiefs Message Board
This forum is fast and furious with discussion on all variety of topics. Newbies welcomed. If you enjoy reading, don't be shy - please jump in and post!
If this is your first visit, be sure to check out the FAQ by clicking the link above. You will have to register before you can post; click the register link above to proceed. To start viewing messages, visit our main forum, The Lounge or click on a thread title below this message.
» Recent Threads
Title, Username, & Date
Last Post
Replies
Views
DID Y'ALL SEE WHAT CINCINNATI TRASH MAYOR SAID ABOUT MAHOMES?

Today

10:38 PM

by

Hammock Parties

1

2

BURROWHEAD: Bengals talking a lot of sh1ttttt

Today

10:38 PM

by

ThyKingdomCome15

744

23,870

The QB battle that unlocked Patrick Mahomes

Today

10:18 PM

by

Hammock Parties

56

1,585

Happy Birthday Taco John, Idahojim, ping2000 (57) RustShack (34) and Tucker1027 (28)

Today

10:16 PM

by

Jewish Rabbi

24

275

The Official Mountain Dew Thread

Today

10:15 PM

by

Al Bundy

63

1,261

Letís talk about the Bengals (AFC Championship Rd)

Today

10:00 PM

by

Hammock Parties

1,367

54,421

360 degree interactive 4k video of the playoff win

Today

09:55 PM

by

Kman34

1

76

some of you folks are so lucky

Today

09:46 PM

by

Zebedee DuBois

43

1,174

Kelce Questionable

Today

09:43 PM

by

Easy 6

131

5,635

NFL Considering Hip Tackle Ban

Today

09:37 PM

by

chiefzilla1501

62

2,110

» Online Users: 668
83 members and 585 guests
-King-, 11Chiefs, arrowhead20, Bill Brasky, Bl00dyBizkitz, Buehler445, CapsLockKey, Carr4MVP, CasselGotPeedOn, Chiefsfan1, Chiefspants, colt459, cowboyway, Dallas Chief, dallaschiefsfan, Daru, Denfan, Discuss Thrower, DJ's left nut, EWOK, Fat Elvis, FlaChief58, frank58, Hammock Parties, hinde58, Iconic, Jamie, jynni, KC Hawks, kc rush, kcmecker, KentuckyChief, KMEL, LoneWolf, louie aguiar, Mahomes007, MahomesIsTheMVP, Mahomes_Is_God, mightyphoenix1, New World Order, NJChiefsFan, Otter, Papachief, PhishyMatt, POND_OF_RED, Rain Man, Rasputin, Razaele, Red Beans, Redbled, RedinTexas, Redmond-Redcoat, Renegade, rfaulk34, RodeoPants2, Sensual Lardass, shrlked, smithandrew051, srvy, St. Patty's Fire, staylor26, stumppy, Superturtle, The Bunk, ThyKingdomCome15, TIED5573, Toad, TomBarndtsTwin, tooge, trndobrd, TwistedChief, UChieffyBugger, |Zach|
Most users ever online was 4,753, 12-04-2015 at 09:37 PM.