» Stats
Members: 11,751
Threads: 232,550
Posts: 12,426,805

Welcome to our newest member, holb28

» Welcome, guest!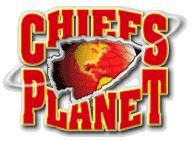 Welcome to ChiefsPlanet,
a Kansas City Chiefs Message Board
This forum is fast and furious with discussion on all variety of topics. Newbies welcomed. If you enjoy reading, don't be shy - please jump in and post!
If this is your first visit, be sure to check out the FAQ by clicking the link above. You will have to register before you can post; click the register link above to proceed. To start viewing messages, visit our main forum, The Lounge or click on a thread title below this message.
» Recent Threads
Title, Username, & Date
Last Post
Replies
Views
Gronkowski announces retirement

Today

04:58 PM

by

dls6501

104

3,390

2019 Free agency Thread

Today

04:54 PM

by

Superturtle

9,432

254,153

Ford GT hits 300.4 Mph in Texas standing mile...

Today

04:52 PM

by

Baby Lee

1

45

Patrick Mahomes will be an analyst on draft night

Today

04:48 PM

by

Imon Yourside

20

567

2019 NFL Draft Tidbits

Today

04:45 PM

by

Mother****erJones

159

4,738

Lucky to be alive, just spent 3 weeks in ICU!

Today

04:36 PM

by

DanT

143

7,139

What's For Dinner? Here's Mine Vol. 3.

Today

04:36 PM

by

Stewie

13,478

906,248

***Official Ancestry and DNA Thread***

Today

04:19 PM

by

Stewie

56

1,115

What the hell is CBD oil? And would you buy chocolate bars with this oil in it?

Today

04:08 PM

by

Kiimosabi

16

396

Had to put my dog down today

Today

04:07 PM

by

TwistedChief

67

1,942

» Online Users: 609
131 members and 478 guests
-King-, 1hughjass, Angry fan, Archie Bunker, Baby Lee, BDj23, Beef Supreme, beerwolf, BeMyValentine, Best22, BigCatDaddy, BleedingRed, Bogart, BossChief, BottomShelfBoose, Brooklyn, C3HIEF3S, carcosa, CasselGotPeedOn, Chiefaholic, chiefforlife, chiefs1111, chiefscafan, ChiefsFanWNY, ChiefsHawk, Chiefshrink, CoMoChief, Cornstock, cosmo20002, Cosmos, Dallas Chief, DanT, Detoxing, dls6501, Donger, dpg4zombie, Dragula56, duncan_idaho, eDave, fairladyZ, FAX, ForeverChiefs58, Frosty, Hammock Parties, huffmd15, Imon Yourside, IowaHawkeyeChief, JD10367, Jerm, Jerok, Jewish Rabbi, Jim Hammer, jjjayb, Judge Smails, KC Hawks, kc-nd, kcfanintitanhell, Kclee, KCUnited, kgrund, Kiimosabi, lawrenceRaider, Lprechaun, Luv it, mac459, MagicHef, Meli.matrix, Mizzou_8541, mlyonsd, Mother****erJones, Munson, NumbersGal0906, phisherman, Pogue, Priest31kc, Rain Man, RealSNR, Redbled, rolstrol, Royalchiefsfan, saturnknts, seamonster, seaofred, shammus, Shields68, Sofa King, St. Patty's Fire, Stanley Nickels, staylor26, stevieray, Stewie, stumppy, SuperChief, Superturtle, suzzer99, The Franchise, theoldcoach, Third Eye, True North, tyreekthefreak, vailpass, Wyatt Earp, YayMike
Most users ever online was 4,753, 12-04-2015 at 09:37 PM.