» Stats
Members: 12,660
Threads: 243,227
Posts: 13,350,431

Welcome to our newest member, Joe Kraken

» Welcome, guest!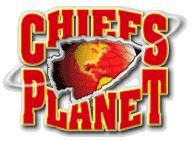 Welcome to ChiefsPlanet,
a Kansas City Chiefs Message Board
This forum is fast and furious with discussion on all variety of topics. Newbies welcomed. If you enjoy reading, don't be shy - please jump in and post!
If this is your first visit, be sure to check out the FAQ by clicking the link above. You will have to register before you can post; click the register link above to proceed. To start viewing messages, visit our main forum, The Lounge or click on a thread title below this message.
» Recent Threads
Title, Username, & Date
Last Post
Replies
Views
***NON-POLITICAL COVID-19 Discussion Thread***

Today

08:20 PM

by

lewdog

42,118

1,514,376

Lucas Niang opts out...

Today

08:16 PM

by

RunKC

286

8,116

Power 5 conferences moving toward postponing 2020 NCAA football season

Today

08:15 PM

by

O.city

22

427

St. Louis Cardinals sidelined with COVID

Today

08:08 PM

by

Demonpenz

229

6,060

Hill and Hardman had a 40 & 60 yard race today

Today

08:07 PM

by

CapsLockKey

76

3,590

Twins @ Royals- August 9th, 2020

Today

08:03 PM

by

lewdog

54

843

Maryville teen allegedly raped by football player

Today

07:39 PM

by

TripleThreat

414

38,989

Covers you like better than the original.

Today

07:18 PM

by

Fat Elvis

940

123,768

What are you Smoking/Grilling/BBQ...

Today

06:48 PM

by

BryanBusby

2,415

244,195

Hey you mechanically inclined folk! Please help revise engineer this chocolate pump

Today

06:17 PM

by

TinyEvel

15

432

» Online Users: 696
106 members and 590 guests
2bikemike, 44yearsandcounting, AndChiefs, bax_, BigBeauford, Bweb, CapsLockKey, Cave Johnson, Cheater5, Chief Roundup, chiefforlife, Chiefshrink, cookster50, CordMcNally, cosmo20002, dallaschiefsfan, DeepPurple, Demonpenz, displacedinMN, djchief56, Flying High D, GMitch, Groves, Hammock Parties, HingleMCringlebery, HonestChieffan, iachief, IA_Chiefs_fan, ILChief, Incognito, jd1020, Jenson71, Jerok, KC Hawks, kcclone, kccrow, kcxiv, KC_Connection, Kman34, listopencil, MagicHef, MartinThore, Mephistopheles Janx, meStevo, milehighkcfan, Miles, mlyonsd, O.city, OldMan22, osumatt, Pants, PattyFlakes, Pawnmower, petegz28, Rain Man, Rams Fan, RealSNR, redshirt32, Robio9, Ron Swanson, RunKC, SBLIVchamps, Snopes Hammer, staylor26, stevieray, stumppy, SupDock, suzzer99, ThaVirus, Third Eye, TripleThreat, Trivers, tyler360, UChieffyBugger, wazu, WhawhaWhat, Wisconsin_Chief, yeti, Zebedee DuBois
Most users ever online was 4,753, 12-04-2015 at 09:37 PM.