» Stats
Members: 12,746
Threads: 244,237
Posts: 13,450,055

Welcome to our newest member, JanisPwj4

» Welcome, guest!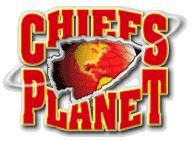 Welcome to ChiefsPlanet,
a Kansas City Chiefs Message Board
This forum is fast and furious with discussion on all variety of topics. Newbies welcomed. If you enjoy reading, don't be shy - please jump in and post!
If this is your first visit, be sure to check out the FAQ by clicking the link above. You will have to register before you can post; click the register link above to proceed. To start viewing messages, visit our main forum, The Lounge or click on a thread title below this message.
» Recent Threads
Title, Username, & Date
Last Post
Replies
Views
Up next Patriotcheaters and fig Newton

Today

09:17 PM

by

htismaqe

95

2,937

Broncos news megathread

Today

09:16 PM

by

RealSNR

37,692

3,285,659

Which QB is better: Dak Prescott or Lamar Jackson?

Today

09:16 PM

by

Warrick

159

1,900

Chris Simms postgame Chiefs vs Ravens commentary

Today

09:14 PM

by

eDave

33

1,800

****OFFICIAL NBA Playoffs Thread****

Today

09:13 PM

by

BigCatDaddy

466

14,055

Willie Gay

Today

09:07 PM

by

PAChiefsGuy

23

1,559

*****The Patrick Mahomes Thread*****

Today

09:07 PM

by

DRM08

28,811

3,054,980

Space Exploration megathread

Today

09:03 PM

by

DaFace

3,349

354,210

***** The Official Chiefs vs. Ravens game day thread*****

Today

08:55 PM

by

Beef Supreme

3,067

62,805

Not-Politics "Awesome Meme" Thread

Today

08:54 PM

by

GloryDayz

922

113,557

» Online Users: 478
111 members and 367 guests
2bikemike, 64 Chief, allen_kcCard, Archie Bunker, arrwheader, AustinChief, Baby Lee, Bearcat, Beef Supreme, BigBeauford, BigCatDaddy, BigRedChief, BlackOp, Brody Wa, Brooklyn, Chief3188, ChiefsCountry, Chiefspants, colt459, cosmo20002, CrossCheck, DJJasonp, dmahurin, DRM08, Dschu54, El Lobo Gordo, flinchfree, Flying High D, GeorgeZimZam, gh4chiefs, GloryDayz, Hog's Gone Fishin, HonestChieffan, htismaqe, jackkked, Jewish Rabbi, KC Hawks, kc rush, KCChiefsFan88, kcclone, Knuckledump, krieg17, KS Smitty, LoneWolf, Lprechaun, MatriculatingHank, Megatron96, Mike in SW-MO, mililo4cpa, Misplaced_Chiefs_Fan, mkp785, mlyonsd, Moorehse, MTG#10, Munson, New World Order, Nickhead, NinerDoug, notorious, PAChiefsGuy, Pants, Pasta Giant Meatball, philfree, POND_OF_RED, Pygamos, RaidersOftheCellar, Rain Man, ralittleus, Rasputin, Realbaddog, RealSNR, Red Dawg, rydogg58, Shag, shitgoose, Shiver Me Timbers, Simply Red, smithandrew051, Snopes Hammer, Soonerfan, St. Patty's Fire, staylor26, stevieray, Straight, No Chaser, Strongside, stumppy, Superturtle, TambaBerry, The Bunk, Thunderlizard, TJW, TomBarndtsTwin, Warrick, Wilson8
Most users ever online was 4,753, 12-04-2015 at 09:37 PM.