» Stats
Members: 13,716
Threads: 254,931
Posts: 14,648,990

Welcome to our newest member, syamsudin

» Welcome, guest!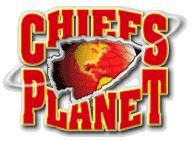 Welcome to ChiefsPlanet,
a Kansas City Chiefs Message Board
This forum is fast and furious with discussion on all variety of topics. Newbies welcomed. If you enjoy reading, don't be shy - please jump in and post!
If this is your first visit, be sure to check out the FAQ by clicking the link above. You will have to register before you can post; click the register link above to proceed. To start viewing messages, visit our main forum, The Lounge or click on a thread title below this message.
» Recent Threads
Title, Username, & Date
Last Post
Replies
Views
Broncos news megathread

Today

08:24 PM

by

RaidersOftheCellar

46,242

6,010,431

Commanders and Chiefs-Whose going?

Today

08:24 PM

by

Simply Red

25

519

Tom Brady left the Bucs camp a week ago and they don't know when he'll be back.

Today

08:23 PM

by

BigRedChief

138

4,568

Wordle

Today

08:20 PM

by

RedRaider56

4,543

98,030

50 Beers to Try Before You Die

Today

08:12 PM

by

SithCeNtZ

5,272

1,163,554

Daily Training Camp Threads vs Megathreads

Today

08:10 PM

by

Rain Man

47

707

Deshaun Watson Suspended 6 Games [increased to 11 games]

Today

08:08 PM

by

Rain Man

343

9,552

***Official 2022 Royals Season Repository Thread***

Today

08:01 PM

by

siberian khatru

5,241

206,470

Ya'll in KC need Jesus.....to buy me a watch!!!

Today

07:56 PM

by

Rausch

21

743

*****The Isaih Pacheco Thread*****

Today

07:36 PM

by

Buehler445

769

34,872

» Online Users: 591
66 members and 525 guests
Al Czervik, allen_kcCard, AndChiefs, Baby Lee, backinblack, BigRedChief, BlackOp, BleedingRed, Carr4MVP, CasselGotPeedOn, Chiefs4TheWin, Chiefsfan1, CordMcNally, dallaschiefsfan, Dante84, Dayze, DJJasonp, dlphg9, El Lobo Gordo, Eureka, farmerchief, Fish, Hammock Parties, HC_Chief, hometeam, Hydrae, Iconic, KCnodefense, Los Pollos Hermanos, MagicHef, Mile High Mania, notorious, philfree, RaidersOftheCellar, Rain Man, RaytownChief, RedRaider56, RustShack, Shaid, Simply Red, SithCeNtZ, smithandrew051, Spott, staylor26, Stinger, stumppy, Trevo_410, Yosef_Malkovitch
Most users ever online was 4,753, 12-04-2015 at 09:37 PM.