» Stats
Members: 11,788
Threads: 232,948
Posts: 12,463,387

Welcome to our newest member, SLC.Joe

» Welcome, guest!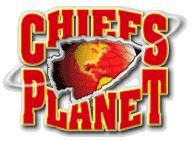 Welcome to ChiefsPlanet,
a Kansas City Chiefs Message Board
This forum is fast and furious with discussion on all variety of topics. Newbies welcomed. If you enjoy reading, don't be shy - please jump in and post!
If this is your first visit, be sure to check out the FAQ by clicking the link above. You will have to register before you can post; click the register link above to proceed. To start viewing messages, visit our main forum, The Lounge or click on a thread title below this message.
» Recent Threads
Title, Username, & Date
Last Post
Replies
Views
2019 NFL Draft Tidbits

Today

03:13 PM

by

MAHOMO 4 LIFE!

300

12,974

Kietzman and Mellinger Duking it out on Twitter

Today

03:10 PM

by

Demonpenz

10

346

****Official 2019 NFL Draft Discussion****

Today

03:01 PM

by

Chris Meck

60

1,028

****The Official 2019 STL Cardinals Thread****

Today

02:43 PM

by

VAChief

610

16,965

2019 Free agency Thread

Today

02:42 PM

by

Sweet Daddy Hate

11,287

339,595

What's For Dinner? Here's Mine Vol. 3.

Today

02:40 PM

by

threebag02

13,662

926,865

Veach's Press Conference - 4/18/19

Today

02:20 PM

by

Halfcan

196

6,008

Happy 420 my fellow weed heads. Weed smoking playlist

Today

02:19 PM

by

Molitoth

86

8,914

How many broken phones have you had?

Today

02:06 PM

by

TLO

62

681

Update on Tyreek Hill

Today

02:06 PM

by

PAChiefsGuy

318

13,529

» Online Users: 297
74 members and 223 guests
2bikemike, Al Czervik, baitism, beerwolf, bigdaddychieffan, BigRichard, blazzin311, BossChief, Bowser, brorth, CasselGotPeedOn, Chargem, chiefs1111, Chris Meck, Demonpenz, djchief56, doomy3, Gsmitchell1, Hammock Parties, Hog's Gone Fishin, Hookersnblow, Hoopsdoc, Hound333, Imon Yourside, jallmon, Jerm, Jerok, jonzie04, Judge Smails, jynni, KC Hawks, kccrow, KCUnited, keg in kc, KGSoloman5k, Lickerman, locomoulds, MAHOMO 4 LIFE!, milkman, mlyonsd, Munson, neblo, New World Order, Nickhead, Otter, PAChiefsGuy, Pants, Pitt Gorilla, raidersnumber1, RealSNR, RickObie, RodeoPants2, RunKC, slc, staylor26, Sweet Daddy Hate, TambaBerry, TEX, The Franchise, TheMartyr, Third Eye, Toomuchnv, TwistedChief, Warpaint69, Why Not?, YayMike
Most users ever online was 4,753, 12-04-2015 at 09:37 PM.