» Stats
Members: 12,203
Threads: 237,686
Posts: 12,895,655

Welcome to our newest member, lauraacton29

» Welcome, guest!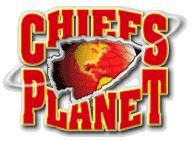 Welcome to ChiefsPlanet,
a Kansas City Chiefs Message Board
This forum is fast and furious with discussion on all variety of topics. Newbies welcomed. If you enjoy reading, don't be shy - please jump in and post!
If this is your first visit, be sure to check out the FAQ by clicking the link above. You will have to register before you can post; click the register link above to proceed. To start viewing messages, visit our main forum, The Lounge or click on a thread title below this message.
» Recent Threads
Title, Username, & Date
Last Post
Replies
Views
*** Official 2019 Kansas City Royals Repository ***

Today

02:35 PM

by

Mecca

4,374

288,698

Won't Sniff The Playoffs

Today

02:35 PM

by

Mama Hip Rockets

104

4,136

Chiefs-Bears Sunday night game might get flexed

Today

02:34 PM

by

ChiefBlueCFC

15

302

Chiefs Asked a High School for Equipment as a Back-Up Plan

Today

02:30 PM

by

mnchiefsguy

24

515

NFL TV Schedule and Maps: Week 15, 2019

Today

02:28 PM

by

ChiefBlueCFC

4

98

Pats filming Bengals. Caught.

Today

02:17 PM

by

DJJasonp

527

16,873

****The Official 2019 STL Cardinals Thread****

Today

02:16 PM

by

VAChief

3,028

130,091

Hey Check Out Fenway Park!

Today

02:14 PM

by

gblowfish

29

742

Let's talk about the Broncos

Today

02:01 PM

by

Mile High Mania

253

7,372

Frank Clark ****ing sucks

Today

01:56 PM

by

MAHOMO 4 LIFE!

2,824

109,215

» Online Users: 570
112 members and 458 guests
44yearsandcounting, Baby Lee, Bearcat, Beef Supreme, big nasty kcnut, BigRichard, Boise_Chief, BossChief, brorth, bsp4444, Buehler445, CasselGotPeedOn, ChiefBlueCFC, chinaski, Clyde Frog, crayzkirk, CrossCheck, Dartgod, Dayze, Direckshun, Discuss Thrower, DJ's left nut, Donger, elgatogrande, farmerchief, Fat Elvis, Fish, ForeverChiefs58, frozenchief, Go Royals, GoChargers, gonefishin53, iachief, IChief, Iconic, InChiefsHell, IowaHawkeyeChief, istas, jayhawksandchiefs, jd1020, KC Hawks, kc-nd, KChiefs1, kcjoker, KCUnited, KCwolf, KC_Lee, KentuckyChief, lawrenceRaider, locomoulds, Luv it, MahomesKnows, Mahomes_Is_God, MAHOMO 4 LIFE!, Mama Hip Rockets, Marcellus, mdstu, Mennonite, MIAdragon, Mile High Mania, milkman, MKE, mlinen, mnchiefsguy, modocsot, mr. tegu, Munson, NashvilleRock.net, neech, NinerDoug, OKchiefs, Old Dog, old_geezer, osumatt, otherstar, PattyFlakes, petegz28, Prison Bitch, Red Beans, redshirt32, Rukdafaidas, Scaga, ScareCrowe, Shaid, shakesthecat, shrlked, solidgold, Starbuc, Strongside, Sully, SupDock, Superturtle, Talisman, TEX, TexasChief, theakamu, Third Eye, TwistedChief, vachief58, Warpaint69, WhawhaWhat, Whereizzy, xztop123, YayMike, Yehoodi, Zipzop
Most users ever online was 4,753, 12-04-2015 at 09:37 PM.