» Today's Birthdays
ramdog (53)


» Stats
Members: 12,024
Threads: 235,709
Posts: 12,710,590

Welcome to our newest member, perrymci

» Welcome, guest!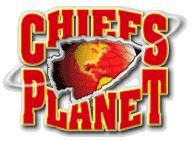 Welcome to ChiefsPlanet,
a Kansas City Chiefs Message Board
This forum is fast and furious with discussion on all variety of topics. Newbies welcomed. If you enjoy reading, don't be shy - please jump in and post!
If this is your first visit, be sure to check out the FAQ by clicking the link above. You will have to register before you can post; click the register link above to proceed. To start viewing messages, visit our main forum, The Lounge or click on a thread title below this message.
» Recent Threads
Title, Username, & Date
Last Post
Replies
Views
Week 3: Let's talk about the Ravens

Today

10:01 PM

by

Titty Meat

277

11,938

Schefter: Jalen Ramsey has asked for a trade

Today

10:01 PM

by

ThaVirus

4,924

201,227

*****The Patrick Mahomes Thread*****

Today

09:57 PM

by

Kiimosabi

24,501

1,844,251

****The Official 2019 STL Cardinals Thread****

Today

09:57 PM

by

BDj23

1,801

86,354

Steve Bono breaks silence in new interview

Today

09:50 PM

by

Frazod

37

1,532

Patriots released AB

Today

09:47 PM

by

pugsnotdrugs19

371

12,023

*****Official 2019/2020 Kansas Men's Basketball Repository Thread*****

Today

09:29 PM

by

Al Bundy

373

25,422

The uncomfortable reality that is a fading Tom Brady

Today

09:18 PM

by

Flachief58

512

33,062

Yo who's car is this?

Today

09:06 PM

by

digger

26

424

Week 3 Injury report; Damien Williams ruled OUT, McCoy is questionable

Today

09:02 PM

by

thabear04

21

927

» Online Users: 1,148
120 members and 1,028 guests
007, 44yearsandcounting, 52decleetzu, 64 Chief, AJKCFAN, Archie Bunker, BanHam, BDj23, bigjosh, BossChief, bricks, buffalo41, Bump, cabletech94, CanadianChief, CapsLockKey, carcosa, Chief Northman, Chief3188, chiefs1111, Chiefs=Good, cj2wr, colt459, Corandval1977, Cow Pollinator, Dante84, Dartgod, Dawson4004, DJJasonp, dlphg9, DRM08, DRU, e3263518, fairladyZ, Flachief58, Frosty, GeorgeZimZam, GloucesterChief, Hammock Parties, HonestChieffan, iachief, IA_Chiefs_fan, Javabean, jd1020, Jerm, Jerok, jettio, Jewish Rabbi, Jim Hammer, jjchieffan, JohnnyHammersticks, Judge Smails, Karlos, KCFalcon59, KChiefs1, keg in kc, KGSoloman5k, Kiimosabi, limested, LiveSteam, mac459, MAHOMO 4 LIFE!, manchambo, MartinThore, mdstu, Miles, milkshock, MMXcalibur, mrbiggz, MTG#10, Munson, New World Order, OKchiefs, okchiefsfan, okie-dokie, Otis Day, Pasta Giant Meatball, ping2000, Pogue, pugsnotdrugs19, Raiderhader, Rain Man, Reroka, Rivaldo, RollChiefsRoll, Roy Munson, rprevost85, Sannyasi, Showtime, Slakker, solidgold, St. Patty's Fire, staylor26, stevieray, Strommer, Taco John, ThaVirus, The Franchise, Third Eye, threebag02, Warrick, wil75
Most users ever online was 4,753, 12-04-2015 at 09:37 PM.