» Stats
Members: 11,659
Threads: 231,380
Posts: 12,315,112

Welcome to our newest member, TheBayouBullet

» Welcome, guest!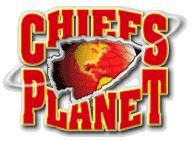 Welcome to ChiefsPlanet,
a Kansas City Chiefs Message Board
This forum is fast and furious with discussion on all variety of topics. Newbies welcomed. If you enjoy reading, don't be shy - please jump in and post!
If this is your first visit, be sure to check out the FAQ by clicking the link above. You will have to register before you can post; click the register link above to proceed. To start viewing messages, visit our main forum, The Lounge or click on a thread title below this message.
» Recent Threads
Title, Username, & Date
Last Post
Replies
Views
Looks like Spagnuolo [favorite for] DC

Today

03:20 PM

by

O.city

545

10,711

What's For Dinner? Here's Mine Vol. 3.

Today

03:19 PM

by

1Ten

13,080

833,749

Mahomes to attend the Pro Bowl

Today

03:18 PM

by

CoMoChief

38

970

Chris Hewitt for DC Anyone?: Current Secondary Coach of the Ravens

Today

03:17 PM

by

Chris Meck

33

291

***Official "Are NFL game outcomes influenced by outsiders?" Discussion Thread***

Today

03:14 PM

by

AJAKEsoterica

5,615

176,099

Hitler finds out the Patriots won the AFCCG.

Today

03:09 PM

by

vailpass

19

510

Are you going to watch the Super Bowl?

Today

03:04 PM

by

Frazod

93

1,734

Belichick breaks down Chiefs D: "They kind of screwed it up."

Today

03:04 PM

by

KC Dan

85

2,133

This Eric Berry deal is getting worse all the time

Today

03:02 PM

by

Superturtle

6

379

Patient in vegetative state gives birth, sex abuse investigation underway: report

Today

02:56 PM

by

Pitt Gorilla

122

4,906

» Online Users: 675
185 members and 490 guests
007, 1963chief, 1Ten, 2bikemike, 38yrsfan, AJAKEsoterica, AJKCFAN, allen_kcCard, Bearcat, BeMyValentine, Best22, BigRedChief, BigRichard, bishop_74, bloomer88, Bobdigital, bringbackmarty, Brooklyn, Buehler445, Buns, Bweb, carlos3652, Chargem, CHENZ A!, ChiefBlueCFC, ChiefsandO'sfan, ChiefsFanWNY, ChiefsHawk, ChiliConCarnage, Chris Meck, cj2wr, claytonadam, clmcclure, cmsu_man, CoMoChief, comochiefsfan, CordMcNally, DaKlee, Dalex, DanT, Dante84, Dartgod, Dawson4004, DC.chief, Discuss Thrower, DJ's left nut, DJKid, Donger, DonTellMeShowMe, dred, DrunkBassGuitar, DTHOF, dwwataz, eDave, EricBerryismyBae, FAH-Q, fairladyZ, FAX, Flying High D, ForeverChiefs58, fredflintrock, Friggles, frozenchief, GermanChief, gh4chiefs, Go Royals, God of Thunder, gpsdude, Gravedigger, Hailchief, Hammock Parties, HC_Chief, HemiEd, HonestChieffan, Horse Collar, Humbug, Imon Yourside, InChiefsHell, Jamie, jayhawksandchiefs, Jayheat, Jim Hammer, jjchieffan, JohnDONsey, KC Hawks, kc-nd, KCrockaholic, Lilmrp117, LOCOChief, locomoulds, MahiMike, MahomesKnows, MahomesTDs, MAHOMO 4 LIFE!, marcus, Meanstreak, Meli.matrix, MGRS13, mikechief, milkshock, MKE, mlinen, mlyonsd, Munson, Nevertrap, Nightfyre, NinerDoug, noa, NOSaintsFan02, O.city, oldandslow, old_geezer, PAChiefsGuy, PatriotsGuy, PattyFlakes, PHANTOM, philfree, Phsb2008, Pitt Gorilla, Pogue, POND_OF_RED, PRIEST, Priest31kc, Prison Bitch, rad, Raiderhader, Rain Man, RaytownChief, Red Beans, RedRaider56, rico, RodeoPants2, RubberSponge, RufusRJones, RunKC, Saulbadguy, Scaga, SDChiefs, shrlked, Sig, staylor26, stevegroganfan, Stinger, strokerls1, Strommer, stumppy, Superbowltrashcan, Superturtle, Sweet Daddy Hate, TEX, The Iron Chief, The Pest, TheBayouBullet, Thunderlizard, Toad, vailpass, Vegas_Dave, Warrick, wazu, wheeler08, Wilson8, Zook
Most users ever online was 4,753, 12-04-2015 at 09:37 PM.