» Stats
Members: 11,392
Threads: 231,024
Posts: 12,290,448

Welcome to our newest member, Patseasonticket

» Welcome, guest!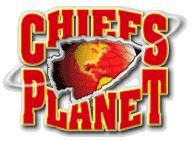 Welcome to ChiefsPlanet,
a Kansas City Chiefs Message Board
This forum is fast and furious with discussion on all variety of topics. Newbies welcomed. If you enjoy reading, don't be shy - please jump in and post!
If this is your first visit, be sure to check out the FAQ by clicking the link above. You will have to register before you can post; click the register link above to proceed. To start viewing messages, visit our main forum, The Lounge or click on a thread title below this message.
» Recent Threads
Title, Username, & Date
Last Post
Replies
Views
Is this going to be the loudest game ever at Arrowhead?

Today

10:56 PM

by

JakeF

66

1,659

Melissa Ethridge to sing The Anthem

Today

10:53 PM

by

CoMoChief

13

223

Let's talk about the Patriots

Today

10:53 PM

by

ThanksForTheLoan

645

20,721

**** Official Chiefs VS Patriots AFC Championship Game Thread ****

Today

10:50 PM

by

KC_Connection

1,290

32,319

Dont lose your fingers

Today

10:48 PM

by

ChiefsandO'sfan

14

260

Following victory on Sunday, the moon will be painted red

Today

10:46 PM

by

DaFace

26

500

Early AFCCG Forecast: High of 19°

Today

10:28 PM

by

BWillie

329

8,185

Sandbox Simulations is back! Welcome to the magical year of 2019!

Today

10:27 PM

by

The GMDM Hypothesis

47

1,145

Gillette

Today

10:27 PM

by

threebag02

164

3,667

We are the underdogs video

Today

10:26 PM

by

KChiefs1

8

226

» Online Users: 373
109 members and 264 guests
A Salt Weapon, alanm, AndChiefs, AZORChiefFan, BayouChief, beerwolf, betapeer, BlackOp, Blick, Boise_Chief, BossChief, bringbackmarty, Buehler445, Bump, BWillie, Cave Johnson, ChiefGator, Chiefs=Good, ChiefsandO'sfan, chieftd16, cmh6476, CoMoChief, CrossCheck, dallaschiefsfan, DenverChief, DJ's left nut, DRM08, dtrain, emaw82, Fansy the Famous Bard, Fish, frozenchief, GloryDayz, HailToThePriest, Hammock Parties, HermanHater, Hog's Gone Fishin, HonestChieffan, IA_Chiefs_fan, JakeF, Javabean, jerryaldini, JohnnyV13, KCCHIEFS27, KCFalcon59, KCJake, Kclee, KC_Connection, kjwood75nro, Lickerman, locomoulds, mac459, MartinThore, MatriculatingHank, MavKC, mightyphoenix1, Misplaced_Chiefs_Fan, MOhillbilly, mr. tegu, Munson, New World Order, NIUhuskies, NJChiefsFan, OKchiefs, PattyFlakes, Pogue, Priest31kc, Prison Bitch, Rooster, Roy Munson, Sannyasi, saphojunkie, SFfan79, Shawny2X4, smithandrew051, steelyeyed57, stevieray, sully1983, Superturtle, ThanksForTheLoan, The GMDM Hypothesis, TimBone, TJW, tman, TrebMaxx, UChieffyBugger, unothadeal, WAChiefsFan, wheeler08, Why Not?, Windrammer
Most users ever online was 4,753, 12-04-2015 at 09:37 PM.