» Stats
Members: 13,940
Threads: 257,230
Posts: 14,995,826

Welcome to our newest member, chief-warrior

» Welcome, guest!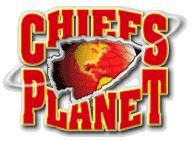 Welcome to ChiefsPlanet,
a Kansas City Chiefs Message Board
This forum is fast and furious with discussion on all variety of topics. Newbies welcomed. If you enjoy reading, don't be shy - please jump in and post!
If this is your first visit, be sure to check out the FAQ by clicking the link above. You will have to register before you can post; click the register link above to proceed. To start viewing messages, visit our main forum, The Lounge or click on a thread title below this message.
» Recent Threads
Title, Username, & Date
Last Post
Replies
Views
Broncos news megathread

Today

08:32 PM

by

Willie Lanier

58,447

6,890,158

Letís talk about the Bengals (AFC Championship Rd)

Today

08:31 PM

by

Stryker

1,355

53,249

This is the whole key to victory against the Bengals, right here.

Today

08:29 PM

by

crayzkirk

36

609

BURROWHEAD: Bengals talking a lot of sh1ttttt

Today

08:29 PM

by

Pepe Silvia

724

23,174

Referee Ron Torbert's crew assigned to work Chiefs-Bengals game

Today

08:28 PM

by

Stryker

96

1,623

The Official Mountain Dew Thread

Today

08:24 PM

by

Pepe Silvia

61

1,173

What the hell happened to Mecole Hardman?!

Today

08:21 PM

by

IowaHawkeyeChief

107

6,138

Happy Birthday Taco John, Idahojim, ping2000 (57) RustShack (34) and Tucker1027 (28)

Today

08:07 PM

by

Dartgod

20

212

The Future Owner of the Kansas City Chiefs, Gracie Hunt

Today

08:05 PM

by

mkp785

2,000

371,091

some of you folks are so lucky

Today

07:46 PM

by

Willie Lanier

39

957

» Online Users: 629
130 members and 499 guests
1963chief, A Salt Weapon, Archie Bunker, Ash, beerwolf, big nasty kcnut, Bowser, Brooklyn, bsp4444, Buehler445, CaliforniaChief, Camaro, CatfishBob2, CervezaChill, Chief Deth, ChiefBlueCFC, ChiefsCountry, Chiefsfan1, ChiefsFan63, Chiefshrink, Chiefspants, chiefzilla1501, Chris Meck, CoreyJ2, Cow Pollinator, crayzkirk, crispystl, Dalex, DanBecky, digger, Discuss Thrower, DJ's left nut, Dunerdr, El Jefe, Eureka, eyenthesky, farmerchief, Fat Elvis, FAX, Fish, GMitch, Hammock Parties, HemiEd, Iconic, IowaHawkeyeChief, jerryaldini, Jewish Rabbi, jfan, jonzie04, journeyscarab, JUSTGOPLAY, KC Hawks, kc79, kcclone, kozzman555, kpic, louie aguiar, Lzen, MAHOMO 4 LIFE!, Mephistopheles Janx, Mgm66, Mike in SW-MO, Miles, mkp785, montanamike, mr. tegu, Munson, New World Order, PAChiefsGuy, Pants, Pepe Silvia, petegz28, Peter Gibbons, PHOG, ping2000, Pogue, POND_OF_RED, Prison Bitch, RaidersOftheCellar, Saulbadguy, Semichief, Shag, SithCeNtZ, smithandrew051, Sofa King, staylor26, Stryker, stumppy, SupDock, Superturtle, sxrich, Talisman, The Iron Chief, TheDuke29, threebag, TomBarndtsTwin, TravelingChiefs, Trivers, tyler360, Wally, Why Not?, wil75, Willie Lanier, Wisconsin_Chief
Most users ever online was 4,753, 12-04-2015 at 09:37 PM.