» Stats
Members: 12,585
Threads: 241,980
Posts: 13,247,499

Welcome to our newest member, connorbaker

» Welcome, guest!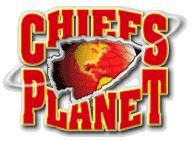 Welcome to ChiefsPlanet,
a Kansas City Chiefs Message Board
This forum is fast and furious with discussion on all variety of topics. Newbies welcomed. If you enjoy reading, don't be shy - please jump in and post!
If this is your first visit, be sure to check out the FAQ by clicking the link above. You will have to register before you can post; click the register link above to proceed. To start viewing messages, visit our main forum, The Lounge or click on a thread title below this message.
» Recent Threads
Title, Username, & Date
Last Post
Replies
Views
***NON-POLITICAL COVID-19 Discussion Thread***

Today

03:19 PM

by

petegz28

34,409

1,034,717

-- Old Nerd Reviews: Walmart Exclusive, Mountain Dew Frostbite

Today

03:17 PM

by

Sofa King

16

187

Saints WR Michael Thomas is very sensitive

Today

03:17 PM

by

The Franchise

53

2,448

I want to show you my newest sports card...

Today

03:01 PM

by

RubberSponge

113

2,976

Allergies

Today

03:00 PM

by

kcxiv

98

162,949

*****The Patrick Mahomes Thread*****

Today

02:55 PM

by

Chiefspants

27,732

2,653,297

Jason Whitlock out at FS1

Today

02:53 PM

by

DJ's left nut

42

2,221

Vic Fangio goes full retard

Today

02:48 PM

by

BWillie

64

2,259

Personal finance and investing megathread extravaganza

Today

02:11 PM

by

Hammock Parties

5,124

536,364

Pets of Chiefs Planet

Today

01:12 PM

by

DJ's left nut

2,111

279,683

» Online Users: 361
100 members and 261 guests
AdolfOliverBush, allen_kcCard, alnorth, alpha_omega, Baby Lee, beerwolf, BigBeauford, bigjosh, bsp4444, C3HIEF3S, Chief Roundup, ChiefsCountry, ChiliConCarnage, Coochie liquor, cooper barrett, cosmo20002, Craash, DanBecky, Dayze, displacedinMN, DJ's left nut, Donger, DrRyan, Earthbound, eDave, el borracho, frozenchief, Hammock Parties, hawkchief, HoneyBadger, huffmd15, jayhawkkbs, jd1020, Jewish Rabbi, KCUnited, KC_Connection, Kidd Lex, mac459, MagicHef, MahomesKnows, Mephistopheles Janx, meStevo, mililo4cpa, mnchiefsguy, myselff77, Naptown Chief, neblo, NinerDoug, Ninerfan11, O.city, oaklandhater, Pablo, petegz28, philfree, ping2000, Pogue, poolboy, Prison Bitch, Rain Man, Redbled, RubberSponge, saphojunkie, sedated, Shaid, shakesthecat, Shields68, Shiver Me Timbers, Shoes, shrlked, Sofa King, Sorce, staylor26, Stinger, tatorhog, The Franchise, the longest lurk, theoldcoach, Third Eye, TrebMaxx, tredadda, True North, WhawhaWhat, Zebedee DuBois
Most users ever online was 4,753, 12-04-2015 at 09:37 PM.