» Stats
Members: 13,748
Threads: 255,377
Posts: 14,714,417

Welcome to our newest member, Chiefslove

» Welcome, guest!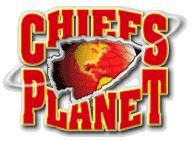 Welcome to ChiefsPlanet,
a Kansas City Chiefs Message Board
This forum is fast and furious with discussion on all variety of topics. Newbies welcomed. If you enjoy reading, don't be shy - please jump in and post!
If this is your first visit, be sure to check out the FAQ by clicking the link above. You will have to register before you can post; click the register link above to proceed. To start viewing messages, visit our main forum, The Lounge or click on a thread title below this message.
» Recent Threads
Title, Username, & Date
Last Post
Replies
Views
****OFFICIAL Chiefs @ Colts Week 3 Gameday Thread****

Today

09:35 AM

by

Coach

67

990

****Official Mizzou Football 2022-2023 Thread****

Today

09:32 AM

by

dlphg9

474

9,445

Wordle

Today

09:31 AM

by

scho63

5,280

132,948

**** Official College Football 2022 Thread ****

Today

09:27 AM

by

Rams Fan

1,017

17,026

Cannibal Mark Latunski admits to eating man named Kevin Bacon

Today

09:21 AM

by

mililo4cpa

38

896

Jose*Solano Landaeta beheads San Carlos woman with sword

Today

09:11 AM

by

HayWire

38

1,701

Are the Bills overhyped?

Today

09:09 AM

by

RealSNR

661

20,083

Floridians urged to prepare for potential major hurricane

Today

08:48 AM

by

tredadda

70

1,752

Broncos news megathread

Today

08:46 AM

by

Quesadilla Joe

49,818

6,237,273

KC CHIEFS v INDIE COLTS: Who wins? Your predictions?

Today

08:27 AM

by

KChiefs1

50

1,189

» Online Users: 675
86 members and 589 guests
Baby Lee, Barret, BDj23, Best22, Boise_Chief, booyaf2, Bowser, CatfishBob2, Chargem, Chief3188, ChiefaRoo, ChiefEd, chiefs1okie, ChiefsCountry, Coach, Dalex, dannybcaitlyn, Direckshun, dlphg9, dmahurin, Donger, Dschu254, dsgreene2850, Ffspurs, frozenchief, GMitch, Hawk, Hawker007, HayWire, jsmax, Judge Smails, KC Hawks, KC_Lee, Kiimosabi, kozzman555, loochy, Lprechaun, MagicHef, MIAdragon, MichaelH, mililo4cpa, milkshock, Monticore, Mr. Plow, old_geezer, Otis Heluvsus, Otter, Over Yonder, philfree, poolboy, Raiderhader, Rams Fan, raybec 4, RollChiefsRoll, rydogg58, scho63, SFfan79, Shag, Siameseflea, Simply Red, slc, smithandrew051, Sofa King, Spokane Chief Fan, Spott, St. Patty's Fire, staylor26, Stro39, SupDock, Superturtle, TambaBerry, ThaVirus, The Franchise, threebag, UChieffyBugger, Vladimir_Kyrilytch
Most users ever online was 4,753, 12-04-2015 at 09:37 PM.