» Stats
Members: 11,659
Threads: 231,382
Posts: 12,315,452

Welcome to our newest member, TheBayouBullet

» Welcome, guest!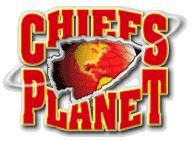 Welcome to ChiefsPlanet,
a Kansas City Chiefs Message Board
This forum is fast and furious with discussion on all variety of topics. Newbies welcomed. If you enjoy reading, don't be shy - please jump in and post!
If this is your first visit, be sure to check out the FAQ by clicking the link above. You will have to register before you can post; click the register link above to proceed. To start viewing messages, visit our main forum, The Lounge or click on a thread title below this message.
» Recent Threads
Title, Username, & Date
Last Post
Replies
Views
Jerry Jones wonders why Julian Edelman's muffed punt was overturned

Today

05:36 PM

by

Haglund's_Spirit

14

240

This Eric Berry deal is getting worse all the time

Today

05:33 PM

by

'Hamas' Jenkins

18

992

What's For Dinner? Here's Mine Vol. 3.

Today

05:32 PM

by

In58men

13,081

833,831

Kietzman went off the rails and blamed the offense for a bad defensive ranking..

Today

05:31 PM

by

Sweet Daddy Hate

64

1,851

Hitler finds out the Patriots won the AFCCG.

Today

05:27 PM

by

Holladay

22

663

Mahomes to attend the Pro Bowl

Today

05:26 PM

by

Chiefshrink

44

1,201

Belichick breaks down Chiefs D: "They kind of screwed it up."

Today

05:25 PM

by

Angry fan

90

2,898

Are you going to watch the Super Bowl?

Today

05:20 PM

by

38yrsfan

103

1,895

Looks like Spagnuolo [favorite for] DC

Today

05:17 PM

by

saphojunkie

626

12,602

Phoenix Area CP Gathering

Today

05:14 PM

by

eDave

707

24,586

» Online Users: 614
150 members and 464 guests
007, 2bikemike, 65TossPowerTrap, alanm, Amnorix, Angry fan, Archie Bunker, AZORChiefFan, Baby Lee, BDj23, Bearcat, beerwolf, Best22, big nasty kcnut, bloomer88, BOXERAJ, bringbackmarty, bsp4444, CasselGotPeedOn, CatfishBob2, chefsos, Chief Northman, Chief Roundup, chiefforlife, ChiefinNE, chiefs1111, Chiefs=Good, ChiefsandO'sfan, Chiefshrink, chiefsncats, ChiliConCarnage, Chitownchiefsfan, cj2wr, clmcclure, Clyde Frog, cooper barrett, CordMcNally, Dbawse, Discuss Thrower, DJ's left nut, DJJasonp, Donger, Drummy, eDave, EricBerryismyBae, Fish, Flix, ForeverChiefs58, FringeNC, golfindude, Great Expectations, grimnida, Haglund's_Spirit, Hammock Parties, HC_Chief, Holladay, HoneyBadger, HotRoute, Humbug, idrapethat, jeff h, jerryaldini, jigslinger, JohnDONsey, jostmeyer25, Judge Smails, Kclee, kcmaxwell, keg in kc, KS Smitty, Lickerman, LoneWolf, loochy, LV Tim, Macroach, MagicHef, maverick, mcaj22, mchevelle, mdstu, Meatloaf, MeaTy The Pimp, MephistophelesJanx, MichaelH, mkp785, Monkey God, Mr. Plow, Munson, NinerDoug, OldMan22, old_geezer, Otis Day, ottawa_chiefs_fan, PattyFlakes, petegz28, Prison Bitch, pugsnotdrugs19, Raiderhader, Rain Man, Randallflagg, redhed, RN47, RodeoPants2, saphojunkie, Saulbadguy, Shag, Shields68, ShiftyEyedWaterboy, Simplicity, Simply Red, stumppy, Superturtle, Sweet Daddy Hate, ThaVirus, The Franchise, the steam, TheBrat, theoldcoach, TJW, Toad, TrebMaxx, vailpass, Vegas_Dave, Warrick, Whereizzy
Most users ever online was 4,753, 12-04-2015 at 09:37 PM.