» Stats
Members: 13,098
Threads: 248,088
Posts: 13,859,662

Welcome to our newest member, Michael Scott

» Welcome, guest!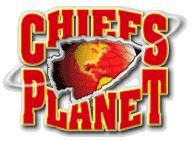 Welcome to ChiefsPlanet,
a Kansas City Chiefs Message Board
This forum is fast and furious with discussion on all variety of topics. Newbies welcomed. If you enjoy reading, don't be shy - please jump in and post!
If this is your first visit, be sure to check out the FAQ by clicking the link above. You will have to register before you can post; click the register link above to proceed. To start viewing messages, visit our main forum, The Lounge or click on a thread title below this message.
» Recent Threads
Title, Username, & Date
Last Post
Replies
Views
Aaron Donald to be charged with assault

Today

10:28 AM

by

htismaqe

29

578

NFL requiring Covid Vaccination to a certain degree

Today

10:28 AM

by

AdolfOliverBush

78

1,519

Vote for the Most Despised Chief Ever

Today

10:26 AM

by

ChiefBlueCFC

46

522

Who's your most favorite Chiefsplanet member ever?

Today

10:25 AM

by

stevieray

120

2,866

Miami stripper arrested for squirting

Today

10:24 AM

by

Michael Scott

26

730

***NON-POLITICAL COVID-19 Discussion Thread***

Today

10:23 AM

by

BigBeauford

52,208

3,893,637

Britt Reid Charged With DWI

Today

10:17 AM

by

htismaqe

165

5,902

Report: Orlando Brown requests trade from Ravens, wants to play LT

Today

10:16 AM

by

htismaqe

328

18,412

Ken Jennings to Host First Episode Following Alex Trebek's Death

Today

10:05 AM

by

TinyEvel

37

1,383

Deshaun Watson being accused of sexual assault?

Today

10:05 AM

by

TEX

961

41,316

» Online Users: 486
98 members and 388 guests
AdolfOliverBush, Al Czervik, alpha_omega, Baby Lee, BigBeauford, bigjosh, BleedingRed, Bri-man, busted flush, Cave Johnson, Chazno, ChiefBlueCFC, chiefs1111, ChiefsCountry, CoMoChief, displacedinMN, DJJasonp, Donger, Dunerdr, epitome1170, FAH-Q, Fat Elvis, Fish, Fishpicker, GloucesterChief, gonefishin53, Grim, Hammock Parties, Hamwallet, HoneyBadger, htismaqe, IowaHawkeyeChief, journeyscarab, KCUnited, kgrund, Loneiguana, loochy, louie aguiar, MahomesMagic, Marcellus, Meatloaf, Mennonite, Mephistopheles Janx, Michael Scott, mililo4cpa, Mr. Plow, mr. tegu, nbkc fan, Nixhex, O.city, old_geezer, Peter Gibbons, PhillyChiefFan, phisherman, PHOG, POND_OF_RED, Prison Bitch, ptlyon, Rain Man, Red Beans, Renegade, Scaga, Shag, Shaid, staylor26, steelyeyed57, stevieray, Superturtle, TEX, The Franchise, Tigers1fan, TrebMaxx, tredadda, TwistedChief, wazu, WhawhaWhat, Wyatt Earp, yeti, |Zach|
Most users ever online was 4,753, 12-04-2015 at 09:37 PM.