» Stats
Members: 11,882
Threads: 234,078
Posts: 12,570,361

Welcome to our newest member, straightforward

» Welcome, guest!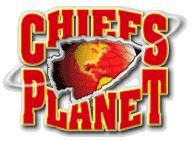 Welcome to ChiefsPlanet,
a Kansas City Chiefs Message Board
This forum is fast and furious with discussion on all variety of topics. Newbies welcomed. If you enjoy reading, don't be shy - please jump in and post!
If this is your first visit, be sure to check out the FAQ by clicking the link above. You will have to register before you can post; click the register link above to proceed. To start viewing messages, visit our main forum, The Lounge or click on a thread title below this message.
» Recent Threads
Title, Username, & Date
Last Post
Replies
Views
Does Kevin Kietzman deserve to be fired/forced to resign?

Today

07:13 PM

by

cooper barrett

714

26,279

ONE HILLUVA STORY - HOW TYREEK IS NOT ONLY INNOCENT – HE IS A VICTIM

Today

07:13 PM

by

FAX

1,078

34,407

610 vs 810

Today

07:00 PM

by

R Clark

67

4,333

TV commercials that drive you BONKERS!

Today

06:45 PM

by

GloryDayz

164

6,696

Rasslin is YES! YES! YES!

Today

06:35 PM

by

big nasty kcnut

3,478

241,093

Bitcoin Take?

Today

06:32 PM

by

loochy

1,833

163,278

What's For Dinner? Here's Mine Vol. 3.

Today

05:57 PM

by

Pablo

14,026

985,383

"The Franchise" - Chiefs show - Wednesdays - 6pm

Today

05:53 PM

by

staylor26

186

8,127

ARE YOU A BAD ENOUGH DUDE TO TAKE THE CHEETAH CHALLENGE?

Today

05:32 PM

by

cooper barrett

97

3,061

Help me select my birthday present

Today

04:14 PM

by

Easy 6

232

7,360

» Online Users: 539
103 members and 436 guests
-King-, 44yearsandcounting, arrowheadnation, Ash, Baby Lee, beerwolf, bigjosh, Boooster, BossChief, Buehler445, C3HIEF3S, CanadaKC, carcosa, chiefs1111, Chiefs=Good, cj2wr, cooper barrett, CordMcNally, digger, Discuss Thrower, djchief56, DJKid, dmahurin, e3263518, eDave, el borracho, FAX, Fezzic, frank58, fredflintrock, ghty, GMitch, GoHuge, Hammock Parties, hawkchief, HemiEd, HonestChieffan, InChiefsHell, Iowanian, Jerok, JerseyChief, Jewish Rabbi, jsmax, KC-TBB, KCFalcon59, KC_Lee, kevrunner, Lex Luthor, Lprechaun, MAHOMO 4 LIFE!, mdstu, Megbert, Meli.matrix, MIAdragon, mililo4cpa, Misplaced_Chiefs_Fan, mrroandrro, Munson, Naptown Chief, New World Order, O.city, Oz_Chief, Pablo, PAChiefsGuy, petegz28, Pogue, Raiderhader, RealSNR, red66, redhed, Romeo64, RunKC, SAUTO, Shiver Me Timbers, shrlked, Sideburn, Sofa King, staylor26, stevieray, TEX, TheBrat, Thunderlizard, Toad, TrebMaxx, tyler360, Warpaint69, Warrior5, wolfpack0735, YontsRBake, Zook
Most users ever online was 4,753, 12-04-2015 at 09:37 PM.