» Stats
Members: 12,586
Threads: 241,999
Posts: 13,249,182

Welcome to our newest member, oscar23

» Welcome, guest!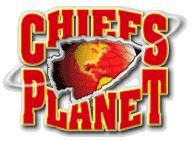 Welcome to ChiefsPlanet,
a Kansas City Chiefs Message Board
This forum is fast and furious with discussion on all variety of topics. Newbies welcomed. If you enjoy reading, don't be shy - please jump in and post!
If this is your first visit, be sure to check out the FAQ by clicking the link above. You will have to register before you can post; click the register link above to proceed. To start viewing messages, visit our main forum, The Lounge or click on a thread title below this message.
» Recent Threads
Title, Username, & Date
Last Post
Replies
Views
Nelson calls out the Chiefs

Today

11:11 AM

by

Rausch

82

6,265

Saints WR Michael Thomas is very sensitive

Today

11:09 AM

by

Mecca

192

5,226

Refi Home Mortgage to drop 1%

Today

11:01 AM

by

Third Eye

22

720

*****Severe Weather Thread-2020*****

Today

10:57 AM

by

BryanBusby

80

3,144

COLD summer meals !!

Today

10:57 AM

by

Bill Brasky

19

393

***NON-POLITICAL COVID-19 Discussion Thread***

Today

10:48 AM

by

O.city

34,434

1,039,286

Vic Fangio goes full retard

Today

10:44 AM

by

RunKC

91

3,172

Vote for Fan of the Year in the 810 ESPYs - and troll them hard

Today

10:25 AM

by

Bill Brasky

21

378

Personal finance and investing megathread extravaganza

Today

10:14 AM

by

petegz28

5,143

537,474

*****The Patrick Mahomes Thread*****

Today

10:00 AM

by

suzzer99

27,735

2,656,613

» Online Users: 402
97 members and 305 guests
-King-, 493rd, Archie Bunker, Ash, Baby Lee, baitism, bax_, beach tribe, Bearcat, BigBeauford, bigjosh, BigRichard, Bill Brasky, BleedingRed, bloomer88, brorth, burt, CasselGotPeedOn, Chief Roundup, Chief3188, CordMcNally, Cow Pollinator, DanBecky, Direckshun, DJ's left nut, dj562006, dlphg9, Donger, fan4ever, Fezzic, frozenchief, Great8, Hammock Parties, Holladay, HoneyBadger, Hoopsdoc, InChiefsHeaven, jayhawkkbs, jerryaldini, kappa72202, KCChiefsFan88, KCFalcon59, KCUnited, KC_Connection, KGSoloman5k, Kman34, KurtCobain, Lennie Briscoe, Lex Luthor, Lickerman, LiveSteam, loochy, LTL, MGRS13, mililo4cpa, mlyonsd, mnchiefsguy, Monticore, Naptown Chief, neblo, O.city, oscar23, Pablo, philfree, POND_OF_RED, Radar Chief, Rausch, RunKC, shakesthecat, Shields68, Sofa King, Spokane Chief Fan, staylor26, Taco John, tatorhog, The Bunk, The Franchise, the longest lurk, Third Eye, wazu, Whereizzy, Why Not?, wil75, yeti, Zook
Most users ever online was 4,753, 12-04-2015 at 09:37 PM.