» Stats
Members: 12,973
Threads: 246,867
Posts: 13,752,877

Welcome to our newest member, Dbag

» Welcome, guest!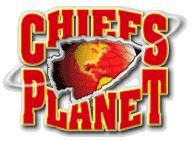 Welcome to ChiefsPlanet,
a Kansas City Chiefs Message Board
This forum is fast and furious with discussion on all variety of topics. Newbies welcomed. If you enjoy reading, don't be shy - please jump in and post!
If this is your first visit, be sure to check out the FAQ by clicking the link above. You will have to register before you can post; click the register link above to proceed. To start viewing messages, visit our main forum, The Lounge or click on a thread title below this message.
» Recent Threads
Title, Username, & Date
Last Post
Replies
Views
What are the odds of a Chris Jones fine/suspension?

Today

08:00 PM

by

Bwana

45

1,171

Fisher has a Achilles injury

Today

07:58 PM

by

Mahomes_Is_God

228

7,620

*****The Patrick Mahomes Thread*****

Today

07:57 PM

by

Chieftain

29,872

3,555,456

Let's talk about the Tampa Bay Buccaneers (Super Bowl Edition)

Today

07:56 PM

by

pugsnotdrugs19

311

9,594

Good game Chiefs fans

Today

07:52 PM

by

TomBarndtsTwin

106

2,862

So many guys had great games today.

Today

07:52 PM

by

Buehler445

77

2,274

The Chop is Changing... Barely

Today

07:51 PM

by

displacedinMN

118

5,588

RGR Live at 7 / Run it Back!

Today

07:46 PM

by

TLO

5

70

John Madden Suggests NFL Teams Use Madden For Game Prep

Today

07:44 PM

by

Lzen

16

390

Not-Politics "Awesome Meme" Thread

Today

07:38 PM

by

GloryDayz

1,031

151,301

» Online Users: 703
144 members and 559 guests
-King-, A8bil, ArrowheadHawk, Azide22, Baby Lee, Basileus777, BigBeauford, bigjosh, Bowser, bringbackmarty, Buehler445, candyman, carcosa, CasselGotPeedOn, chefs fan in omaha, Chief Northman, Chiefaholic, chiefforlife, chiefs1111, Chiefs4TheWin, Chiefsbroker, ChiefsCountry, Chiefshrink, Chris Meck, cooper barrett, Corandval1977, cosmo20002, crayzkirk, Dayze, digger, displacedinMN, dmahurin, duncan_idaho, Eureka, fairladyZ, Fat Elvis, FlaChief58, Flying High D, ForeverIowan, frank58, FringeNC, frozenchief, GloryDayz, GloucesterChief, Goldentriangle, Graystoke, Hammock Parties, Hawker007, Hound333, InChiefsHeaven, Indian Chief, Jerok, jerryaldini, Jewish Rabbi, jfan, jhawkinVA, KC BOND, kc-nd, KCUnited, kevrunner, liquidlounge, louie aguiar, Lprechaun, Lzen, mac459, Mahomes_Is_God, mattro18, MeaTy The Pimp, Megbert, Misplaced_Chiefs_Fan, mlyonsd, MMXcalibur, montanamike, Mr. Plow, Ninerfan11, noa, notorious, nychief, O.city, okiedokieokoye, Papachief, PattyFlakes, penguinz, petegz28, philfree, phisherman, prhom, PRIEST, Prison Bitch, pugsnotdrugs19, Punwit, Pushead2, REDHOTGTO, Renegade, RollChiefsRoll, Romeo64, Ron Swanson, RustShack, smithandrew051, Sofa King, staylor26, Stewie, Superturtle, suzzer99, The Franchise, The Iron Chief, The Plain Truth, TheSourceX1, TimBone, TomBarndtsTwin, TrebMaxx, treeguy27, trndobrd, TwistedChief, tx4chiefs, tyler360, Tyreek Pikachu, WhawhaWhat, Why Not?, yeti
Most users ever online was 4,753, 12-04-2015 at 09:37 PM.