» Stats
Members: 13,109
Threads: 248,186
Posts: 13,872,485

Welcome to our newest member, Claribel11

» Welcome, guest!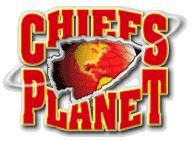 Welcome to ChiefsPlanet,
a Kansas City Chiefs Message Board
This forum is fast and furious with discussion on all variety of topics. Newbies welcomed. If you enjoy reading, don't be shy - please jump in and post!
If this is your first visit, be sure to check out the FAQ by clicking the link above. You will have to register before you can post; click the register link above to proceed. To start viewing messages, visit our main forum, The Lounge or click on a thread title below this message.
» Recent Threads
Title, Username, & Date
Last Post
Replies
Views
Call Your Shot: Who will be the Chiefs first pick?

Today

12:02 PM

by

Detoxing

340

10,721

*****The Lucas Niang Thread*****

Today

12:02 PM

by

htismaqe

246

25,592

***Official 2021 Royals Season Repository Thread***

Today

11:58 AM

by

Fish

1,595

76,231

Which CPer would you marry? ****? Kill??

Today

11:52 AM

by

Prison Bitch

174

3,919

Report: Orlando Brown requests trade from Ravens, wants to play LT

Today

11:42 AM

by

BossChief

817

33,888

NFL owners approve new 2021 rules for replay, onside kicks

Today

11:14 AM

by

lcarus

45

1,143

***** Official '20/'21 Kansas Men's Basketball Repository Thread *****

Today

11:13 AM

by

Ceej

1,711

65,885

Chiefs Twitter on IOL in the Draft

Today

11:12 AM

by

O.city

32

1,093

Investing megathread extravaganza

Today

11:04 AM

by

Buehler445

9,195

1,100,561

Broncos news megathread

Today

10:51 AM

by

FlaChief58

38,189

4,020,802

» Online Users: 459
100 members and 359 guests
AdolfOliverBush, Al Czervik, alpha_omega, Baby Lee, banyon, Beef Supreme, BigBeauford, BigCatDaddy, BossChief, Boxer_Chief, Buehler445, Chief3188, ChiliConCarnage, Chris Meck, Corandval1977, CordMcNally, cosmo20002, crispystl, CrossCheck, Detoxing, Direckshun, Discuss Thrower, displacedinMN, Donger, el borracho, epitome1170, fan4ever, Fish, Fishpicker, frank58, funkymunk, gonefishin53, Hammock Parties, Hawker007, hometeam, HoneyBadger, htismaqe, IChief, jswizzle6, KCUnited, Kellerfox, Kiimosabi, Kman34, LoneWolf, mdchiefsfan, Mike in SW-MO, MMXcalibur, neblo, oaklandhater, old_geezer, osumatt, Pogue, Pointer19, Prison Bitch, ptlyon, PurpleJesus28, Rain Man, Red Beans, RedRaider56, Renegade, Reroka, RunKC, Sannyasi, Shag, shakesthecat, Sideburn, SNAFU, Sofa King, Spokane Chief Fan, staylor26, steelyeyed57, Stryker, The Franchise, theakamu, wil75, Wyatt Earp
Most users ever online was 4,753, 12-04-2015 at 09:37 PM.