» Stats
Members: 11,702
Threads: 231,906
Posts: 12,359,517

Welcome to our newest member, TLC

» Welcome, guest!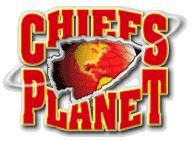 Welcome to ChiefsPlanet,
a Kansas City Chiefs Message Board
This forum is fast and furious with discussion on all variety of topics. Newbies welcomed. If you enjoy reading, don't be shy - please jump in and post!
If this is your first visit, be sure to check out the FAQ by clicking the link above. You will have to register before you can post; click the register link above to proceed. To start viewing messages, visit our main forum, The Lounge or click on a thread title below this message.
» Recent Threads
Title, Username, & Date
Last Post
Replies
Views
Dinner w/Pat & Brittany $52k

Today

09:18 AM

by

chiefzilla1501

18

471

***** Official 2018-2019 Kansas Basketball Repository Thread *****

Today

09:15 AM

by

Mr_Tomahawk

1,595

57,597

Broncos news megathread

Today

09:14 AM

by

Best22

33,983

1,702,339

Personal finance and investing megathread extravaganza

Today

08:58 AM

by

Hog's Gone Fishin

2,634

237,948

What's For Dinner? Here's Mine Vol. 3.

Today

08:48 AM

by

Sorce

13,200

855,348

The uncomfortable reality that is a fading Tom Brady

Today

08:32 AM

by

TambaBerry

373

15,131

Chiefs hire Steve Spagnuolo as new defensive coordinator

Today

07:18 AM

by

SAUTO

2,325

64,643

Smart home products

Today

06:35 AM

by

007

50

2,388

Hypothetical: If you were aboard the Titanic.

Today

05:10 AM

by

Why Not?

158

2,599

Phoenix Area CP Gathering

Today

04:19 AM

by

eDave

775

28,130

» Online Users: 533
91 members and 442 guests
"Bob" Dobbs, -King-, 007, 1hughjass, 58-4ever, AldenMume, Archie Bunker, asdf, beach tribe, Beef Supreme, Best22, BigCatDaddy, BigRichard, blake5676, BossChief, bsp4444, carlos3652, Cave Johnson, Chiefs Moon, chiefs1111, ChiefsFanWNY, ChiefsOne, chiefzilla1501, ChiliConCarnage, Dartgod, Dayze, DMAC, Donger, E482jar, Flying High D, Hailchief, Hammock Parties, HonestChieffan, InChiefsHell, Jerm, jfan, JohnDONsey, JohninGpt, JohnnyHammersticks, kc rush, kc-nd, KCnodefense, KCUnited, kpic, LabelX, Lilmrp117, LiveSteam, loochy, MagicHef, Marcellus, MITCH, Mr_Tomahawk, neblo, notorious, O.city, old_geezer, Oregon chief, PAChiefsGuy, Pitt Gorilla, Pogue, prhom, Prison Bitch, pugsnotdrugs19, Rawlsian, RedRaider56, rolstrol, Rukdafaidas, shakesthecat, Shields68, shrlked, slc, Sofa King, Stryker, sully1983, Talisman, TEX, TheBrat, Third Eye, threebag02, Toto, wazu, Wrasse, Zook
Most users ever online was 4,753, 12-04-2015 at 09:37 PM.