» Today's Birthdays
Jmart (48)


» Stats
Members: 12,134
Threads: 236,537
Posts: 12,785,013

Welcome to our newest member, TechnicolorMan

» Welcome, guest!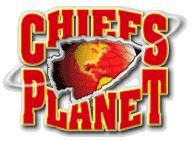 Welcome to ChiefsPlanet,
a Kansas City Chiefs Message Board
This forum is fast and furious with discussion on all variety of topics. Newbies welcomed. If you enjoy reading, don't be shy - please jump in and post!
If this is your first visit, be sure to check out the FAQ by clicking the link above. You will have to register before you can post; click the register link above to proceed. To start viewing messages, visit our main forum, The Lounge or click on a thread title below this message.
» Recent Threads
Title, Username, & Date
Last Post
Replies
Views
Matty "Midnight Hour" Moore

Today

12:17 PM

by

FAX

49

1,091

Trying to find any silver lining

Today

12:16 PM

by

NJChiefsFan

38

738

Bayless with great explanation on why QB Sneak call was okay....

Today

12:15 PM

by

CasselGotPeedOn

7

32

Division title up for grabs now

Today

12:14 PM

by

RaidersOftheCellar

53

1,783

I stabbed my leg with a ice pick at work yesternight

Today

12:08 PM

by

CrazyPhuD

49

909

Damien Williams: is it time for a change?

Today

12:06 PM

by

NJChiefsFan

74

1,692

Describe your feeling when Mahomes was down.

Today

12:03 PM

by

GloucesterChief

95

1,718

****The Official 2019 STL Cardinals Thread****

Today

11:36 AM

by

Miles

2,978

112,252

Week 8: Let's Talk About The Packers

Today

11:26 AM

by

The Franchise

65

2,188

What strains of weed are you currently smoking?

Today

11:11 AM

by

rabblerouser

1,471

195,033

» Online Users: 880
95 members and 785 guests
58-4ever, 64 Chief, 65TPT, Al Bundy, Archie Bunker, AustinChief, BanHam, banyon, Bewbies, BigBeauford, BigRichard, bobbything, burt, candyman, carcosa, CasselGotPeedOn, Cave Johnson, Chiefaholic, ChiefaRoo, Chiefs316, Chiefspants, chiefzilla1501, ChiliConCarnage, colt459, comochiefsfan, CordMcNally, Discuss Thrower, dlphg9, Don Corlemahomes, Donger, DRM08, Earthbound, eDave, e_train69, FAX, frozenchief, GloucesterChief, GMitch, HoneyBadger, Hydrae, KC Hawks, kcpasco, KCUnited, Lennie Briscoe, Luncian, Luv it, MagicHef, MAHOMO 4 LIFE!, mlyonsd, mnchiefsguy, New World Order, NJChiefsFan, noa, O.city, Otter, Oz_Chief, Pablo, petegz28, PhillyChiefFan, pugsnotdrugs19, racejeff, RaidersOftheCellar, RealSNR, rocknrolla, rtuimauga, schneider221, scho63, sd4chiefs, Shiver Me Timbers, Sig, St. Patty's Fire, The Iron Chief, threebag02, ThyKingdomCome15, Tinker Dill, Titty Baby, Toadkiller, TrebMaxx, tyler360, Warpaint69, Warrick, wazu, WhawhaWhat
Most users ever online was 4,753, 12-04-2015 at 09:37 PM.