» Stats
Members: 12,657
Threads: 243,184
Posts: 13,347,961

Welcome to our newest member, bearwii03

» Welcome, guest!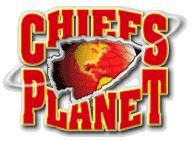 Welcome to ChiefsPlanet,
a Kansas City Chiefs Message Board
This forum is fast and furious with discussion on all variety of topics. Newbies welcomed. If you enjoy reading, don't be shy - please jump in and post!
If this is your first visit, be sure to check out the FAQ by clicking the link above. You will have to register before you can post; click the register link above to proceed. To start viewing messages, visit our main forum, The Lounge or click on a thread title below this message.
» Recent Threads
Title, Username, & Date
Last Post
Replies
Views
**** OFFICIAL 2020 CHIEFS Training Camp News and Reports****

Today

03:41 PM

by

DJ's left nut

20

1,009

***NON-POLITICAL COVID-19 Discussion Thread***

Today

03:41 PM

by

DaFace

41,957

1,498,478

Off Season Lets Talk Guns, Part 2

Today

03:40 PM

by

GloryDayz

3,270

379,083

Have you ever countered a job offer?

Today

03:39 PM

by

cwhocares

48

643

Lucas Niang opts out...

Today

03:39 PM

by

DJ's left nut

267

6,891

Travis Kelce confirms break up with GF

Today

03:38 PM

by

gblowfish

67

2,869

Derek Carr ****ing sucks

Today

03:21 PM

by

DJ's left nut

878

95,514

Maryville teen allegedly raped by football player

Today

02:49 PM

by

Iowanian

377

36,951

*****The Patrick Mahomes Thread*****

Today

02:49 PM

by

Rain Man

28,407

2,860,392

NFL Network: Hail to the Chiefs Week!

Today

02:44 PM

by

RINGLEADER

12

527

» Online Users: 538
102 members and 436 guests
2bikemike, 44yearsandcounting, allen_kcCard, Archie Bunker, backinblack, Bearcat, BigBeauford, BigRedChief, BOXERAJ, Boxer_Chief, Buehler445, Bump, BWillie, CervezaChill, chefsos, Chief Roundup, Chief3188, chieftd16, cooper barrett, CordMcNally, crayzkirk, cwhocares, Denfan, DJ's left nut, dj56dt58, Donger, DrRyan, duncan_idaho, emaw1979, EPodolak, EricBerryismyBae, FD, Fish, frozenchief, GloryDayz, GloucesterChief, GMitch, Hali-lujah, Hammock Parties, HonestChieffan, IChief, Imon Yourside, JakeF, jallmon, Jamie, jd1020, jet62, jjchieffan, jynni, kc rush, kcclone, KCUnited, kcxiv, keg in kc, Kidd Lex, kjwood75nro, KS Smitty, Luncian, MagicHef, MAHOMO 4 LIFE!, Megatron96, Merde Furieux, Mizzou_8541, mr. tegu, mschiefs1984, NinerDoug, old_geezer, Otter, Pants, petegz28, Pointer19, Priest31kc, RealSNR, seamonster, Sig, Sofa King, staylor26, Superturtle, Taco John, TEX, The Franchise, Third Eye, Titty Baby, vailpass, vikingfan, wutamess
Most users ever online was 4,753, 12-04-2015 at 09:37 PM.