» Stats
Members: 11,952
Threads: 234,962
Posts: 12,644,057

Welcome to our newest member, Laurentius

» Welcome, guest!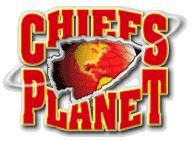 Welcome to ChiefsPlanet,
a Kansas City Chiefs Message Board
This forum is fast and furious with discussion on all variety of topics. Newbies welcomed. If you enjoy reading, don't be shy - please jump in and post!
If this is your first visit, be sure to check out the FAQ by clicking the link above. You will have to register before you can post; click the register link above to proceed. To start viewing messages, visit our main forum, The Lounge or click on a thread title below this message.
» Recent Threads
Title, Username, & Date
Last Post
Replies
Views
****The Chris Jones Thread****

Today

12:30 PM

by

Sweet Daddy Hate

369

68,476

Tyreek Hill isn't the first WR to deal with extortion/blackmail attempts...

Today

12:26 PM

by

Hammock Parties

60

717

*****The Mecole Hardman Thread*****

Today

12:25 PM

by

Sweet Daddy Hate

866

63,816

****OFFICIAL Chiefs @ Steelers Week 2 Preseason Game Thread****

Today

12:25 PM

by

Trivers

22

713

Not-Politics "Awesome Meme" Thread

Today

12:23 PM

by

burt

232

7,916

-- .

Today

12:16 PM

by

Simply Red

151

1,892

Sorry if discussed, but wtf Andy

Today

12:09 PM

by

ThyKingdomCome15

85

2,210

New England just got Gordon back

Today

12:06 PM

by

Hammock Parties

46

1,946

Underground Propane Tank

Today

12:05 PM

by

srvy

36

606

X-Factor's Inside the Huddle-Suicide Mission?

Today

12:01 PM

by

neech

230

20,434

» Online Users: 1,006
82 members and 924 guests
-King-, AndChiefs, Ash, Baby Lee, Bearcat, BlackHelicopters, BlackOp, Bowser, Buns, burt, Canofbier, CasselGotPeedOn, Chief Northman, ChiefEd, Chiefspants, cj2wr, CordMcNally, cripple creek, Danguardace, dlphg9, eDave, farmerchief, Flying High D, GloucesterChief, Hammock Parties, Hamwallet, hawkchief, Hog's Gone Fishin, Hoopsdoc, Husker, Jamie, JerseyChief, Juan Time, KCrockaholic, KCUnited, kevrunner, Lennie Briscoe, MagicHef, MAHOMO 4 LIFE!, Marcellus, mililo4cpa, Misplaced_Chiefs_Fan, mlyonsd, mnchiefsguy, montanamike, mr. tegu, Munson, neblo, NewChief, notorious, PHOG, Prison Bitch, RedSea90, RodeoPants2, Rukdafaidas, Showtime, slc, solidgold, stumppy, SuperBowl4, Superturtle, Sweet Daddy Hate, tbonesteak, tmax63, TrebMaxx, Trivers, TwistedChief, WhawhaWhat, Why Not?
Most users ever online was 4,753, 12-04-2015 at 09:37 PM.