» Today's Birthdays
Sully (43)


» Stats
Members: 11,425
Threads: 231,148
Posts: 12,299,324

Welcome to our newest member, cristian555

» Welcome, guest!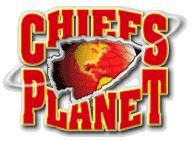 Welcome to ChiefsPlanet,
a Kansas City Chiefs Message Board
This forum is fast and furious with discussion on all variety of topics. Newbies welcomed. If you enjoy reading, don't be shy - please jump in and post!
If this is your first visit, be sure to check out the FAQ by clicking the link above. You will have to register before you can post; click the register link above to proceed. To start viewing messages, visit our main forum, The Lounge or click on a thread title below this message.
» Recent Threads
Title, Username, & Date
Last Post
Replies
Views
**** Official Chiefs VS Patriots AFC Championship Game Thread ****

Today

09:44 AM

by

kc-nd

2,228

55,450

KC CHIEFS vs. NE PATRIOTS: Who wins? Your predictions?

Today

09:43 AM

by

Dayze

111

2,935

Anybody else buy Superbowl tickets?

Today

09:42 AM

by

mlyonsd

34

547

Chiefs from Germany, Europe, outside USA

Today

09:39 AM

by

DaFace

1

2

Babb: In tragedies' wake, Reid and the Chiefs found success through second chances

Today

09:39 AM

by

Oxford

24

510

Science is Cool....

Today

09:37 AM

by

Baby Lee

2,819

477,464

A little something before the game.

Today

09:33 AM

by

Donger

20

546

IF YOU NEED TICKETS - LOOK!

Today

09:32 AM

by

NJChiefsFan

64

1,797

Alexa is a Chiefs fan?

Today

09:26 AM

by

ptlyon

53

1,058

NFL Rumors: Mahomes, Watson atop KC's QB wish list

Today

09:15 AM

by

Best22

633

41,389

» Online Users: 405
125 members and 280 guests
65TPT, AJKCFAN, alanm, allen_kcCard, Archie Bunker, Baby Lee, baitism, beach tribe, BigRedChief, bringbackmarty, Buns, C3HIEF3S, Captain Obvious, carcosa, chefs fan in omaha, ChiefAshhole1056, ChiefsFanWNY, ChiefsOne, chiefswillriseup, cmh6476, Cosmos, Craash, crispystl420, DanBecky, Dartgod, Dayze, displacedinMN, Donger, dpg4zombie, DrRyan, e3263518, Earthbound, eyenthesky, farmerchief, Flachief58, ForeverChiefs58, frank58, GermanChief, gh4chiefs, GloucesterChief, HailToThePriest, Hog Rider, HonestChieffan, Hoopsdoc, Humbug, IA_Chiefs_fan, IChief, journeyscarab, Judge Smails, kc-nd, KCCHIEFS27, KChiefs1, KCUnited, KCwolf, kcwooskie, kgrund, Kman34, Kramerica, Lilmrp117, LiveSteam, LOCOChief, Loneiguana, Luv it, MahomesKnows, Marcellus, MatriculatingHank, Matrix, mdchiefsfan, Mizzou_8541, mlyonsd, mr. tegu, Mr. Wizard, NJChiefsFan, OKchiefs, OldMan22, Otis Day, Oxford, phisherman, POND_OF_RED, ptlyon, pugsnotdrugs19, Randallflagg, RealSNR, Red Dawg, REDHOTGTO, RobertWeathers, RockChalk, Rooster, Roy Munson, Rudy tossed tigger's salad, Rukdafaidas, SCTrojan, Sig, smithandrew051, stevieray, Stinger, SupDock, Superturtle, Sweet Daddy Hate, TambaBerry, TheNoob, theoldcoach, Toad, TomBarndtsTwin, TopJet2, tyler360, WhawhaWhat
Most users ever online was 4,753, 12-04-2015 at 09:37 PM.