» Stats
Members: 11,401
Threads: 231,056
Posts: 12,293,129

Welcome to our newest member, Patriots

» Welcome, guest!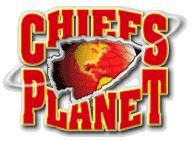 Welcome to ChiefsPlanet,
a Kansas City Chiefs Message Board
This forum is fast and furious with discussion on all variety of topics. Newbies welcomed. If you enjoy reading, don't be shy - please jump in and post!
If this is your first visit, be sure to check out the FAQ by clicking the link above. You will have to register before you can post; click the register link above to proceed. To start viewing messages, visit our main forum, The Lounge or click on a thread title below this message.
» Recent Threads
Title, Username, & Date
Last Post
Replies
Views
Need Recommendations on a new Tablet...

Today

07:30 PM

by

Buehler445

3

4

Chiefs cornerback Charvarius Ward's path from wheelchair to mama's boy to the NFL

Today

07:30 PM

by

WhiteWhale

36

886

Let's talk about the Patriots

Today

07:29 PM

by

Johnny Vegas

1,200

26,984

Injury update

Today

07:26 PM

by

Shaid

112

3,360

**** Official Chiefs VS Patriots AFC Championship Game Thread ****

Today

07:24 PM

by

Rivaldo

1,655

39,159

Dont lose your fingers

Today

07:23 PM

by

threebag02

98

2,186

Chiefs AFC Championship Game Tailgate Thread

Today

07:23 PM

by

NJChiefsFan

311

5,737

More evidence that Chiefsplanet is "different"...

Today

07:22 PM

by

Simply Red

57

1,071

Outlook for 2019 Royals

Today

07:18 PM

by

ILChief

73

3,223

NFL Rumors: Mahomes, Watson atop KC's QB wish list

Today

07:16 PM

by

KChiefs1

606

38,447

» Online Users: 474
176 members and 298 guests
-King-, 007, alamoswim, allen_kcCard, Archie Bunker, arrowhead20, Ash, Baster mater, beach tribe, Bearcat, Best22, big nasty kcnut, Blick, BossChief, Bowser, bringbackmarty, Buehler445, CanadaKC, CapsLockKey, CasselGotPeedOn, CervezaChill, Chief Northman, Chief3188, chiefs1111, ChiefsCountry, ChiefsLV, Chiefspants, Chris Meck, ClarkGriswold, Clyde Frog, Coochie liquor, crispystl420, CrossCheck, DaKlee, dannybcaitlyn, Dartgod, displacedinMN, DonTellMeShowMe, DRM08, DrunkBassGuitar, Eric1670, Flachief58, ForeverChiefs58, frank58, frozenchief, gh4chiefs, GloucesterChief, Gravedigger, Haglund's_Spirit, Hawker007, HemiEd, HermanHater, Humbug, Hydrae, Icon, ILChief, Jerok, jet62, Jim Hammer, JKCKCheif, JohnDONsey, Judge Smails, kc rush, KCFalcon59, kcfanintitanhell, KChiefs1, KCJake, KCUnited, kczoo, KC_Lee, Kellerfox, KS Smitty, Loneiguana, loochy, Luncian, Luvva, mac459, MahomesKnows, MatriculatingHank, mazrim1978, mdstu, MeaTy The Pimp, mlyonsd, montanamike, Mr_Tomahawk, Munson, NinerDoug, NJChiefsFan, notorious, oaklandhater, Pablo, PAChiefsGuy, Patriots, PatriotsGuy, PattyFlakes, penguinz, PhillyChiefFan, PRIEST, pugsnotdrugs19, racejeff, Rams Fan, Randallflagg, RealSNR, redhed, REDHOTGTO, Renegade, Rivaldo, RN47, RobertWeathers, Rob_Nachos, RocKhawks, RodeoPants2, RollChiefsRoll, Ron Swanson, Royalchiefsfan, Salami Swami, savchief, seaofred, Shag, Shaid, Simply Red, SithCeNtZ, smithandrew051, solidgold, staylor26, stevieray, SupDock, Superturtle, suzzer99, SwayzeExpress, sxrich, tboss-27, ThanksForTheLoan, The Iron Chief, thebrad84, thegame214, Third Eye, threebag02, TimBone, Tonka83, TrebMaxx, TwistedChief, unothadeal, vachief58, Vegas_Dave, wazu, WhamBlock, WhiteWhale, Yehoodi, Zook
Most users ever online was 4,753, 12-04-2015 at 09:37 PM.