» Stats
Members: 12,207
Threads: 237,753
Posts: 12,902,110

Welcome to our newest member, Ahhting

» Welcome, guest!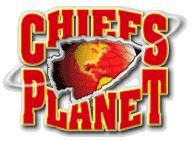 Welcome to ChiefsPlanet,
a Kansas City Chiefs Message Board
This forum is fast and furious with discussion on all variety of topics. Newbies welcomed. If you enjoy reading, don't be shy - please jump in and post!
If this is your first visit, be sure to check out the FAQ by clicking the link above. You will have to register before you can post; click the register link above to proceed. To start viewing messages, visit our main forum, The Lounge or click on a thread title below this message.
» Recent Threads
Title, Username, & Date
Last Post
Replies
Views
****Official Denver Broncos Vs Kansas City Chiefs 12/15/2019 GDT****

Today

02:18 PM

by

Demonpenz

1,104

18,121

Is it time to replace Arrowhead with a dome?

Today

02:15 PM

by

-King-

446

36,697

*** Official 2019 Kansas City Royals Repository ***

Today

02:15 PM

by

Demonpenz

4,427

294,237

Pats filming Bengals. Caught.

Today

02:14 PM

by

Buehler445

777

24,546

Chiefs-Bears Sunday night game might get flexed

Today

02:07 PM

by

BWillie

80

3,243

The uncomfortable reality that is a fading Tom Brady

Today

01:59 PM

by

KC_Connection

1,496

78,148

****Official 2019 Missouri Tigers Football Thread****

Today

01:36 PM

by

Flying High D

1,013

33,461

Vegas Weekend

Today

01:12 PM

by

BWillie

119

3,230

Time Mag: Entertainer of the Year (2019)

Today

01:05 PM

by

Mennonite

254

5,301

LB Terrell Suggs released

Today

01:01 PM

by

carcosa

107

5,154

» Online Users: 754
198 members and 556 guests
-King-, 1963chief, 493rd, 64 Chief, 65TPT, A Salt Weapon, alanm, arrowheadnation, arrwheader, Ash, Baby Lee, Bearcat, Bewbies, BigBeauford, BigOlChiefsfan, BigRedChief, bobhill, booyaf2, BossChief, Buehler445, BWillie, carcosa, CasselGotPeedOn, CervezaChill, Chief Northman, Chief Roundup, chiefs1111, Chiefs4TheWin, ChiefsCountry, chiefsfan58, Chiefspants, chinaski, Chris Meck, cj2wr, Coach, comochiefsfan, Coochie liquor, Cosmos, Cow Pollinator, crayzkirk, cripple creek, Dalex, DanBecky, Danguardace, dannybcaitlyn, DelFan, Demonpenz, displacedinMN, dj56dt58, dlphg9, dmahurin, Donger, DRM08, dtrain, Ecto-I, EPodolak, e_train69, FAH-Q, FAX, ForeverChiefs58, frank58, frozenchief, funkymunk, GingaChief, GloucesterChief, Goldentriangle, Graystoke, Hammock Parties, HonestChieffan, Hound333, Hydrae, iachief, IChief, Imon Yourside, InChiefsHell, jamesadamic, jd1020, jerryaldini, jet62, Jewish Rabbi, KC Hawks, KC Tattoo, kc-nd, KCFalcon59, kcgizmo, Kcmofan, kcpasco, kcwolf84, KC_Connection, Kellerfox, Ken Bone, kepp, kjwood75nro, lawrenceRaider, Lickerman, limested, Loneiguana, lostcause, Lprechaun, mac459, MahiMike, MahomesKnows, Mahomes_Is_God, MAHOMO 4 LIFE!, Marcellus, MartinThore, maverick, MeaTy The Pimp, Meli.matrix, MephistophelesJanx, mlyonsd, montyma, Moorehse, mrroandrro, NashvilleRock.net, neech, Nightfyre, OKchiefs, Otter, Over Yonder, PACHIEFSFAN, ping2000, Pointer19, POND_OF_RED, PRIEST, Priest31kc, Priestmahomes, pugsnotdrugs19, Raiderhader, Rain Man, Randy the Fan, RaytownChief, Red Dawg, redhed, Reroka, Robio9, RollChiefsRoll, Ron Swanson, Rudy tossed tigger's salad, RYAN32, scho63, Shag, SithCeNtZ, soonersfreak, Sorce, Spott, staylor26, steelyeyed57, StockingAnarchy12, SupDock, ThaVirus, The Franchise, thechiefhusker, ThyKingdomCome15, Time's Yours, TrebMaxx, tredadda, Trivers, TwistedChief, Vox Romantic, Wallcrawler, wazu, WhawhaWhat, Wyatt Earp, yeti, Yosef_Malkovitch
Most users ever online was 4,753, 12-04-2015 at 09:37 PM.