» Stats
Members: 12,739
Threads: 244,125
Posts: 13,434,793

Welcome to our newest member, Ravens213

» Welcome, guest!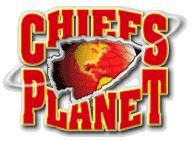 Welcome to ChiefsPlanet,
a Kansas City Chiefs Message Board
This forum is fast and furious with discussion on all variety of topics. Newbies welcomed. If you enjoy reading, don't be shy - please jump in and post!
If this is your first visit, be sure to check out the FAQ by clicking the link above. You will have to register before you can post; click the register link above to proceed. To start viewing messages, visit our main forum, The Lounge or click on a thread title below this message.
» Recent Threads
Title, Username, & Date
Last Post
Replies
Views
Broncos news megathread

Today

10:06 AM

by

Eureka

37,570

3,263,846

Replica Superbowl ring

Today

10:03 AM

by

scho63

112

3,628

Missing Planeteers

Today

10:02 AM

by

Eleazar

931

73,504

***NON-POLITICAL COVID-19 Discussion Thread***

Today

10:02 AM

by

htismaqe

44,772

1,855,950

Let's talk about the Ravens

Today

10:00 AM

by

scho63

556

19,697

Injury Update (Wk 3 @ BAL)

Today

09:53 AM

by

RunKC

21

672

UPDATE: Ford to 49ers for a 2020 2nd round pick. Official.

Today

09:52 AM

by

scho63

1,273

75,048

Fire Me Boy! What's For Dinner? Thread

Today

09:43 AM

by

burt

15,582

1,550,558

Alex Gordon: The Royal Years

Today

09:42 AM

by

Why Not?

9

355

Ward is back at practice.

Today

09:42 AM

by

Redbled

14

797

» Online Users: 410
110 members and 300 guests
44yearsandcounting, alanm, backinblack, baitism, beach tribe, BigRichard, ChiefBlueCFC, chiefforlife, Chiefspants, CoMoChief, Coochie liquor, cosmo20002, DanBecky, Dartgod, Denfan, digger, DJ's left nut, DJJasonp, Donger, Earthbound, epitome1170, Eureka, Flying High D, funkymunk, GloryDayz, Great8, Hammock Parties, Hays, HoneyBadger, htismaqe, Jayheat, JohnnyHammersticks, Juan Time, KC Hawks, kchero, Kcmofan, KCnodefense, kcpasco, KCrockaholic, KCUnited, kepp, krieg17, KS Smitty, Lennie Briscoe, LiveSteam, Lprechaun, MagicHef, Malcor, Marcellus, MartinThore, Merde Furieux, MIAdragon, mikeboogie, mililo4cpa, mlyonsd, mnchiefsguy, Mr. Plow, mr. tegu, neech, Nixhex, otherstar, Otis Day, philfree, phisherman, Priest31kc, Prison Bitch, Redbled, redshirt32, RodeoPants2, rolstrol, Rukdafaidas, RunKC, scho63, seaofred, SFfan79, Shag, Shiver Me Timbers, Simba, Simply Red, staylor26, stumppy, SuperBowl4, Superturtle, suzzer99, tatorhog, TexasChief, TJW, tmax63, tyreekthefreak, UChieffyBugger, wazu, WhiteWhale, Wisconsin_Chief, wutamess, xbarretx, Zebedee DuBois
Most users ever online was 4,753, 12-04-2015 at 09:37 PM.