» Stats
Members: 12,018
Threads: 235,639
Posts: 12,703,061

Welcome to our newest member, Moose Taco Dot Net

» Welcome, guest!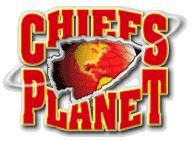 Welcome to ChiefsPlanet,
a Kansas City Chiefs Message Board
This forum is fast and furious with discussion on all variety of topics. Newbies welcomed. If you enjoy reading, don't be shy - please jump in and post!
If this is your first visit, be sure to check out the FAQ by clicking the link above. You will have to register before you can post; click the register link above to proceed. To start viewing messages, visit our main forum, The Lounge or click on a thread title below this message.
» Recent Threads
Title, Username, & Date
Last Post
Replies
Views
*****The Patrick Mahomes Thread*****

Today

06:47 AM

by

WhiteWhale

24,438

1,835,053

Schefter: Jalen Ramsey has asked for a trade

Today

06:46 AM

by

KCUnited

1,867

68,562

KCTV5 continues to not get it

Today

06:44 AM

by

rabblerouser

138

7,320

Pats place LT Wynn on IR

Today

06:43 AM

by

RobertWeathers

25

1,046

Frank Clark ****ing sucks

Today

06:39 AM

by

srvy

182

7,028

Week 3: Let's talk about the Ravens

Today

06:38 AM

by

Coochie liquor

160

7,340

KFC is testing a donut chicken sandwich

Today

06:34 AM

by

WhawhaWhat

30

356

Giants Finally name Jones starting QB

Today

06:16 AM

by

RedRaider56

50

1,188

Kansas City: Tyreek Hill loves you

Today

05:03 AM

by

stevieray

40

1,923

Rasslin is YES! YES! YES!

Today

03:28 AM

by

Ubeja Vontell

3,586

276,211

» Online Users: 1,861
135 members and 1,726 guests
-King-, AndChiefs, Archie Bunker, arrowheadnation, Bewbies, bigjosh, bijou10, BlackHelicopters, bloomer88, bobhill, booyaf2, BossChief, bricks, brorth, bsp4444, Buehler445, C3HIEF3S, CanadianChief, ChiefEd, Chiefs=Good, ChiefsHawk, Coochie liquor, Corandval1977, CordMcNally, cripple creek, Dallas Chief, dallaschiefsfan, Dante84, Dartgod, dilligaf, displacedinMN, dj562006, dj56dt58, Donger, DTVietnam, Dunerdr, FAH-Q, fairladyZ, frank58, Friggles, FringeNC, GloryDayz, GloucesterChief, Hailchief, Hammock Parties, hawkchief, HayWire, HingleMCringlebery, IowaHawkeyeChief, Javabean, Jayheat, Jerm, JohnnyHammersticks, jsmax, kcclone, kcfan75, KCUnited, KC_Lee, KGSoloman5k, Kman34, limested, Loneiguana, Los Pollos Hermanos, mac459, Mama Hip Rockets, Megbert, Meli.matrix, milkman, Misplaced_Chiefs_Fan, mlyonsd, MTG#10, New World Order, Nixhex, NY CHIEF, okcchief, old_geezer, POND_OF_RED, Prison Bitch, pugsnotdrugs19, Raiderhader, RaidersOftheCellar, Randy the Fan, RaytownChief, redhed, RobertWeathers, RodeoPants2, RYAN32, savchief, Scaga, seaofred, Shaid, shakesthecat, Sig, slc, smithandrew051, St. Patty's Fire, Stanley Nickels, steelyeyed57, Strongside, stumppy, Superturtle, TambaBerry, thechiefhusker, Third Eye, threebag02, Thunderlizard, Time's Yours, Tinker Dill, tmax63, Toadkiller, TwistedChief, UChieffyBugger, WAChiefsFan, Warpaint69, WhawhaWhat, WhiteWhale, yeti
Most users ever online was 4,753, 12-04-2015 at 09:37 PM.