» Today's Birthdays
greg63 (56)


» Stats
Members: 11,961
Threads: 235,076
Posts: 12,652,337

Welcome to our newest member, Ubeja Vontell

» Welcome, guest!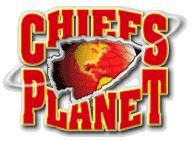 Welcome to ChiefsPlanet,
a Kansas City Chiefs Message Board
This forum is fast and furious with discussion on all variety of topics. Newbies welcomed. If you enjoy reading, don't be shy - please jump in and post!
If this is your first visit, be sure to check out the FAQ by clicking the link above. You will have to register before you can post; click the register link above to proceed. To start viewing messages, visit our main forum, The Lounge or click on a thread title below this message.
» Recent Threads
Title, Username, & Date
Last Post
Replies
Views
The Ringer: Chiefs Have #1 Receiving Corps

Today

02:58 PM

by

lawrenceRaider

25

771

Patrick Chung loves cocaine

Today

02:58 PM

by

Flying High D

106

3,258

Chiefs open as a 5.5 point favorite vs Jaguars

Today

02:58 PM

by

jimidollar

24

459

K C Bar B Que Tour!

Today

02:55 PM

by

DaFace

19

550

Chiefs 53 Man Roster Prediction

Today

02:48 PM

by

DJ's left nut

132

4,897

|| Tell me about your kitchen knives ||

Today

02:38 PM

by

scho63

56

940

Buyer Beware Nike Game jersey

Today

02:38 PM

by

Lprechaun

36

1,087

****The Tyreek Hill Thread***

Today

02:23 PM

by

Hammock Parties

1,734

155,754

My Struggles - Alcohol - and my plan.

Today

02:00 PM

by

mililo4cpa

139

3,785

*****The Patrick Mahomes Thread*****

Today

01:49 PM

by

Tribal Warfare

24,067

1,741,031

» Online Users: 548
96 members and 452 guests
493rd, AdolfOliverBush, alanm, Baby Lee, beerwolf, bigjosh, Boiled Chicken, Boise_Chief, Bowser, brorth, CasselGotPeedOn, chiefforlife, chiefiowa, Chiefpanther, Danguardace, Detoxing, DJ's left nut, dj56dt58, DRM08, DRU, Earthbound, eDave, Fish, Flying High D, fredflintrock, Fritz88, gh4chiefs, Go Royals, Hammock Parties, Huffmeister, IChief, jayhawksandchiefs, jimidollar, jiveturkey, JohnnyHammersticks, Judge Smails, KC Hawks, KC_Lee, kgrund, laser1972, lawrenceRaider, Lex Luthor, Malcor, manchambo, Megatron96, Midway Chief, mnchiefsguy, mr. tegu, Mugalug, New World Order, NewChief, NinerDoug, NJChiefsFan27, old_geezer, PRIEST, Renegade, RockChalk, RodeoPants2, Roy Munson, Shag, Sig, solidgold, staylor26, Stinger, SuperChief, tatorhog, thabear04, theoldcoach, True North, vailpass, Warrick, Warrior5, wasi, Zebedee DuBois
Most users ever online was 4,753, 12-04-2015 at 09:37 PM.