» Today's Birthdays
greg63 (56)


» Stats
Members: 11,961
Threads: 235,082
Posts: 12,652,732

Welcome to our newest member, Ubeja Vontell

» Welcome, guest!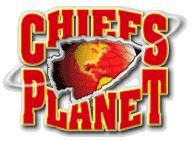 Welcome to ChiefsPlanet,
a Kansas City Chiefs Message Board
This forum is fast and furious with discussion on all variety of topics. Newbies welcomed. If you enjoy reading, don't be shy - please jump in and post!
If this is your first visit, be sure to check out the FAQ by clicking the link above. You will have to register before you can post; click the register link above to proceed. To start viewing messages, visit our main forum, The Lounge or click on a thread title below this message.
» Recent Threads
Title, Username, & Date
Last Post
Replies
Views
NFL trade watch

Today

07:25 PM

by

arrwheader

58

1,152

Hard Knocks With The Oakland Raiders

Today

07:18 PM

by

Coochie liquor

80

4,137

**** Official College Football Games Thread Week 1 ****

Today

07:11 PM

by

Why Not?

2

15

Chiefs 53 Man Roster Prediction

Today

07:00 PM

by

thabear04

137

5,035

Chiefs open as a 5.5 point favorite vs Jaguars

Today

07:00 PM

by

displacedinMN

40

732

***OFFICIAL 2019 Chiefs Training Camp Thread***

Today

06:59 PM

by

milkman

4,024

177,907

*** Official 2019 Kansas City Royals Repository ***

Today

06:57 PM

by

DeepSouth

3,406

180,487

Browns sign Kareem Hunt

Today

06:54 PM

by

FAX

701

33,644

Drink of choice tonight? PART DEUX

Today

06:50 PM

by

C3HIEF3S

1,446

124,145

Who is the GOAT QB?

Today

06:43 PM

by

Raiderhader

153

3,964

» Online Users: 539
89 members and 450 guests
-King-, 007, Al Bundy, arrwheader, Baby Lee, beerwolf, BottomShelfBoose, brorth, Buehler445, C3HIEF3S, CasselGotPeedOn, Chief3188, chief4life, chief52, chiefiowa, chiefnewbie, chiefs1okie, ChiefsHawk, Coochie liquor, Dalex, Dante84, Dartgod, DeepSouth, displacedinMN, e3263518, El Lobo Gordo, FAX, ghty, GloucesterChief, Goldentriangle, Hog's Gone Fishin, ILChief, Jerok, Jim Hammer, Juan Time, Judge Smails, jynni, KC Hawks, KCFalcon59, KCnodefense, KCUnited, KentuckyChief, kjwood75nro, Kman34, loochy, MartinThore, MeaTy The Pimp, MephistophelesJanx, MGRS13, MightyMouse, milkman, Misplaced_Chiefs_Fan, Mizzou_8541, mlyonsd, MTG#10, Munson, Naptown Chief, New World Order, Nickhead, O.city, Otter, ping2000, Raiderhader, Rain Man, Rukdafaidas, RunKC, SAUTO, staylor26, stumppy, SupDock, SuperBowl4, Superturtle, tarheel23, Third Eye, TrebMaxx, True North, Ubeja Vontell, wazu, whoaskew
Most users ever online was 4,753, 12-04-2015 at 09:37 PM.