» Stats
Members: 13,362
Threads: 251,155
Posts: 14,209,053

Welcome to our newest member, RodFarrow

» Welcome, guest!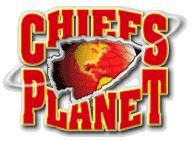 Welcome to ChiefsPlanet,
a Kansas City Chiefs Message Board
This forum is fast and furious with discussion on all variety of topics. Newbies welcomed. If you enjoy reading, don't be shy - please jump in and post!
If this is your first visit, be sure to check out the FAQ by clicking the link above. You will have to register before you can post; click the register link above to proceed. To start viewing messages, visit our main forum, The Lounge or click on a thread title below this message.
» Recent Threads
Title, Username, & Date
Last Post
Replies
Views
50 Beers to Try Before You Die

Today

10:49 PM

by

TimBone

5,032

1,013,397

***** Official '21/'22 KU Men's Basketball Repository Thread *****

Today

10:48 PM

by

RustShack

571

28,220

Hunting type things.....

Today

10:45 PM

by

Buehler445

2,404

337,716

Mansionmania Tournament: Round 4, Heat 1 (and map of contestants)

Today

10:45 PM

by

Rain Man

9

66

NFT: Preview Video of Motley Crue 2005 Tour

Today

10:43 PM

by

RubberSponge

33

919

**** Official College Football 2021 Thread ****

Today

10:40 PM

by

GloucesterChief

1,528

40,014

Club Level Question

Today

10:40 PM

by

alpha_omega

15

327

Off Season Lets Talk Guns, Part 2

Today

10:31 PM

by

Buehler445

4,492

811,233

Perhaps an unpopular opinion - I don't like the holidays

Today

10:25 PM

by

philfree

141

2,640

Hey, people

Today

10:24 PM

by

BDj23

49

898

» Online Users: 846
69 members and 777 guests
allen_kcCard, backinblack, BDj23, BigCatDaddy, Bowser, Boxer_Chief, Buehler445, Chazno, chefsos, Chief3188, Chiefsbroker, ChiefsCountry, colt459, comochiefsfan, crayzkirk, DJ's left nut, Fat Elvis, Flying High D, frozenchief, GloucesterChief, Gravedigger, jackkked, Jamie, Jewish Rabbi, Juan Time, KC4LIFE1977, kjwood75nro, kpic, KS Smitty, LiveSteam, MagicHef, Megatron96, Misplaced_Chiefs_Fan, montanamike, mrbiggz, OKchiefs, Pogue, POND_OF_RED, Priest31kc, Rain Man, Renegade, Roy Munson, RubberSponge, RustShack, saphojunkie, Shields68, shrlked, Siameseflea, staylor26, Stryker, suzzer99, thabear04, TimBone, vonBobo, Wisconsin_Chief
Most users ever online was 4,753, 12-04-2015 at 09:37 PM.