» Stats
Members: 12,961
Threads: 246,749
Posts: 13,738,787

Welcome to our newest member, ziashani

» Welcome, guest!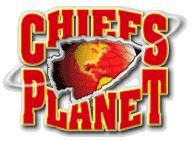 Welcome to ChiefsPlanet,
a Kansas City Chiefs Message Board
This forum is fast and furious with discussion on all variety of topics. Newbies welcomed. If you enjoy reading, don't be shy - please jump in and post!
If this is your first visit, be sure to check out the FAQ by clicking the link above. You will have to register before you can post; click the register link above to proceed. To start viewing messages, visit our main forum, The Lounge or click on a thread title below this message.
» Recent Threads
Title, Username, & Date
Last Post
Replies
Views
D. Williams thread

Today

02:13 PM

by

Pitt Gorilla

88

2,692

***NON-POLITICAL COVID-19 Discussion Thread***

Today

02:13 PM

by

Donger

51,200

2,905,293

Nfl must change playoff concussion protocol

Today

02:12 PM

by

KCJake

138

8,335

Dwayne Haskins signs with Steelers.

Today

02:12 PM

by

mkp785

11

184

Most Teams 'Not Interested' in Chiefs' Eric Bieniemy

Today

02:11 PM

by

Superturtle

746

24,158

Commentary From a Pro-Bills Writer.

Today

02:09 PM

by

Pitt Gorilla

11

376

Water Only Fasting. No food for 10 days

Today

02:07 PM

by

SupDock

19

51

Let's Talk About the Bills (AFC Championship Edition)

Today

02:04 PM

by

The Franchise

943

22,114

Chiefs Fan that caught Mahomes pass to upper deck

Today

02:04 PM

by

Stryker

12

922

The uncomfortable reality that is a fading Tom Brady

Today

01:51 PM

by

Molitoth

2,390

223,045

» Online Users: 488
152 members and 336 guests
493rd, 65TPT, A8bil, AdolfOliverBush, allen_kcCard, AndChiefs, Archie Bunker, arrwheader, banyon, bax_, Best22, BigBeauford, BigCatDaddy, BigRichard, bijou10, Bill Brasky, BlackOp, busted flush, carcosa, CasselGotPeedOn, CatfishBob2, CatinKS, CervezaChill, chiefforlife, ChiefInWesternNC, Chiefs316, chiefshead33, comochiefsfan, cosmo20002, Cow Pollinator, D.A.P., DanBecky, Detoxing, Discuss Thrower, displacedinMN, Donger, duncan_idaho, Dunerdr, Eureka, Figster/Bills fan, Fish, Flying High D, frozenchief, GloryDayz, Go Royals, gpsdude, Graystoke, Great Expectations, Grim, Groves, Hammock Parties, HC_Chief, InChiefsHeaven, Jerm, jerryaldini, jettio, jswizzle6, KC Hawks, KChiefs1, KCJake, kcmecker, KCUnited, KCWolfpack, KC_Lee, kepp, KGSoloman5k, lawrenceRaider, liquidlounge, louie aguiar, mac459, MahomesMagic, MartinThore, mkp785, Molitoth, Mr. Plow, New World Order, NewChief, Nickhead, NinerDoug, noa, O.city, OKchiefs, Old Dog, old_geezer, Pasta Giant Meatball, PattyFlakes, PHANTOM, Phsb2008, Pitt Gorilla, Pogue, POND_OF_RED, ptlyon, PurpleJesus28, Rams Fan, Renegade, RHep, RodeoPants2, RollChiefsRoll, RunKC, sam_I_am, Scaga, Shaid, shakesthecat, shitgoose, ShowtimeSBMVP, Slakker, smithandrew051, staylor26, Stryker, stumppy, SupDock, Superturtle, tatorhog, TexasChief, The Franchise, TJW, tmoshow, Tonka83, TrebMaxx, tredadda, treeguy27, Tyreek Pikachu, UChieffyBugger, vachief58, wazu, Wyatt Earp, Zap Rowsdower
Most users ever online was 4,753, 12-04-2015 at 09:37 PM.