» Stats
Members: 12,648
Threads: 243,127
Posts: 13,342,894

Welcome to our newest member, Wpurist

» Welcome, guest!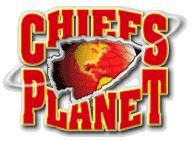 Welcome to ChiefsPlanet,
a Kansas City Chiefs Message Board
This forum is fast and furious with discussion on all variety of topics. Newbies welcomed. If you enjoy reading, don't be shy - please jump in and post!
If this is your first visit, be sure to check out the FAQ by clicking the link above. You will have to register before you can post; click the register link above to proceed. To start viewing messages, visit our main forum, The Lounge or click on a thread title below this message.
» Recent Threads
Title, Username, & Date
Last Post
Replies
Views
***NON-POLITICAL COVID-19 Discussion Thread***

Today

11:19 AM

by

O.city

41,596

1,472,855

Anyone ever experience burnout?

Today

11:16 AM

by

tooge

200

5,624

Renaming the Chiefs: Round 6 - The Championship

Today

11:14 AM

by

Rain Man

9

173

Anyone have their gallbladder removed?

Today

11:10 AM

by

Rain Man

17

246

2020 Royals Official Offseason/Season Repository

Today

11:09 AM

by

ChiTown

1,119

80,954

What is on your bucket list?

Today

11:08 AM

by

Rain Man

75

3,633

-- Do any of you still go to Long John Silvers?

Today

10:54 AM

by

Hammock Parties

339

18,157

****Official 2019-2020 NHL Season Thread****

Today

10:47 AM

by

Monticore

301

19,237

Space Exploration megathread

Today

10:32 AM

by

MagicHef

3,231

324,874

St. Louis Cardinals sidelined with COVID

Today

10:11 AM

by

Marcellus

169

4,150

» Online Users: 578
105 members and 473 guests
"Bob" Dobbs, 007, alpha_omega, backinblack, beach tribe, BigBeauford, BigRichard, bloomer88, bobhill, Buehler445, CapsLockKey, carlos3652, Chief Roundup, ChiefsCountry, cosmo20002, dannybcaitlyn, Dante84, Detoxing, Discuss Thrower, dlphg9, Donger, Earthbound, El Lobo Gordo, Fezzic, Fish, Go Royals, Hammock Parties, Hawker007, htismaqe, Husky Jerk, Hydrae, IChief, InChiefsHeaven, IowaHawkeyeChief, Iowanian, jayhawkkbs, jynni, KCnodefense, KCUnited, KC_Connection, Lennie Briscoe, listopencil, LiveSteam, ljmhawk, loochy, MagicHef, MahomesKnows, Malcor, mdchiefsfan, Mephistopheles Janx, MGRS13, mlyonsd, mr. tegu, nbkc fan, noa, O.city, Old Dog, Over Yonder, Pablo, petegz28, Pitt Gorilla, Pogue, Prison Bitch, ptlyon, Rain Man, RealSNR, RickObie, ROYC75, Saulbadguy, SFfan79, Shag, Shaid, Shields68, Sig, smithandrew051, staylor26, The Franchise, the longest lurk, theakamu, theoldcoach, TJW, Tonka83, tooge, WhawhaWhat, WhiteWhale, whoaskew, yellowfin13x
Most users ever online was 4,753, 12-04-2015 at 09:37 PM.