» Stats
Members: 12,788
Threads: 244,875
Posts: 13,520,355

Welcome to our newest member, DeargPartigiano

» Welcome, guest!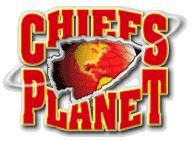 Welcome to ChiefsPlanet,
a Kansas City Chiefs Message Board
This forum is fast and furious with discussion on all variety of topics. Newbies welcomed. If you enjoy reading, don't be shy - please jump in and post!
If this is your first visit, be sure to check out the FAQ by clicking the link above. You will have to register before you can post; click the register link above to proceed. To start viewing messages, visit our main forum, The Lounge or click on a thread title below this message.
» Recent Threads
Title, Username, & Date
Last Post
Replies
Views
Jags RB Armstead expected to miss rest of season due to COVID

Today

12:58 PM

by

stumppy

17

296

Should Le' Veon take over as RB1?

Today

12:58 PM

by

htismaqe

14

149

Drew Lock, Sam Darnold, or Mahomes?

Today

12:56 PM

by

CarlosCarson88

27

504

So itís really just the Steelers right?

Today

12:54 PM

by

CarlosCarson88

298

7,608

Looks like Beckham tore his ACL just out on ESPN

Today

12:53 PM

by

Megatron96

14

424

I think I might be in love with Dan Sorensen.

Today

12:53 PM

by

Buehler445

50

1,900

***NON-POLITICAL COVID-19 Discussion Thread***

Today

12:48 PM

by

TLO

45,704

2,063,835

****Official Defending Super Bowl Champions Kansas City Chiefs vs Denver Broncos****

Today

12:47 PM

by

O.city

2,409

42,443

Bengals DE Carlos Dunlap

Today

12:46 PM

by

CasselGotPeedOn

15

546

Any update on Martinas Rankin?

Today

12:46 PM

by

htismaqe

14

279

» Online Users: 473
155 members and 318 guests
1963chief, 44yearsandcounting, 493rd, Baby Lee, backinblack, BanHam, Bearcat, Beethoven, Best22, BigBeauford, BigRichard, bobbything, brorth, Buehler445, busted flush, Bweb, CaliforniaChief, carcosa, carlos3652, CarlosCarson88, CasselGotPeedOn, Chief Northman, Chiefsfan1, ChiefsFanatic, cj2wr, comochiefsfan, Cow Pollinator, cripple creek, crispystl, Dayze, Detoxing, Discuss Thrower, Donger, Dunerdr, El Lobo Gordo, epitome1170, Fish, Frosty, gaston11, GloryDayz, GMitch, Go Royals, Gravedigger, Great Expectations, Great8, Grim, Hali-lujah, Hammock Parties, HayWire, htismaqe, Hydrae, icepick64, InChiefsHeaven, IowaHawkeyeChief, Iowanian, ISUJeff, Jayheat, jjchieffan, JohnnyHammersticks, Judge Smails, Katie, kcjayhawks5, KCUnited, KCwolf, KC_Connection, KGSoloman5k, Kiimosabi, KS Smitty, Lex Luthor, listopencil, LiveSteam, MahiMike, MahomesMagic, Marcellus, mattro18, Megatron96, Merde Furieux, mililo4cpa, Mr. Plow, mr. tegu, nhaaser, NinerDoug, Nixhex, O.city, oaklandhater, Old Dog, otherstar, Pablo, Pants, Pasta Giant Meatball, PattyFlakes, penguinz, philfree, PhillyChiefFan, poolboy, ptlyon, pugsnotdrugs19, Pygamos, Rain Man, Rasputin, red66, RedRaider56, Renegade, Reroka, rico, Robio9, rolstrol, Scaga, SFfan79, Shaid, smithandrew051, Sofa King, staylor26, steelyeyed57, Stinger, stonedstooge, stumppy, Superturtle, TambaBerry, thecoffeeguy, tmoshow, tooge, tyler360, Ubeja Vontell, UTChief, Vegas_Dave, wachashi, wazu, Why Not?, YayMike, yellowfin13x, Zook
Most users ever online was 4,753, 12-04-2015 at 09:37 PM.