» Today's Birthdays
Sully (43)


» Stats
Members: 11,431
Threads: 231,155
Posts: 12,300,130

Welcome to our newest member, MartyS

» Welcome, guest!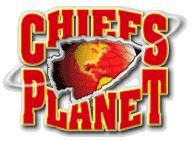 Welcome to ChiefsPlanet,
a Kansas City Chiefs Message Board
This forum is fast and furious with discussion on all variety of topics. Newbies welcomed. If you enjoy reading, don't be shy - please jump in and post!
If this is your first visit, be sure to check out the FAQ by clicking the link above. You will have to register before you can post; click the register link above to proceed. To start viewing messages, visit our main forum, The Lounge or click on a thread title below this message.
» Recent Threads
Title, Username, & Date
Last Post
Replies
Views
**** Official Chiefs VS Patriots AFC Championship Game Thread ****

Today

04:05 PM

by

KCChiefsFan88

2,327

57,841

***** Official 2018-2019 Kansas Basketball Repository Thread *****

Today

04:03 PM

by

KC_Connection

1,057

40,781

Are they going to bless the field again?

Today

04:03 PM

by

Iconic

4

104

It's PAYBACK TIME

Today

04:03 PM

by

Easy 6

36

780

Sean Salisbury, Albert Haynesworth, JJ Birden give their thoughts on AFC title game

Today

03:58 PM

by

RollinWithMahomie

10

611

Tech N9ne: "Red Kingdom"

Today

03:55 PM

by

Iconic

31

1,007

Chiefs AFC Championship Game Tailgate Thread

Today

03:51 PM

by

007

501

9,812

KC CHIEFS vs. NE PATRIOTS: Who wins? Your predictions?

Today

03:46 PM

by

htismaqe

139

3,475

Chiefs Fans Still Unhappy With Postseason Results

Today

03:41 PM

by

Coochie liquor

1

246

***Official Car and Gearhead Thread***

Today

03:38 PM

by

hometeam

4,576

360,407

» Online Users: 587
122 members and 465 guests
007, A Salt Weapon, Angry fan, Archie Bunker, Armyofme, AZORChiefFan, Baby Lee, Baster mater, BDj23, Bewbies, booyaf2, Buff_Asthmatic, Bump, C3HIEF3S, CabronJames20, CatfishBob2, Chargem, chefs fan in omaha, Chief Roundup, chiefiowa, chiefs1111, Chiefs316, Chiefs42, Chiefs4TheWin, Chiefspants, Chitownchiefsfan, Coochie liquor, displacedinMN, djchief56, DRM08, DrunkBassGuitar, E482jar, Earthbound, Flachief58, frozenchief, Hammock Parties, hawkchief, HotRoute, htismaqe, Iconic, IowaHawkeyeChief, Iowanian, Jayheat, jet62, jfan, Jim Hammer, JKCKCheif, JoeyChuckles, JohnDONsey, kc-nd, kccrow, KCFalcon59, KCUnited, KC_Connection, Kellerfox, Lex Luthor, Lickerman, LoneWolf, MagicHef, MAHOMO 4 LIFE!, Marcellus, MartyS, mdstu, Meatloaf, Mike in SW-MO, mililo4cpa, mr. tegu, Mr_Tomahawk, Munson, New World Order, Nickhead, Nightfyre, NJChiefsFan, penguinz, Raiderhader, Rain Man, RaytownChief, RealSNR, redhed, Rivaldo, Rob_Nachos, RollinWithMahomie, Rudy tossed tigger's salad, Rukdafaidas, SAGA45, sd4chiefs, SDChiefs, Simply Red, SithCeNtZ, solidgold, Sorce, StockingAnarchy12, Sully, Superturtle, Sweet Daddy Hate, TeaQue, The Pest, theoldcoach, TLO, Toto, Vegas_Dave, WhawhaWhat, Yosef_Malkovitch
Most users ever online was 4,753, 12-04-2015 at 09:37 PM.