» Stats
Members: 11,396
Threads: 231,036
Posts: 12,291,361

Welcome to our newest member, PatsFannNH

» Welcome, guest!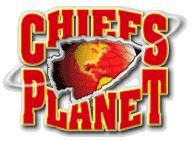 Welcome to ChiefsPlanet,
a Kansas City Chiefs Message Board
This forum is fast and furious with discussion on all variety of topics. Newbies welcomed. If you enjoy reading, don't be shy - please jump in and post!
If this is your first visit, be sure to check out the FAQ by clicking the link above. You will have to register before you can post; click the register link above to proceed. To start viewing messages, visit our main forum, The Lounge or click on a thread title below this message.
» Recent Threads
Title, Username, & Date
Last Post
Replies
Views
**** Official Chiefs VS Patriots AFC Championship Game Thread ****

Today

11:53 AM

by

htismaqe

1,437

34,855

More evidence that Chiefsplanet is "different"...

Today

11:53 AM

by

The Pest

23

24

Let's talk about the Patriots

Today

11:53 AM

by

SupDock

740

22,340

***OFFICIAL Patrick Mahomes GIF thread***

Today

11:52 AM

by

RunKC

2,497

132,277

Dont lose your fingers

Today

11:51 AM

by

Dunit35

67

1,283

Andy Reid live NFLN

Today

11:50 AM

by

RollChiefsRoll

1

2

CHIEFS KICK THE EVERLIVING SHIT OUT OF THE COLTS REP THREAD

Today

11:47 AM

by

ChiefBlueCFC

110

1,325

Bears are interested in Kareem Hunt

Today

11:47 AM

by

Shiver Me Timbers

55

1,517

Tom Brady trying to play the "no respect" card. Seriously.

Today

11:46 AM

by

Toad

154

6,335

*****The Patrick Mahomes Thread*****

Today

11:45 AM

by

Frosty

21,243

1,067,589

» Online Users: 467
178 members and 289 guests
1963chief, 203Pat, A Salt Weapon, allen_kcCard, Baby Lee, Baster mater, Bearcat, Beef Supreme, Bewbies, big nasty kcnut, bobbything, booyaf2, Brooklyn, brorth, bsp4444, carlos3652, Carlota69, CasselGotPeedOn, CatfishBob2, CHENZ A!, Chief Roundup, ChiefBlueCFC, Chiefs316, ChiefsandO'sfan, Chiefspants, Chief_N_Bama, Clyde Frog, cmh6476, Cntrygal, crispystl420, cron912, CrossCheck, DaKlee, Danguardace, dannybcaitlyn, Dayze, DenverChief, Discuss Thrower, DJ's left nut, dlphg9, Donger, dopeboy206, dtforever, DTHOF, Dunerdr, dwwataz, eDave, excessive, EyePod, fairladyZ, Fish, Friggles, FringeNC, Frosty, Go Royals, gold_and_red, Gravedigger, Hammock Parties, HC_Chief, HemiEd, HermanHater, Hog's Gone Fishin, htismaqe, IA_Chiefs_fan, InChiefsHell, ISWThunder, jayhawksandchiefs, Jerm, Jim Hammer, JoeyChuckles, JohnDONsey, journeyscarab, kc-nd, kcmaxwell, KCUnited, KCwolf, kcxiv, keg in kc, kgchiefs, KGSoloman5k, Kiimosabi, King_Chief_Fan, KS Smitty, KurtCauley, Loneiguana, MagicHef, MahomesMagic, MatriculatingHank, Meatloaf, mlyonsd, Mr. Arrowhead, Mr. Plow, Mr_Tomahawk, Munson, NashvilleRock.net, Nevertrap, NinerDoug, notorious, O.city, old_geezer, OmahaChief, Pablo, PAChiefsGuy, PatsFannNH, PHOG, pill, Pitt Gorilla, Pointer19, POND_OF_RED, RaidersOftheCellar, RaytownChief, RealSNR, Red Beans, redhed, Renegade, RN47, RobertWeathers, Robio9, Rob_Nachos, RodeoPants2, RollChiefsRoll, Rukdafaidas, RunKC, SAUTO, Scaga, seaofred, sedated, shakesthecat, shitgoose, Shiver Me Timbers, slc, Starbuc, staylor26, Stormageddon, stumpel15, stumppy, Sully, SupDock, SuperChief, Superturtle, Talisman, The Pest, The Rick, Third Eye, thurman merman, Toad, Trivers, Unsmooth-Moment, Warpaint69, wazu, WhamBlock, Whereizzy, Whoarethechefs, Why Not?, Yehoodi
Most users ever online was 4,753, 12-04-2015 at 09:37 PM.