» Stats
Members: 11,088
Threads: 230,043
Posts: 12,198,543

Welcome to our newest member, CherryPoppins

» Welcome, guest!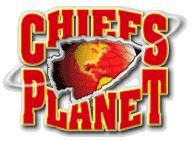 Welcome to ChiefsPlanet,
a Kansas City Chiefs Message Board
This forum is fast and furious with discussion on all variety of topics. Newbies welcomed. If you enjoy reading, don't be shy - please jump in and post!
If this is your first visit, be sure to check out the FAQ by clicking the link above. You will have to register before you can post; click the register link above to proceed. To start viewing messages, visit our main forum, The Lounge or click on a thread title below this message.
» Recent Threads
Title, Username, & Date
Last Post
Replies
Views
*****The Patrick Mahomes Thread*****

Today

07:44 PM

by

Hammock Parties

20,227

989,485

KEEP ****ING DOUBTING SPENCER WARE

Today

07:43 PM

by

Chris Meck

157

4,302

MNF - Vikings @ Seahawks

Today

07:43 PM

by

JohnDONsey

46

163

Tyreek Hill

Today

07:43 PM

by

Rain Man

189

6,955

Let's talk about the Chargers...

Today

07:40 PM

by

KC_Connection

168

5,318

Anyone hear from SR (Simply Red)?

Today

07:37 PM

by

chinaski

68

880

Ideal road in playoffs?

Today

07:34 PM

by

KChiefs1

29

708

Eric Berry has a Haglundís deformity on his heel

Today

07:33 PM

by

Yosef_Malkovitch

2,693

80,240

***The Official MMA Thread***

Today

07:28 PM

by

alnorth

8,897

863,656

**** The official Chiefs vs. The Ravens game thread****

Today

07:18 PM

by

NJChiefsFan

2,561

52,668

» Online Users: 597
128 members and 469 guests
-King-, 1COOLDOG, 38yrsfan, 64 Chief, 65TPT, allen_kcCard, alnorth, AZORChiefFan, Baby Lee, BDj23, bdlangton, beerwolf, Best22, BigRedChief, Buehler445, BWillie, C3HIEF3S, CasselGotPeedOn, chefsos, Chief Redmen, Chiefaholic, Chiefs=Good, ChiefsandO'sfan, ChiefsLV, chinaski, Chris Meck, colt459, CordMcNally, Cosmos, Couch-Potato, Dartgod, Dayze, djchief56, dlphg9, DRM08, duncan_idaho, emaw82, FAX, Flying High D, frank58, GMitch, gpsdude, Hammock Parties, Hamwallet, hawkchief, highBOLTage, Hog's Gone Fishin, huffmd15, Hydrae, IAM4KC2, IA_Chiefs_fan, ILChief, IowaHawkeyeChief, jeff h, Jewish Rabbi, JohnDONsey, KC Hawks, kc79, KCFalcon59, KChiefs1, KCrockaholic, KCUnited, kcxiv, KC_Connection, Loneiguana, mililo4cpa, mr. tegu, Munson, New World Order, njchiefs, noa, O.city, Pablo, Pasta Giant Meatball, PBJ, PhillyChiefFan, Pitt Gorilla, POND_OF_RED, pugsnotdrugs19, Rain Man, Red Beans, Red Dawg, RedandGold, RippedmyFlesh, RJ, Rudy tossed tigger's salad, Saulbadguy, SAUTO, ShiftyEyedWaterboy, shitgoose, solidgold, soonersfreak, staylor26, Strongside, Superturtle, Talisman, TrebMaxx, TwistedChief, Vegas_Dave, yeti, Yosef_Malkovitch
Most users ever online was 4,753, 12-04-2015 at 09:37 PM.