» Stats
Members: 11,088
Threads: 230,043
Posts: 12,198,515

Welcome to our newest member, CherryPoppins

» Welcome, guest!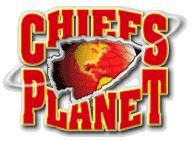 Welcome to ChiefsPlanet,
a Kansas City Chiefs Message Board
This forum is fast and furious with discussion on all variety of topics. Newbies welcomed. If you enjoy reading, don't be shy - please jump in and post!
If this is your first visit, be sure to check out the FAQ by clicking the link above. You will have to register before you can post; click the register link above to proceed. To start viewing messages, visit our main forum, The Lounge or click on a thread title below this message.
» Recent Threads
Title, Username, & Date
Last Post
Replies
Views
Let's talk about the Chargers...

Today

07:33 PM

by

pugsnotdrugs19

166

5,318

Anyone hear from SR (Simply Red)?

Today

07:32 PM

by

BryanBusby

65

880

MNF - Vikings @ Seahawks

Today

07:31 PM

by

JohnDONsey

35

163

*****The Patrick Mahomes Thread*****

Today

07:29 PM

by

Red Dawg

20,224

989,485

Tyreek Hill

Today

07:29 PM

by

njchiefs

188

6,955

***The Official MMA Thread***

Today

07:28 PM

by

alnorth

8,897

863,656

Eric Berry has a Haglundís deformity on his heel

Today

07:18 PM

by

SAUTO

2,692

80,240

**** The official Chiefs vs. The Ravens game thread****

Today

07:18 PM

by

NJChiefsFan

2,561

52,668

Ravens cry foul over noncall on final play of loss to Chiefs

Today

07:13 PM

by

Al Czervik

153

4,204

Kelvin Benjamin is available [and has signed with the Chiefs]

Today

07:01 PM

by

Warrick

831

27,878

» Online Users: 630
126 members and 504 guests
-King-, 1COOLDOG, 38yrsfan, 64 Chief, Al Bundy, Al Czervik, alnorth, alpha_omega, AssEaterChief, Baby Lee, bdlangton, beerwolf, bevischief, bigjosh, Brooklyn, BWillie, CasselGotPeedOn, chefsos, Chief Northman, Chief Redmen, Chief Roundup, Chief3188, Chiefpanther, Chiefs=Good, ChiefsandO'sfan, ChiliConCarnage, chinaski, Couch-Potato, cwhocares, Dartgod, Dawson4004, Dayze, Discuss Thrower, DJBILL, djchief56, DRM08, FD, Flying High D, Fritz88, Hammock Parties, highBOLTage, huffmd15, Hydrae, IAM4KC2, IowaHawkeyeChief, Jewish Rabbi, Jim Hammer, jjchieffan, jkw87, JohnDONsey, KC Hawks, KChiefs1, kcmaxwell, KCrockaholic, KCUnited, Loneiguana, Lprechaun, mac459, MahomesKnows, MIAdragon, mightyphoenix1, mililo4cpa, mr. tegu, mschiefs1984, Munson, NinerDoug, njchiefs, NJChiefsFan, OKchiefs, Pablo, Pasta Giant Meatball, PBJ, phisherman, POND_OF_RED, Priest31kc, pugsnotdrugs19, Pushead2, Red Dawg, RedandGold, RippedmyFlesh, rolstrol, Saulbadguy, SAUTO, Scorp, SDChiefs, ShiftyEyedWaterboy, solidgold, soonersfreak, staylor26, Strongside, Superturtle, Sweet Daddy Hate, Talisman, The Iron Chief, threebag02, TimBone, TwistedChief, vailpass, Vegas_Dave, Warpaint69, Whereizzy, YayMike, yeti, Yosef_Malkovitch, Zebedee DuBois
Most users ever online was 4,753, 12-04-2015 at 09:37 PM.