» Welcome, guest!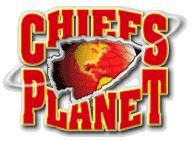 Welcome to ChiefsPlanet,
a Kansas City Chiefs Message Board
This forum is fast and furious with discussion on all variety of topics. Newbies welcomed. If you enjoy reading, don't be shy - please jump in and post!
If this is your first visit, be sure to check out the FAQ by clicking the link above. You will have to register before you can post; click the register link above to proceed. To start viewing messages, visit our main forum, The Lounge or click on a thread title below this message.
» Recent Threads
Title, Username, & Date
Last Post
Replies
Views
MAHOMES IS INJURED!!! (probably minor, don't freak out)

Today

06:14 PM

by

Pasta Giant Meatball

29

752

RIP Roy Clark

Today

06:11 PM

by

EPodolak

42

590

The Myth that Nelson Sucks

Today

06:10 PM

by

Frosty

209

5,315

Hobbies....what's yours?

Today

06:07 PM

by

Cosmos

111

1,734

The uncomfortable reality that is a fading Tom Brady

Today

06:05 PM

by

CoMoChief

149

5,910

Is it time to replace Arrowhead with a dome?

Today

06:04 PM

by

Sweet Daddy Hate

314

20,179

Ketchup on your steak?

Today

06:04 PM

by

Easy 6

156

2,613

*****The Patrick Mahomes Thread*****

Today

05:59 PM

by

Hammock Parties

19,458

939,845

Hunting type things.....

Today

05:53 PM

by

ghak99

2,138

201,117

Eric Berry has a Haglundís deformity on his heel

Today

05:49 PM

by

htismaqe

2,116

59,003

» Online Users: 486
86 members and 400 guests
AndChiefs, beach tribe, Beef Supreme, beerwolf, big nasty kcnut, bigjosh, Boise_Chief, Buehler445, Chief Roundup, Chiefaholic, Chieficus, Chiefpanther, Chiefs316, Chiefs=Good, ChiliConCarnage, CoMoChief, cookster50, Cosmos, CrossCheck, Dallas Chief, Dayze, Denfan, Discuss Thrower, EPodolak, Flachief58, Frosty, GloryDayz, Hammock Parties, Humbug, Hydrae, Iconic, JohnDONsey, Judge Smails, KChiefs1, KCJake, Kclee, Kman34, Lickerman, LoneWolf, MAG, MahiMike, Meatloaf, Mr. Wizard, MTG#10, New World Order, NinerDoug, njchiefs, oaklandhater, Old Dog, osumatt, Pablo, Pasta Giant Meatball, Pawnmower, Priest31kc, Prison Bitch, pugsnotdrugs19, RaidersOftheCellar, redngold58, RickObie, Rivaldo, Romeo64, Scorp, Spott, staylor26, stevieray, Sweet Daddy Hate, thebrad84, threebag02, TwistedChief, vailpass, Zebedee DuBois, Zook
Most users ever online was 4,753, 12-04-2015 at 09:37 PM.

» Wallpapers

» Stats
Members: 10,961
Threads: 229,484
Posts: 12,142,252

Welcome to our newest member, Buddha512