» Welcome, guest!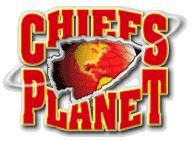 Welcome to ChiefsPlanet,
a Kansas City Chiefs Message Board
This forum is fast and furious with discussion on all variety of topics. Newbies welcomed. If you enjoy reading, don't be shy - please jump in and post!
If this is your first visit, be sure to check out the FAQ by clicking the link above. You will have to register before you can post; click the register link above to proceed. To start viewing messages, visit our main forum, The Lounge or click on a thread title below this message.
» Recent Threads
Title, Username, & Date
Last Post
Replies
Views
Eric Berry has a Haglundís deformity on his heel

Today

01:18 PM

by

KCChiefsFan88

2,168

60,628

-- Don't underestimate Walmart's hot food bar!

Today

01:18 PM

by

Bump

25

344

CHIEFS GAME MOVED TO LA!

Today

01:18 PM

by

Kiimosabi

358

13,180

Sammy Watkins NOT practicing Friday!?

Today

01:12 PM

by

Hammock Parties

40

701

Future Nicholls Bowl Champs Repository

Today

01:11 PM

by

BWillie

226

6,343

-- Taco Bell voted best Mexican Restaurant in the country!

Today

01:09 PM

by

ptlyon

128

2,226

****TNF Packers @ Seahawks****

Today

01:08 PM

by

CasselGotPeedOn

119

1,881

Personal finance and investing megathread extravaganza

Today

01:07 PM

by

Rain Man

2,423

213,012

Ketchup on your steak?

Today

01:04 PM

by

thabear04

197

3,492

Let's talk about the Rams

Today

01:03 PM

by

wazu

453

14,428

» Online Users: 469
97 members and 372 guests
-King-, 65TPT, alnorth, alpha_omega, BigBeauford, BigCatDaddy, BigRedChief, bowener, Bowser, Bump, BWillie, C3HIEF3S, carcosa, CasselGotPeedOn, chiefs1111, Chiefs42, Coach, Craash, Dalex, DanBecky, Dante84, DC.chief, Detoxing, digger, Discuss Thrower, displacedinMN, DJ's left nut, djchief56, DMAC, dmahurin, Donger, Earthbound, Eureka, FanOfRED, Fish, Flying High D, Graystoke, Hammock Parties, Hamwallet, Hawk, HemiEd, htismaqe, Hydrae, IChief, Iconic, jamesincanada, Jerm, JohnDONsey, KC Hawks, Kiimosabi, lawrenceRaider, LV Tim, mac459, MAG, MagicHef, Malcor, Marcellus, marcus, MephistophelesJanx, Mile High Mania, Nickhead, NJChiefsFan27, Pawnmower, ptlyon, Rain Man, Renegade, RodeoPants2, rolstrol, RunKC, seaofred, Shaid, Shawny2X4, slc, soonersfreak, Spokane Chief Fan, Stewie, thabear04, threebag02, TwistedChief, Vegas_Dave
Most users ever online was 4,753, 12-04-2015 at 09:37 PM.

» Wallpapers

» Stats
Members: 10,961
Threads: 229,496
Posts: 12,143,414

Welcome to our newest member, Buddha512