» Stats
Members: 11,089
Threads: 230,049
Posts: 12,199,181

Welcome to our newest member, markwood007788

» Welcome, guest!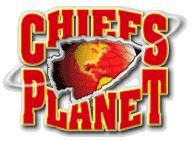 Welcome to ChiefsPlanet,
a Kansas City Chiefs Message Board
This forum is fast and furious with discussion on all variety of topics. Newbies welcomed. If you enjoy reading, don't be shy - please jump in and post!
If this is your first visit, be sure to check out the FAQ by clicking the link above. You will have to register before you can post; click the register link above to proceed. To start viewing messages, visit our main forum, The Lounge or click on a thread title below this message.
» Recent Threads
Title, Username, & Date
Last Post
Replies
Views
Public Service Announcement: If you've replaced your roof...

Today

12:00 AM

by

Hog's Gone Fishin

14

597

Eric Berry has a Haglundís deformity on his heel

Yesterday

11:58 PM

by

Flying High D

2,723

81,098

Fire Bob Sutton

Yesterday

11:56 PM

by

CoMoChief

2,416

64,015

Anyone hear from SR (Simply Red)?

Yesterday

11:49 PM

by

T-post Tom

95

1,929

*****The Patrick Mahomes Thread*****

Yesterday

11:44 PM

by

NJChiefsFan

20,244

990,702

***OFFICIAL Patrick Mahomes GIF thread***

Yesterday

11:40 PM

by

Kclee

2,364

117,421

Cameron Erving?

Yesterday

11:30 PM

by

Flying High D

12

474

Tyreek Hill

Yesterday

11:29 PM

by

carcosa

196

7,441

MNF - Vikings @ Seahawks

Yesterday

11:28 PM

by

NJChiefsFan

328

3,277

Let's talk about the Chargers...

Yesterday

11:22 PM

by

greg63

191

6,418

» Online Users: 483
72 members and 411 guests
"Bob" Dobbs, arrwheader, AustinChief, bishop_74, BlackOp, Buehler445, BWillie, carcosa, CasselGotPeedOn, Cave Johnson, chefs fan in omaha, chiefforlife, CoMoChief, Cosmos, DementedLogic, djchief56, dwwataz, Ecto-I, eDave, Fish, Flying High D, frozenchief, GloryDayz, GloucesterChief, Hammock Parties, Hog's Gone Fishin, hometeam, HonestChieffan, Humbug, jason54858, kcjayhawks5, Kclee, Kellerfox, kjwood75nro, kysirsoze, LiveSteam, MatriculatingHank, MephistophelesJanx, Misplaced_Chiefs_Fan, mr. tegu, NJChiefsFan, Over Yonder, ping2000, Pitt Gorilla, Pogue, Prison Bitch, Rain Man, Ron Swanson, Shag, Shaid, suzzer99, Talisman, Third Eye, tx4chiefs, vachief58, WAChiefsFan, Why Not?
Most users ever online was 4,753, 12-04-2015 at 09:37 PM.