» Welcome, guest!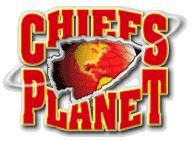 Welcome to ChiefsPlanet,
a Kansas City Chiefs Message Board
This forum is fast and furious with discussion on all variety of topics. Newbies welcomed. If you enjoy reading, don't be shy - please jump in and post!
If this is your first visit, be sure to check out the FAQ by clicking the link above. You will have to register before you can post; click the register link above to proceed. To start viewing messages, visit our main forum, The Lounge or click on a thread title below this message.
» Recent Threads
Title, Username, & Date
Last Post
Replies
Views
Could care less....

Today

03:07 PM

by

loochy

10

11

KC CHIEFS vs. LA RAMS: Who wins? Your predictions?

Today

03:06 PM

by

crayzkirk

59

756

The race for the #1 seed

Today

03:05 PM

by

Sweet Daddy Hate

156

5,423

****OFFICIAL Arizona Cardinals vs Kansas City Chiefs Game Thread****

Today

03:04 PM

by

Bob Dole

2,167

31,854

Let's talk about the Rams

Today

03:02 PM

by

Nzoner

232

6,593

Reid could care less about altitude

Today

03:02 PM

by

KCChiefsFan88

54

1,697

Stan Lee Dead

Today

03:02 PM

by

KC Dan

22

483

$$$Official: Do you own a Mahomes jersey thread$$$

Today

03:00 PM

by

Dartgod

120

2,201

State of the Raiders: "I gotta get the F outta here"

Today

02:59 PM

by

Nickhead

11

202

***OFFICIAL Patrick Mahomes GIF thread***

Today

02:58 PM

by

penguinz

2,017

99,978

» Online Users: 581
126 members and 455 guests
-King-, 65TPT, A8bil, aces and eights, alanm, Baby Lee, BigBeauford, bishop_74, BleedingRed, BossChief, bowener, bricks, brorth, Buehler445, carcosa, Cave Johnson, ChiefBlueCFC, chiefforlife, Chiefs316, Chiefs4TheWin, Chiefs_Fan, cj2wr, Coochie liquor, CordMcNally, crayzkirk, Danguardace, Dartgod, Demonpenz, DJ's left nut, Donger, DrRyan, DrunkBassGuitar, emaw82, excessive, fan4ever, Fat Elvis, Fezzic, Fish, frank58, Hammock Parties, Hawk, Hog's Gone Fishin, hotrod, IA_Chiefs_fan, Javabean, jayhawksandchiefs, Jayheat, Jerok, jjchieffan, jjkrueg, Kclee, KCUnited, kcxiv, kepp, kgrund, LiveSteam, loochy, lostcause, MagicHef, Meatloaf, MephistophelesJanx, milkshock, mlyonsd, mnchiefsguy, Nickhead, noa, Nzoner, O.city, OKchiefs, otherstar, Pablo, PatriotsGuy, penguinz, Pitt Gorilla, Prison Bitch, RaidersOftheCellar, Rain Man, Renegade, RippedmyFlesh, rolstrol, ROYC75, royr17, RubberSponge, Rukdafaidas, rydogg58, SAUTO, seamonster, sedated, Shag, shakesthecat, Shawny2X4, Simply Red, Starbuc, staylor26, Sweet Daddy Hate, Talisman, TambaBerry, The Pest, Third Eye, TLO, tooge, vachief58, vikingfan, wazu, Whoarethechefs, Wrasse, Yosef_Malkovitch
Most users ever online was 4,753, 12-04-2015 at 09:37 PM.

» Wallpapers

» Stats
Members: 10,956
Threads: 229,406
Posts: 12,136,094

Welcome to our newest member, surfdoggie5