» Stats
Members: 11,090
Threads: 230,061
Posts: 12,200,512

Welcome to our newest member, ed4471

» Welcome, guest!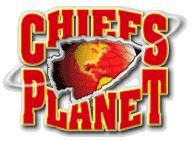 Welcome to ChiefsPlanet,
a Kansas City Chiefs Message Board
This forum is fast and furious with discussion on all variety of topics. Newbies welcomed. If you enjoy reading, don't be shy - please jump in and post!
If this is your first visit, be sure to check out the FAQ by clicking the link above. You will have to register before you can post; click the register link above to proceed. To start viewing messages, visit our main forum, The Lounge or click on a thread title below this message.
» Recent Threads
Title, Username, & Date
Last Post
Replies
Views
*** Official 2018-2019 Royals Offseason Repository ***

Today

05:44 PM

by

Prison Bitch

261

10,979

Patrick Mahomes makes ESPNís list of 20 most dominant athletes in the world

Today

05:44 PM

by

R Clark

25

446

Injury update from Chiefs

Today

05:42 PM

by

njchiefs

86

4,178

Snow and ice possible for TNF next week?

Today

05:36 PM

by

displacedinMN

105

4,127

Scandrick is...

Today

05:27 PM

by

Deberg_1990

45

914

****Official 2018 Missouri Tigers Football Thread****

Today

05:26 PM

by

DJ's left nut

1,303

26,592

*****The Patrick Mahomes Thread*****

Today

05:25 PM

by

jaa1025

20,307

993,335

Fire Bob Sutton

Today

05:24 PM

by

DJ's left nut

2,563

65,700

This Day in History

Today

05:17 PM

by

IowaHawkeyeChief

1,059

79,248

Your preferred playoff opponents

Today

05:17 PM

by

Cave Johnson

30

751

» Online Users: 645
121 members and 524 guests
64 Chief, Al Bundy, AndChiefs, Archie Bunker, Baby Lee, BDj23, bdlangton, beerwolf, Best22, Bewbies, bijou10, Brooklyn, CaliforniaChief, CasselGotPeedOn, Cave Johnson, chefsos, Chiefaholic, Chiefs=Good, chiefsncats, CordMcNally, crispystl420, Crush, Dartgod, Dayze, displacedinMN, DJ's left nut, Donger, eDave, emaw82, EricBerryismyBae, Flying High D, GloryDayz, grandllama, Hammock Parties, hawkchief, Hog's Gone Fishin, holden315, HoneyBadger, Humbug, IChief, Iconic, IowaHawkeyeChief, jaa1025, Jewish Rabbi, Judge Smails, KC Hawks, kcjayhawks5, KCUnited, KILLER_CLOWN, KS Smitty, Lprechaun, MagicHef, MAHOMO 4 LIFE!, Malcor, MephistophelesJanx, milkman, Mizzou_8541, mlyonsd, montanamike, Munson, njchiefs, NY CHIEF, OKchiefs, old_geezer, Over Yonder, Pawnmower, philfree, PHOG, PRIEST, Prison Bitch, RealSNR, RedRaider56, RippedmyFlesh, RodeoPants2, Roy Munson, Salami Swami, SAUTO, Scaga, sd4chiefs, Shields68, SithCeNtZ, Sofa King, soonersfreak, Spokane Chief Fan, staylor26, steelyeyed57, stevieray, Sully, Superbowltrashcan, Superturtle, Sure-Oz, suzzer99, TEX, Thunderlizard, Trivers, True North, tyler360, UChieffyBugger, WhiteWhale, Why Not?, Wrasse
Most users ever online was 4,753, 12-04-2015 at 09:37 PM.