» Today's Birthdays
jjjayb (48)


» Stats
Members: 11,090
Threads: 230,078
Posts: 12,201,656

Welcome to our newest member, ed4471

» Welcome, guest!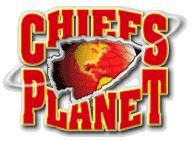 Welcome to ChiefsPlanet,
a Kansas City Chiefs Message Board
This forum is fast and furious with discussion on all variety of topics. Newbies welcomed. If you enjoy reading, don't be shy - please jump in and post!
If this is your first visit, be sure to check out the FAQ by clicking the link above. You will have to register before you can post; click the register link above to proceed. To start viewing messages, visit our main forum, The Lounge or click on a thread title below this message.
» Recent Threads
Title, Username, & Date
Last Post
Replies
Views
KC CHIEFS vs. LA CHARGERS: Who wins? Your predictions?

Today

12:02 PM

by

The Pest

96

2,201

Kelvin Benjamin is available [and has signed with the Chiefs]

Today

12:01 PM

by

TEX

855

29,079

Chiefs Advanced Stats

Today

12:00 PM

by

SAUTO

8

411

Eric Berry has a Haglundís deformity on his heel

Today

12:00 PM

by

TEX

2,931

85,815

Broncos news megathread

Today

11:58 AM

by

TEX

33,409

1,596,920

Best way to get in and out of Arrowhead?

Today

11:58 AM

by

O.city

10

61

Fire Bob Sutton

Today

11:54 AM

by

Superturtle

2,598

66,677

*****The Patrick Mahomes Thread*****

Today

11:52 AM

by

Red Beans

20,358

996,527

Any Iowa Lawyers On The Board

Today

11:50 AM

by

SAUTO

55

1,084

#1 Penalized team in the league

Today

11:47 AM

by

In58men

20

729

» Online Users: 585
133 members and 452 guests
44yearsandcounting, 88TG88, A8bil, allen_kcCard, alpha_omega, Amnorix, baitism, bax_, bdlangton, beach tribe, bigjosh, BlackHelicopters, BlackOp, Blick, booyaf2, bsp4444, CaliforniaChief, Cave Johnson, chefsos, ChiefBlueCFC, chiefforlife, Chiefpanther, Chiefsguyinri, ChiefsNWildcats, Chiefspants, chinaski, Chris Meck, Clyde Frog, Coochie liquor, cooper barrett, Cornstock, cron912, Cunning Linguist, Danguardace, Dayze, Detoxing, Direckshun, Discuss Thrower, DJ's left nut, dj562006, Fat Elvis, Flying High D, Friggles, GMitch, Great Expectations, Hammock Parties, Hound333, Humbug, Hydrae, Jamie, Javabean, jayhawksandchiefs, Jerm, Jerok, JohnDONsey, jostmeyer25, KCUnited, kgrund, kysirsoze, LiveSteam, Loneiguana, loochy, Lzen, mac459, MagicHef, MahomesKnows, mcaj22, MIAdragon, Miles, Munson, NewChief, NinerDoug, notorious, O.city, ottawa_chiefs_fan, Over Yonder, Pawnmower, philfree, phisherman, Predarat, PRIEST, Prison Bitch, pugsnotdrugs19, Rain Man, Realbaddog, RealSNR, Red Beans, RickObie, RodeoPants2, Royalchiefsfan, SAUTO, SDChiefs, sedated, shakesthecat, ShiftyEyedWaterboy, shitgoose, Shiver Me Timbers, staylor26, Stinger, Stryker, Sully, Superturtle, TambaBerry, TEX, The Pest, Third Eye, threebag02, Thunderlizard, thurman merman, TimBone, vachief58, vailpass, Warrior5, Why Not?, wil75, Zebedee DuBois
Most users ever online was 4,753, 12-04-2015 at 09:37 PM.