» Stats
Members: 11,186
Threads: 230,187
Posts: 12,212,096

Welcome to our newest member, Mahomes007

» Welcome, guest!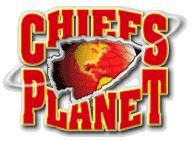 Welcome to ChiefsPlanet,
a Kansas City Chiefs Message Board
This forum is fast and furious with discussion on all variety of topics. Newbies welcomed. If you enjoy reading, don't be shy - please jump in and post!
If this is your first visit, be sure to check out the FAQ by clicking the link above. You will have to register before you can post; click the register link above to proceed. To start viewing messages, visit our main forum, The Lounge or click on a thread title below this message.
» Recent Threads
Title, Username, & Date
Last Post
Replies
Views
Smoking Brisket Tips

Today

03:59 PM

by

ChiTown

4

28

***OFFICIAL Patrick Mahomes GIF thread***

Today

03:58 PM

by

Sweet Daddy Hate

2,425

120,909

Chiefs targeted, but by who?

Today

03:57 PM

by

Sweet Daddy Hate

367

13,515

***Official Car and Gearhead Thread***

Today

03:56 PM

by

hometeam

4,524

356,233

I wonder what Clay's next fanboy video will look like?

Today

03:56 PM

by

jjjayb

27

557

Saturday Football Extravaganza: HOU/NYJ & CLE/DEN

Today

03:48 PM

by

big nasty kcnut

6

101

Will this team win a playoff game?

Today

03:47 PM

by

PAChiefsGuy

146

3,238

****Official 2018 Missouri Tigers Football Thread****

Today

03:46 PM

by

Pitt Gorilla

1,316

27,877

DPI with 8 seconds left? Ignored OPI with 4 seconds left?

Today

03:36 PM

by

rabblerouser

146

4,705

Playing with cap #'s for 2019

Today

03:32 PM

by

pugsnotdrugs19

28

426

» Online Users: 352
86 members and 266 guests
1998krss, 1hughjass, Archie Bunker, BanHam, big nasty kcnut, BigBeauford, Blick, BossChief, bringbackmarty, Brooklyn, brorth, Buehler445, Buns, C3HIEF3S, CasselGotPeedOn, Chargem, Chief Northman, Chiefs=Good, Chiefspants, chiefzilla1501, clmcclure, Cntrygal, CoMoChief, Dante84, Detoxing, digger, displacedinMN, eDave, Fishpicker, GloucesterChief, Hammock Parties, hometeam, HoneyBadger, ILikeBigTiddys, jd1020, Jerok, jet62, jimidollar, jjjayb, JohnnyV13, KC Tattoo, KCtotheSB, Lex Luthor, MahomesKnows, Mennonite, Munson, New World Order, notorious, Otis Day, Pablo, PAChiefsGuy, phisherman, ping2000, Pitt Gorilla, PRIEST, pugsnotdrugs19, Raiderhader, RodeoPants2, rolstrol, SAUTO, Sideburn, Simba, smithandrew051, Sure-Oz, Sweet Daddy Hate, ThaVirus, TheNoob, Thunderlizard, TimBone, TrebMaxx, vachief58, Zook
Most users ever online was 4,753, 12-04-2015 at 09:37 PM.