» Welcome, guest!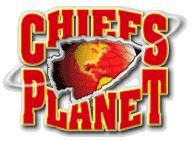 Welcome to ChiefsPlanet,
a Kansas City Chiefs Message Board
This forum is fast and furious with discussion on all variety of topics. Newbies welcomed. If you enjoy reading, don't be shy - please jump in and post!
If this is your first visit, be sure to check out the FAQ by clicking the link above. You will have to register before you can post; click the register link above to proceed. To start viewing messages, visit our main forum, The Lounge or click on a thread title below this message.
» Recent Threads
Title, Username, & Date
Last Post
Replies
Views
What time do you wake up?

Today

01:54 PM

by

redhed

74

934

RIP Roy Clark

Today

01:54 PM

by

threebag02

3

4

Hobbies....what's yours?

Today

01:53 PM

by

Iowanian

99

1,480

The Myth that Nelson Sucks

Today

01:53 PM

by

Direckshun

189

5,017

Ketchup on your steak?

Today

01:52 PM

by

Beef Supreme

148

2,246

This girl lived close to you?

Today

01:51 PM

by

KChiefs1

25

116

*****The Patrick Mahomes Thread*****

Today

01:49 PM

by

KChiefs1

19,444

938,978

Broncos news megathread

Today

01:47 PM

by

King_Chief_Fan

33,007

1,566,489

Personal finance and investing megathread extravaganza

Today

01:39 PM

by

Iowanian

2,421

212,611

Eric Berry has a Haglundís deformity on his heel

Today

01:37 PM

by

Strongside

2,066

57,762

» Online Users: 473
109 members and 364 guests
2bikemike, 38yrsfan, 64 Chief, allen_kcCard, alnorth, Amnorix, Archer27, Beef Supreme, BigBeauford, BigRichard, Blick, bowener, Buehler445, Bump, CervezaChill, Chief Redmen, ChiefAshhole1056, Chieficus, Clyde Frog, CoMoChief, CordMcNally, crispystl420, DanT, Dayze, Direckshun, Discuss Thrower, DJ's left nut, dmahurin, Donger, DonTellMeShowMe, DTHOF, Eureka, fairladyZ, FAX, Frosty, Hawk, hawkchief, HonestChieffan, Humbug, IChief, Iowanian, jayhawksandchiefs, Jerm, jjchieffan, JoeyChuckles, JohnDONsey, JohninGpt, JohnnyV13, KC Hawks, KC kid, KChiefs1, kcpasco, KC_Lee, Kiimosabi, King_Chief_Fan, loochy, lostcause, Malcor, mikeboogie, mikeyis4dcats., mr. tegu, neblo, Nickhead, NinerDoug, noa, OKchiefs, old_geezer, Pasta Giant Meatball, Pitt Gorilla, Prison Bitch, ptlyon, Raiderhader, redfriday, redhed, Royalchiefsfan, RunKC, Saulbadguy, Scaga, Shag, staylor26, Stewie, Stinger, sully1983, SupDock, Superturtle, Talisman, The Rick, threebag02, Tigers1fan, TwistedChief, vachief58, vailpass, wazu, wil75
Most users ever online was 4,753, 12-04-2015 at 09:37 PM.

» Wallpapers

» Stats
Members: 10,961
Threads: 229,478
Posts: 12,141,725

Welcome to our newest member, Buddha512