» Stats
Members: 11,093
Threads: 230,110
Posts: 12,203,944

Welcome to our newest member, fireps

» Welcome, guest!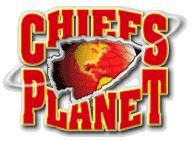 Welcome to ChiefsPlanet,
a Kansas City Chiefs Message Board
This forum is fast and furious with discussion on all variety of topics. Newbies welcomed. If you enjoy reading, don't be shy - please jump in and post!
If this is your first visit, be sure to check out the FAQ by clicking the link above. You will have to register before you can post; click the register link above to proceed. To start viewing messages, visit our main forum, The Lounge or click on a thread title below this message.
» Recent Threads
Title, Username, & Date
Last Post
Replies
Views
Guess how many points Ray Lewis thinks the 2018 chiefs score against his defense...

Today

01:25 PM

by

Valiant

74

2,423

****Official Kansas City Chiefs vs Los Angeles Chargers Gameday Thread****

Today

01:24 PM

by

BleedingRed

181

3,201

Eagles don't tell Wentz he has a fracture in his back

Today

01:23 PM

by

Valiant

51

1,002

The Boy Scouts of America going Belly Up ?

Today

01:21 PM

by

Pitt Gorilla

60

1,135

At home watching the game, what is on your menu tonight?

Today

01:16 PM

by

Kman34

12

13

JFKFC! Who's Burning Chicken in the Fireplace??

Today

01:13 PM

by

DJ's left nut

3

36

2019 Rock and Roll HOF Inductees announced

Today

01:06 PM

by

gblowfish

46

507

*****The Patrick Mahomes Thread*****

Today

01:06 PM

by

Sweet Daddy Hate

20,438

1,000,698

KC CHIEFS vs. LA CHARGERS: Who wins? Your predictions?

Today

01:01 PM

by

pugsnotdrugs19

167

3,921

Stephen A. Smith with a smoking hot take on tonightís game

Today

01:01 PM

by

lcarus

53

1,148

» Online Users: 601
147 members and 454 guests
38yrsfan, 44yearsandcounting, 65TPT, 88TG88, allen_kcCard, alpha_omega, Archer27, AZORChiefFan, BandwagonChiefsFan, Basileus777, bdlangton, BigBeauford, BigCatDaddy, BlackHelicopters, BleedingRed, bobhill, Brooklyn, brorth, bsp4444, Buehler445, carcosa, CasselGotPeedOn, chefsos, Chief Redmen, chiefs1111, Chiefs42, ChiefsLV, Chiefspants, Chris Meck, CordMcNally, crayzkirk, Cunning Linguist, Dalex, Dallas Chief, Dartgod, Dayze, Detoxing, Discuss Thrower, DJ's left nut, DJBILL, dmahurin, Donger, DonTellMeShowMe, DrunkBassGuitar, Dunerdr, El Jefe, EPodolak, fan4ever, FanOfRED, Fish, ForeverChiefs58, frank58, FringeNC, gh4chiefs, God of Thunder, gpsdude, Grim, Hailchief, HemiEd, HonestChieffan, Humbug, iachief, InChiefsHell, jayhawksandchiefs, jd1020, Jewish Rabbi, KC kid, kcjayhawks5, KCnodefense, KCUnited, kgrund, kjwood75nro, Kman34, kysirsoze, loochy, LV Tim, MahomesKnows, MahomesMagic, MAHOMO 4 LIFE!, Malcor, Marcellus, maverick, mdchiefsfan, mlyonsd, Mr. Plow, mrbiggz, NashvilleRock.net, New World Order, NIUhuskies, OKchiefs, osumatt, Over Yonder, Pitt Gorilla, Prison Bitch, ptlyon, RaidersOftheCellar, RMFN, Roy Munson, ROYC75, Shag, shakesthecat, Spokane Chief Fan, staylor26, steelyeyed57, stumppy, Sully, Superturtle, Sweet Daddy Hate, tboss-27, The Bunk, The Pest, TimBone, tooge, TrebMaxx, tyton75, Valiant, Warpaint69, wazu, WhawhaWhat, Why Not?, wisconsinchief, Wyatt Earp, YayMike, Yehoodi, Yosef_Malkovitch
Most users ever online was 4,753, 12-04-2015 at 09:37 PM.