» Stats
Members: 10,968
Threads: 229,534
Posts: 12,148,446

Welcome to our newest member, vowavunad1

» Welcome, guest!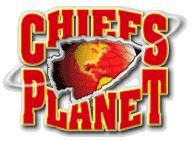 Welcome to ChiefsPlanet,
a Kansas City Chiefs Message Board
This forum is fast and furious with discussion on all variety of topics. Newbies welcomed. If you enjoy reading, don't be shy - please jump in and post!
If this is your first visit, be sure to check out the FAQ by clicking the link above. You will have to register before you can post; click the register link above to proceed. To start viewing messages, visit our main forum, The Lounge or click on a thread title below this message.
» Recent Threads
Title, Username, & Date
Last Post
Replies
Views
Do you shop at Walmart?

Today

08:39 AM

by

King_Chief_Fan

92

1,389

Hunting type things.....

Today

08:39 AM

by

Sofa King

2,151

201,935

Alex Smith Suffers Theisman Like Broken Leg

Today

08:38 AM

by

CaliforniaChief

305

9,797

**** The Official The Chiefs vs. The Rams Game Thread****

Today

08:37 AM

by

CupidStunt

69

858

"All-star" officiating crew for Rams-Chiefs game

Today

08:33 AM

by

DrunkBassGuitar

52

1,747

Chiefs wearing bloody tampon uniforms for MNF

Today

08:30 AM

by

Great Expectations

136

4,114

Initiative Q

Today

08:29 AM

by

Chiefs_Fan

229

4,247

We might be playing against Lamar Jackson in week 14

Today

08:26 AM

by

redhed

57

2,070

The Raiders have a Gruden problem

Today

08:10 AM

by

Couch-Potato

416

21,594

Broncos news megathread

Today

08:00 AM

by

RealSNR

33,067

1,571,758

» Online Users: 518
103 members and 415 guests
allen_kcCard, Archer27, beach tribe, Beef Supreme, Best22, BigBeauford, BigCatDaddy, BigRichard, bishop_74, CaliforniaChief, CanadaKC, Cave Johnson, CervezaChill, ChiefEd, Chiefs4TheWin, ChiefsChick23, Chiefspants, Chiefs_Fan, ChiliConCarnage, Chris Meck, CordMcNally, cron912, Cunning Linguist, CupidStunt, Dayze, digger, Discuss Thrower, DrunkBassGuitar, fairladyZ, farmerchief, Fish, Flix, GloryDayz, gpsdude, Great Expectations, Hailchief, hawkchief, holden315, InChiefsHell, Javabean, Jewish Rabbi, jjchieffan, JohnDONsey, Judge Smails, KCJake, KCrockaholic, KCwolf, KC_Lee, kgrund, King_Chief_Fan, KYChief, lcarus, Lurker, Malcor, Marcellus, MGRS13, Miles, Mr. Plow, mr. tegu, Mugalug, Munson, New World Order, noa, Pablo, ptlyon, redfriday, redhed, Renegade, rico, RunKC, SAUTO, SDChiefs, seaofred, sedated, Shaid, shakesthecat, Simply Red, smithandrew051, Sofa King, Spott, staylor26, steelyeyed57, Stewie, Superturtle, Talisman, tatorhog, TEX, The Bunk, threebag02, tmax63, tredadda, WAChiefsFan, Zebedee DuBois
Most users ever online was 4,753, 12-04-2015 at 09:37 PM.