» Stats
Members: 11,186
Threads: 230,197
Posts: 12,213,094

Welcome to our newest member, Mahomes007

» Welcome, guest!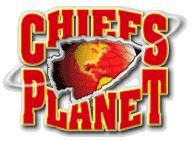 Welcome to ChiefsPlanet,
a Kansas City Chiefs Message Board
This forum is fast and furious with discussion on all variety of topics. Newbies welcomed. If you enjoy reading, don't be shy - please jump in and post!
If this is your first visit, be sure to check out the FAQ by clicking the link above. You will have to register before you can post; click the register link above to proceed. To start viewing messages, visit our main forum, The Lounge or click on a thread title below this message.
» Recent Threads
Title, Username, & Date
Last Post
Replies
Views
DJ turned down coach job w/KC, wants to resign

Today

10:50 AM

by

Easy 6

87

2,976

Berry was healthy enough to play....but his "spirit" wasn't feeling it

Today

10:45 AM

by

Otter

84

1,428

Saturday Football Extravaganza: HOU/NYJ & CLE/DEN

Today

10:39 AM

by

HemiEd

251

3,620

Let's talk about the Seahawks

Today

10:38 AM

by

Deberg_1990

204

5,432

Hunting type things.....

Today

10:35 AM

by

Sofa King

2,167

203,899

Since we have 8 days till our next game....which Jennifer you got?

Today

10:27 AM

by

displacedinMN

39

759

DPI with 8 seconds left? Ignored OPI with 4 seconds left?

Today

10:17 AM

by

Fish

162

5,299

Fire Bob Sutton

Today

10:16 AM

by

arrwheader

3,018

74,737

Best BBQ joint in KC area?

Today

10:08 AM

by

Fish

384

20,695

Hypothetical Question and Poll

Today

09:49 AM

by

Spott

13

305

» Online Users: 467
97 members and 370 guests
2bikemike, 65TPT, Al Bundy, Baby Lee, BDj23, Best22, BigRedChief, bobbymitch, booyaf2, bringbackmarty, Buehler445, CapsLockKey, Chief Northman, Chief Roundup, chiefforlife, Chiefs=Good, ChiefsandO'sfan, chinaski, Coach, Cosmos, DanBecky, Dawson4004, Dayze, displacedinMN, dwwataz, FAX, Fish, Flying High D, Fritz88, GloryDayz, Graystoke, Great Expectations, HemiEd, holden315, hometeam, Iczer, ILChief, IowaHawkeyeChief, jamesincanada, jd1020, jet62, Jewish Rabbi, JohnnyV13, kc rush, kcjayhawks5, KCUnited, KC_Lee, LittleMeatballNick, loce1959, LOCOChief, MahomesKnows, Misplaced_Chiefs_Fan, mlyonsd, Munson, Nealo, neblo, New World Order, NewChief, notorious, Nzoner, Otter, Pablo, PackerinMo, Pawnmower, phisherman, PHOG, Raiderhader, RealSNR, Saulbadguy, Sofa King, Spott, stevieray, Sweet Daddy Hate, TambaBerry, The GMDM Hypothesis, thebrad84, Third Eye, TLO, Trivers, tyreekthefreak, UTChief, Wallcrawler, Zebedee DuBois
Most users ever online was 4,753, 12-04-2015 at 09:37 PM.